U.S. banks have been to hell and back. By the time the financial crisis of 2008-09 reached its deepest depths by March of '09, JP Morgan Chase (NYSE: JPM) shares had fallen over 66% from $48 to $16, Wells Fargo (NYSE: WFC) had sunk over 78% from $38 to $8, Bank of America (NYSE: BAC) had reeled over 92% from $52 to $4, and Citigroup (NYSE: C) had collapsed over 95% from $475 to under $20 (all on a distributions adjusted basis).
Yet over the past 5.5 years since the economic recovery began, they have all mounted a stellar come-back, handily beating the broader market by far. Where the S&P 500 index is up some 190% over the period, JPM is up 280%, BAC has climbed 350%, C has jumped 400%, while WFC has soared 420%.
Their salvation came from the U.S. Federal Reserve in the form of three mortgage buying sprees known as Quantitative Easing 1 through 3. As the Fed purchased mortgage-backed securities from the banks, mortgages were passed from the banks' balance sheets to the central bank's balance sheet, while money flowed like a torrent the other way. With a steady stream of cash flowing into their vaults, the banks could originate more mortgages and loans, keeping the economy's gears turning as well as their own.
But what will become of the banks now that the third and final mortgage buying program (QE3) nears its termination? As noted in the graph below, bank stocks have already been stagnating since the reduction of the QE3 program began early this year.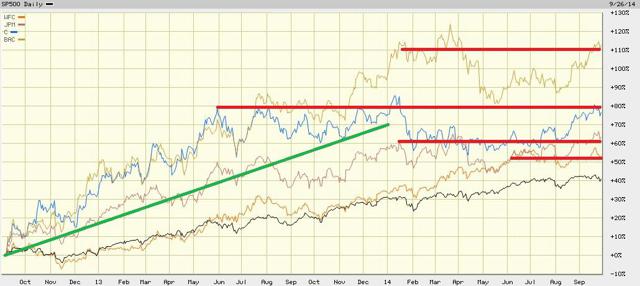 Source: BigCharts.com
With the adrenaline rush provided by QE3 (noted in green) clearly worn-off by now (noted in red as each bank experienced it), analysts fear bank stocks could plummet on a combination of no more QE and near-zero interest rates.
"The longer the Fed [funds rate] stays down at these levels, the more it will hurt banks," Scott Lied, chief financial officer of ENB Financial Corp, expressed his concern over banking's future prospects.
Because the banks' largest single source of income is the interest charged on loans and mortgages, "growing earnings will become more difficult over time unless interest rates move up," explains Fred Cannon of Keefe, Bruyette & Woods.
But chins up, bank investors. At some point over the next year and a bit, interest rates will begin rising, and you can bet that bank stocks will rise with them. In the meantime, though, expect a slow sideways grind for most financial stocks.
To help us get the biggest bang for our investment buck while we wait for interest rates to rise, let's take a look at the finances and future estimates of the four largest American banks using the following format: a) financial comparisons, b) estimates and analyst recommendations, and c) rankings with accompanying data table.
A) Financial Comparisons
The four banks here compared are the largest companies by market cap belonging to the Money Center Banks industry of the Financial sector, each a mega cap worth over $100 billion. As we compare each metric, the highest ranking bank will be shaded green while the lowest ranking will be shaded yellow, which will later be tallied for the final ranking.
• Market Capitalization: While company size does not necessarily imply an advantage and is thus not ranked, it is important as a denominator against which other financial data will be compared for ranking.

• Growth: Since revenues and expenses can vary greatly from one season to another, growth is measured on a year-over-year quarterly basis, where Q1 of this year is compared to Q1 of the previous year, for example.
In the most recent quarter, WFC was the only one of the four banks to grow, while the others saw both revenues and earnings shrink.

• Profitability: A company's margins are important in determining how much profit the company generates from its sales. Operating margin indicates the percentage earned after operating costs, such as labor, materials, and overhead. Profit margin indicates the profit left over after operating costs plus all other costs, including debt, interest, taxes and depreciation.
Of the four, WFC's profit and operating margins are the best, while BAC and C fair the worst.

• Management Effectiveness: Shareholders are keenly interested in management's ability to do more with what has been given to it. Management's effectiveness is measured by the returns generated from the assets under its control, and from the equity invested into the company by shareholders.
In this comparison, WFC's management is performing best in generating the highest returns on assets and equity, while BAC's management is performing worst in generating the lowest returns.

• Earnings Per Share: Of all the metrics measuring a company's income, earnings per share is probably the most meaningful to shareholders, as this represents the value that the company is adding to each share outstanding. Since the number of shares outstanding varies from company to company, I prefer to convert EPS into a percentage of the current stock price to better determine where an investment could gain the most value.
Of the four banks here compared, WFC provides common stock holders with the greatest diluted earnings per share gain as a percentage of its current share price, while BAC provides the least.

• Share Value: Even if a company outperforms its peers on all the above metrics, however, investors may still shy away from its stock if its price is already trading too high. This is where stock price relative to sales and company book value come under scrutiny, where lower ratios represent better value.
Among the four banks, C's stock price is the cheapest relative to earnings and book value, while BAC's is the cheapest relative to sales. WFC's stock price is the most expensive relative to the three metrics, representing the poorest value.

B) Estimates and Analyst Recommendations
Of course, no matter how skilled we perceive ourselves to be at gauging a stock's prospects as an investment, we'd be wise to at least consider what professional analysts and the companies themselves are projecting - including estimated future earnings per share and the growth rate of those earnings, stock price targets, and buy/sell recommendations.
• Earnings Estimates: To properly compare estimated future earnings per share across multiple companies, we would need to convert them into a percentage of their stocks' current prices.
Of our four specimens, JPM represents the best earnings per share (NYSEARCA:EPS) percentages in the first three time periods covered, while C represent the best EPS% for next year. WFC and BAC are expected to have the worst EPS going forward.

• Earnings Growth: For long-term investors, this metric is one of the most important to consider, as it denotes whether earnings are expected to grow or shrink in the coming quarters and years.
JPM and C have the best earnings growth prospects, while WFC and BAC have the worst.

Notice JPM's 911.80% earnings growth potential for this year's Q3? While this may seem a mistype, remember that earnings growth is a comparison of the current earnings estimate to the earnings of the same period a year prior. Since JPM's 2013 Q3 EPS came in at -17 cents, this year's Q3 estimate of $1.38 is $1.55 greater. 155 divided by 17 equals 9.117647, or 911.7647%.
• Price Targets: Like earnings estimates above, a company's stock price targets must also be converted into a percentage of its current price to properly compare multiple companies.
The winners in this category are C and JPM with the highest stock price increase potential, while WFC and BAC have the lowest targets.

• Buy/Sell Recommendations: After all is said and done, perhaps the one gauge that sums it all up are analyst recommendations. These have been converted into the percentage of analysts recommending each level. However, I factor only the strong buy and buy recommendations into the ranking. Hold, underperform and sell recommendations are not ranked since they are determined after determining the winners of the strong buy and buy categories, and would only be negating those winners of their duly earned titles.
Of our four contenders, JPM comes best recommended with 11 strong buys and 15 buys representing 37.93% and 51.72% of its analysts respectively.

C) Rankings
Having crunched all the numbers and compared all the projections, the time has come to tally up the wins and losses and rank our four combatants against one another.
In the table below you will find all of the data considered above plus a few others not reviewed. Here is where using a company's market cap as a denominator comes into play, as much of the data in the table has been converted into a percentage of market cap for a fair comparison.
The first and last placed companies are shaded. We then add together each company's finishes to determine its overall ranking, with first place finishes counting as merits while last place finishes count as demerits.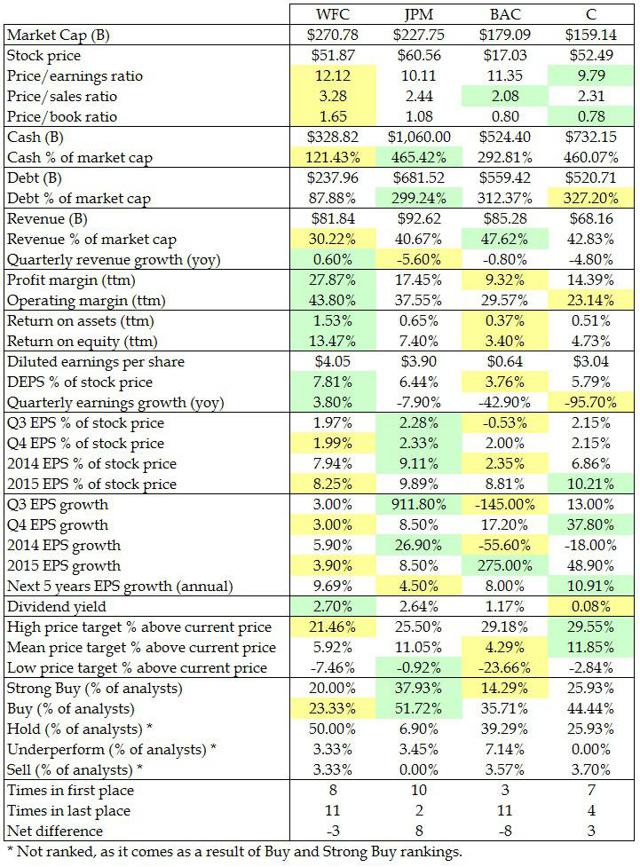 And the winner is… JP Morgan Chase, which outperforms the other three banks in 10 metrics, finishing with a net score of +8. Citigroup comes in second place as it outperforms the others in 7 metrics and finishes with a net score of +3. Wells Fargo ranks third as it outperforms in 8 metrics but underperforms in 11 for a net score of -3. And finally Bank of America ranks last as it outperforms in 3 metrics but underperforms in 11 for a net score of -8.
Of course, when interest rates finally begin rising, all of the banks compared here plus most others should prove to be fine holdings in any portfolio. Interest rate normalization (returning rates to their normal 5% to 6% historical averages) should take quite a while, perhaps some 5 years from 2015 to 2020 or so.
Thus, bank and mortgage lender stocks should enjoy steadily increasing earnings and profits with each rise in interest rates, of which there will be many. Don't be discouraged by any sideways stock performance over the next little while. Bank stocks will resume their upward climb in a relatively short time.