In the movie 28 Days Later, cycle courier Jim awakes from a coma in the deserted intensive care unit of a London hospital. The rage virus has caused zombies to take over London.
I thought it would be fun to take a look at where I believe we'll be roughly 28 (businesss) days from now, when it comes to China MediaExpress Holdings (OTCPK:CCME).
28 days later …
CCME will have announced a new IR firm.
CCME will have paid its first dividend per its dividend policy.
Deloitte will have finished auditing the 10-K for 2011. My opinion is that if Deloitte was having issues with the audit, we'd be hearing about it already, as CCME is an accelerated filer and my understanding is that the audit has been underway for over a month now.

Q4 2010 will have beat its understated guidance. CCME's latest guidance, given in early November, was to set the net income expectations for FY 2010 at $100M-104M. That suggests that Q4 net income should come in around $22M-26M, as Q3 was $31M. My estimate is around $30M+ on top line improvement from Q3.
Bumps along the way …
Part of my investment hypothesis right now is that there will continue to be unscrupulous bear raids and lots of lawsuits hitting the newsfeed.

There will be those who claim that even if you find a great, wildly profitable company that has done no wrong, you should sell your shares, and that no one should risk buying a company because of an attack from short sellers who are accusing the company of fraud. Personally, I'd like to see accusations of fraud that make sense.

That b

egs the question, how low can we go? I don't really know. That said, take a look at the current price and you can't help but think that you'll outperform the market over the next 12 months by becoming/staying an owner at this price. Be not afraid of lower prices.
That's all fun and good. Where are we now?
The sale is …
Current Price: $12.

There are 38M fully diluted shares for 2010. With my expected earn-outs, that's 45M shares for 2011.

I figure CCME has $200M+ in cash right now. That's $4.44+/share.

I figure it is making over $30M/quarter.

14M shares are in the float. 5M of those shares are held by institutions, taking you down to 9M shares in the float. Then there are 7M shares short, taking the trading shares out there up to 16M.

The shorts are on RegSho again. Talk about unwinding a position. What if the people who bought the shares from the shorts have re-lent those shares out, and the shorts have shorted them again?
At this stage, I'd like to make a few points:
1. The CEO gets paid shares if/when he delivers:

2. Another point that is worth making is that Starr is involved --- and it has what I would like to call "an accountability agreement":
As long as Starr owns at least 3% of the issued and outstanding shares of Common Stock, on a fully diluted, as-converted basis, it will also have the right to require certain stockholders to purchase its Preferred Stock and the Common Stock held by Starr or issued upon the conversion of Preferred Stock or exercise of the Purchased Warrants upon the occurrence of the company's failure to achieve audited consolidated net profits ("ACNP") for 2009, 2010 or 2011 are less than $42 million, $55 million and $70 million, respectively (each, a "Profits Target"), or to fulfill certain of its obligations under the Purchase Agreement. The Performance Adjustment Amount payable in any of 2009, 2010 or 2011 will be a fraction of $343,462,957, which is proportionate to the amount by which the company's ACNP in such year falls short of the then-applicable Profits Target.
28 weeks later …
1. There will be more bus contracts. I believe right now CCME has 27.2K intercity buses -- roughly half of the intercity buses out there.
2. Maybe CCME will start raising its ad rates for intercity buses? Right now the shuttle bus ad rates are comparable in terms of cpm with Focus Media Holding (NASDAQ:FMCN) -- but its intercity ad rates are roughly 1/20th of that rate. Definitely some wiggle room there.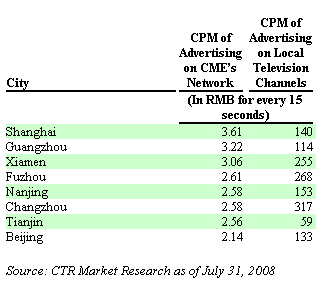 3. I presume that by now, you'll have larger names like Morgan Stanley (NYSE:MS) getting on board.
4. Maybe the SEC has gotten involved on either side (or both):
a. Side 1: Chinese companies commit a lot of fraud.
b. Side 2: Short sellers are spreading malicious rumors.
5. We'll surely know more about what is happening right now -- whether the company or the short sellers are full of it. My bet is still on the company --- as that's where the sound arguments are coming from.
Disclosure: I am long CCME.