The US Centers for Disease Control and Prevention (CDC) estimates that up to 1.4 million people could be infected by the Ebola virus by mid-January in Liberia and Sierra Leone. The World Health Organization (WHO) said in a recent note, "Without drastic improvement in control measures, the number of cases and deaths are expected to continue increasing from hundreds to thousands per week in the coming months." The virus has already spread into Nigeria - Africa's most populous country.

Source: World Health Organization
In Liberia, reported cases are doubling every 15-20 days. To put that into context, if you invested $1,000 in an instrument that doubled every 15 days, you'd be a millionaire in 5 months. The WHO's Director-General has called the Ebola outbreak the "greatest peacetime challenge that the United Nations and its agencies have ever faced."
In early May I wrote that Ebola and other antibiotic-resistant viruses were a potential Black Swan catalyst that could send global equities into a tailspin. So far, the Ebola outbreak has had little impact on the broader market because it hasn't spread into developed countries. Now that hundreds of millions of dollars in international aid is pouring into the region, a multi-continent outbreak seems unlikely (although certainly not impossible), but the economic impact is already being felt in West Africa. Economists believe GDP in Liberia and Sierra Leone will fall 3.5% this year. Inflation is already rocketing higher as worried citizens stock up on provisions and border closures disrupt imports.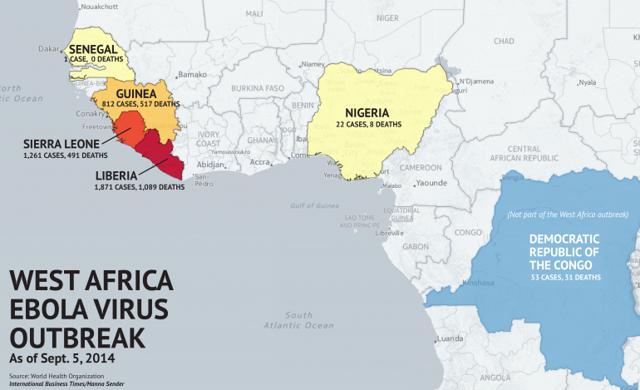 Unfortunately for investors looking to capitalize on this theme there are few liquid equity or fixed-income opportunities in the region. However, the virus is sparking fears in the commodity market that supplies of cocoa, one of West Africa's top exports, could be disrupted. Prices for the main ingredient in chocolate have surged 10% over the past two weeks, settling at the highest level in more than three years. No Ebola cases have been reported in either country, but Ivory Coast and Ghana produce 60% of the world's cocoa. Ivory Coast shares a porous border with both Liberia and Guinea, the two countries hit hardest by Ebola. International cocoa exporters have already restricted staff movements in Ivory Coast, and two trade conferences have been cancelled.
Rolling Cocoa Future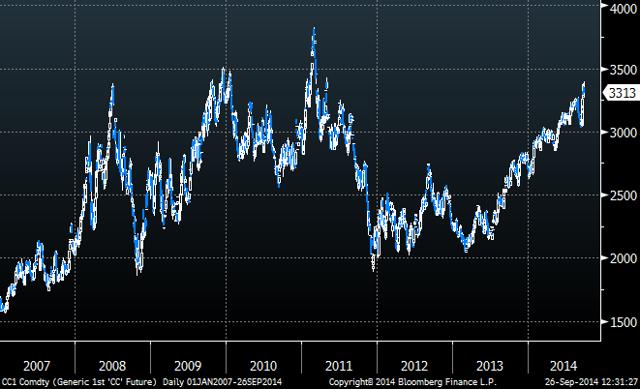 Source: Bloomberg
Even a handful of Ebola cases in Ivory Coast could have a significant impact on the cocoa market. Cocoa is typically grown on small farms, with growers selling their crop to middlemen who travel from farm to farm on motorcycles transporting supplies to the coast for export. Travel restrictions or quarantines implemented to contain Ebola would isolate millions of farmers, cutting off supplies to the world's largest chocolate makers like Hershey (NYSE:HSY), Mondolez (NASDAQ:MDLZ) and Kraft (KRFT).
The last time exports were halted out of Ivory Coast, during the 2010-11 civil war, cocoa futures soared to 32-year highs. A restriction today would be coming at a time when global demand, driven by huge growth in Asia, is hitting an all-time high. While demand in Asia was ranked as the world's lowest per capita in 2013, the market is projected to grow at almost twice the global rate over the next four years. Asian demand grew 4.5% in 2013, the fastest rate in the world and almost six times the global increase of 0.6%. Assuming no Ebola-related disruptions, analysts still estimate the global cocoa bean deficit will reach 1 million tons by 2020.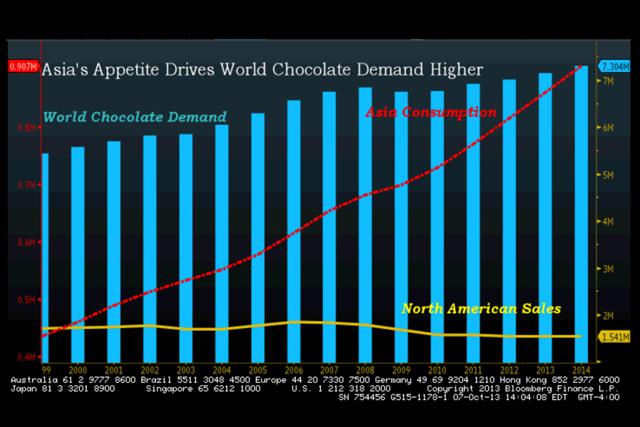 Source: Bloomberg
Even if Ebola is contained the fundamental outlook for cocoa is extremely bullish, but the fact of the matter is that Ebola is a threat that could send prices parabolic. Farmers in some of Ivory Coast's cocoa growing regions are already harvesting beans ahead of the typical start next month, but persistent heavy rains have hampered the process and aided the spread of disease. "There's a threat to the October harvest because it's raining practically every day," said Etienne Yao, a farmer in Aboisso, Ivory Coast. "Many pods have turned black. There are also insect attacks."
For those looking to play this theme via equities there are two ETF's, although neither offers great liquidity. The iPath Pure Beta Cocoa ETN (NYSEARCA:CHOC) currently has $10 million in total market cap, and unlike many commodity indexes can roll into multiple futures contract with varying expiration dates. And the iPath Bloomberg Cocoa ETN (NYSEARCA:NIB) offers a $23 million market cap with unleveraged investment into only the most liquid future contract. Of course the best option, if you have access, is to invest directly in cocoa futures. Given the freefall in the broader commodity complex this year, cocoa stands out as a solid performer with incredible upside. If prices keep exploding higher, liquidity won't be an issue for very long.
Disclosure: The author has no positions in any stocks mentioned, and no plans to initiate any positions within the next 72 hours.
The author wrote this article themselves, and it expresses their own opinions. The author is not receiving compensation for it (other than from Seeking Alpha). The author has no business relationship with any company whose stock is mentioned in this article.