Good day for risk to end the week on Friday, as Mubarak's resignation helped alleviate fears of geopolitical contagion in the Middle East. A small beat in the University of Mich consumer confidence survey for February (75.1 vs 75.0 expected) helped propel U.S. stocks to new highs. Emerging Markets also got a bid on Friday, as both Indian and Chinese indices posted strong reversal candles, though it remains to be seen if it can be sustained in any way. December Canadian merchandise trade figures showed a huge beat past expectations of a $300 million deficit, printing at a $3.0 billion surplus. This helped propel CAD to big gains in FX land on Friday, and leading to some breakouts in CAD pairs.
The S&P rallied another 0.60% on Friday as the DM bull trade continues to be on. I am getting a bit less outright bullish at these levels, and given my large net-long weighting in U.S. equities (which grew quite a bit on Friday), I bought some protection in the form of bear ETFs, for a trade. Summer 2008 highs in the SPY ETF come in at around 2% from current levels, and I'm expecting some selling around there. I remain constructive U.S. equity in the intermediate term.
U.S. yields are on the rise and this is weighing down on EUR-USD and Friday was no different, with a big fig drop in the cross. EUR-USD has spent the last month or so consolidating its rally since January lows, and for now, I am more biased to a downside resolution, with 1.35 being the big level to watch. USD and U.S. equity markets could both rally together here, as the U.S. recovery becomes more self-sustaining, and as Fed Treasury purchases enter their final stages without any further iterations of QE in the pipeline, as of yet at least.
Also, it is important to remember that Irish elections are next month and that Portuguese yields still remain above 700bps in the 10-year tenor. I remain short EUR-USD and will be looking to add on a breakdown below the 1.35 level. I continue to believe that Portugal will have to tap the EFSF and that Spain will be spared from needing a bailout only due to unsterilized monetization from the ECB.
After bouncing hard off of the support trendline I have drawn in, AUD-USD is back above parity and I'm out of the quick tech-driven short I had on. Late Friday, AUD-USD was up another 60 pips above parity and not looking too bearish at all. Interesting to note that AUS-USD swap spreads are suggesting quite rich valuations for AUD-USD at prevailing rates, with an implied gap of about 650 pips.
Also interesting is that AUD is trading with a higher correlation to the Kospi than KRW is showing. With EM seeing massive foreign capital outflows and rising "bad" inflation, perhaps this is another harbinger of an extended sell off in Aussie. RBA Governor Glenn Stevens out with some dovish comments that weighed down on AUD on Friday, but the reaction appears a bit excessive. I am hesitant to get outright short AUD-USD unless I see some technical breakdown, and for now I sit agnostic. Chinese CPI print Monday should move the pair, particularly if it comes in on the higher end, suggesting more tightening in store.
Click to enlarge: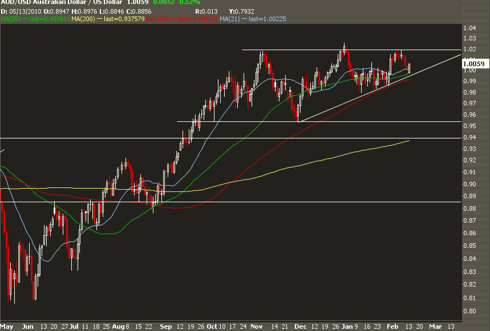 Below is a chart showing the high correlation between the Aussie (in blue) and Korean equity (in red), as well as a nice chart from Goldman Sachs' John Noyce highlighting the overvaluation of AUD-USD relative to swap spreads. Apologies for the "fuzziness" of the Noyce chart.
U.S. 5-year TIPS inflation compensation is now back to 200bps (orange line, LHS), while short(er)-end rates look to be on the rise for the first time in a while (blue, LHS), and 2s10s (red, RHS) are steepening in tandem. With the economy strong, EM under-performing, U.S. yields rising, and no signal of QE2 being extended, USD could be poised to rally here.
The recent breakout in USD-JPY could signal a shift of carry funding back to the JPY, as the summer 2010 double-dip fear-induced USD-JPY plunge is unwound. U.S. growth risks plus the Fed bid for US Treasuries led to a big selloff in USD-JPY from last summer; with the opposite in effect now, the shift in carry funding thesis looks sound.
Click to enlarge: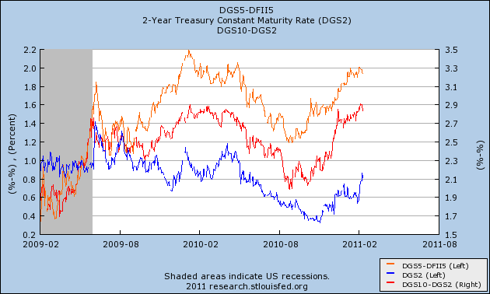 And if the MIT Billion Prices Project data shows any significant leading indicating strength, CPI prints are set to tick up even higher, making U.S. real yields decline further (which further lessens the likelihood of additional monetary action from Bernanke), nominal yields higher, curves steeper, and (a tad paradoxically), USD higher. There is far too much spare capacity and too little inflation for inflation prints to be a bigger driver of USD fluctuations than the Fed's policies.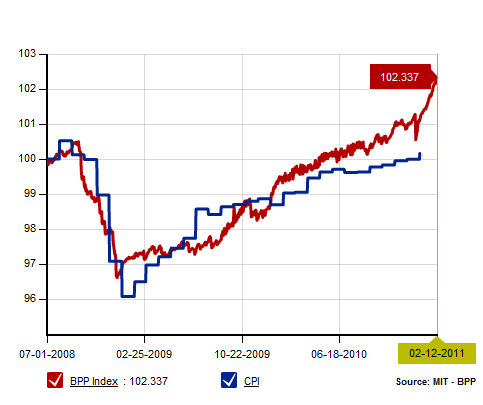 Switching gears to equity, I went long a variety of U.S. stocks on Friday, many with some great chart patterns and fundamentals to back them. Mercury Systems (NASDAQ:MRCY), for example, posted a great high-volume bounce off its 55d on Friday, and looks set to move to the upside out of its three-month base. It is fresh off of a terrific earnings report on January 26, which rocketed the stock 14% higher on the day. EPS grew 175% year over year and sales grew 23% y/o/y. At a mere 19x multiple (low on its 5yr 9x-150x range), clear accumulation on the chart, and only 7% off 52 week highs, MRCY looks very bullish and I'm long in size.
Mobile computing and application development is definitely a fast-growing industry presently, and smart device software developer, engineer, and consultant B Square (NASDAQ:BSQR) is seeing the positive effects of it, with earnings jumping back into the black this past summer and continuing the trend in its November report. Shares are showing a nice, round bounce off their 55d and the stock has been showing clear accumulation since its earnings report in November.
BSQR is about 11% off its 52 week highs and looks great for a surge right through into new highs. Q3 sales were up 55% y/o/y and both top- and bottom-line have started a strong uptrend ever since June.
Click to enlarge: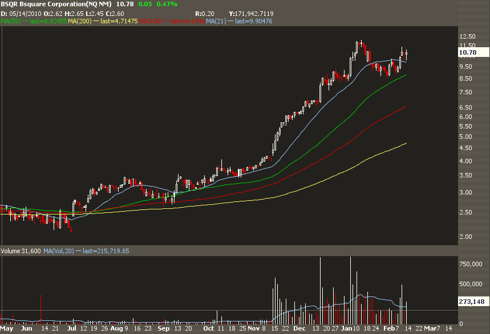 Today (Monday) brings:
December Eurozone IP (5:00 AM EST: +0.0% expected | +1.4% prior – MoM)

February RBA board minutes (7:30 PM EST)

January Chinese CPI (9:00 PM EST: +5.3% expected | +4.6% prior – YoY)
Disclosure: I am long MRCY, BSQR
Disclaimer: Nothing contained anywhere in this commentary, including analysis and trade ideas, constitutes or should be construed as investing or financial advice, suggestion, or recommendation. Please consult a financial professional and do due diligence before engaging in any purchase or sale of securities.