The BigTrends TrendScore is a daily reading on the bullish/bearish level of various market assets - it uses the S&P 500 Index (SPX) (NYSEARCA:SPY) as a proxy for the broad market. The SPY TrendScore fell out of the bullish range for the first time since early/mid August on last Thursday, but did close back into bullish territory on Friday.
To some degree, the overbought market was due for a dip, and the floor was finally cracked with Thursday's big selloff. Despite Friday's bounce, some technical damage was done to the charts.
We'll look at the bigger-picture damage that was done last week and what's likely ahead for stocks in a second. Let's get the bigger picture economic news out of the way first.
Economic Data
Last week may not have been loaded with economic numbers, but the few numbers we got were all pretty important.
It was a particularly big week for real estate and construction. Though existing home sales fell from a pace of 5.14 million to 5.05 million per year, new home sales picked up their pace. In August, new homes sold at an annual pace of 504,000, versus only 427,000 the month before. Home prices ticked a little higher too, though only a little. The FHFA says that in July, home prices inched 0.1% higher from June's average.
Real Estate Construction Trends Chart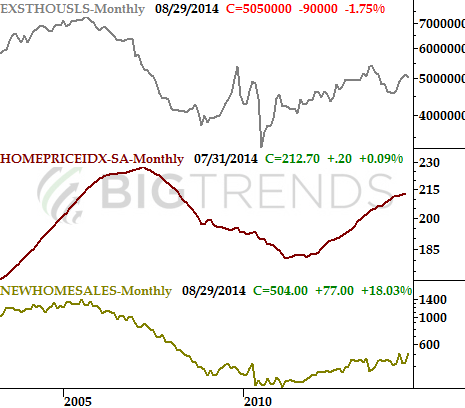 Source: FHFA, National Association of Realtors, and Census Bureau
Broadly speaking, the real estate market remains basically healthy, but the pace of growth we were enjoying two years ago is no longer in place. Right now, forward progress from housing - all facets of it - is tougher to muster.
You also likely heard that durable orders plunged 18.2% in August. It sounds dire, but it's data that can likely be completely ignored. Why? A closer look at the details will easily explain the two key reasons the dip means very little.
First and foremost, the plunge was almost entirely due to a major pullback in transportation (planes, trains, automobiles) orders, which are inherently volatile. Take them out of the equation, and what you have is a 0.7% improvement in durable orders last month.
The second reason we can ignore the sizeable plunge in orders for August: It was only an offset from July's record-breaking surge in transportation orders. All told, transportation orders jumped 22.5% in July. Since this data is presented as month-to-month change, there wasn't even a prayer of a good showing this time around. Again though, it doesn't matter.
A similar concept applies to Q2's third and final GDP growth estimate. The previous quarter's gross domestic product grew by 4.6%, on an annualized basis. However, Q1's GDP actually fell by 2.9%. Any growth at all was going to be a big number by comparison.
GDP Growth - Quarterly Chart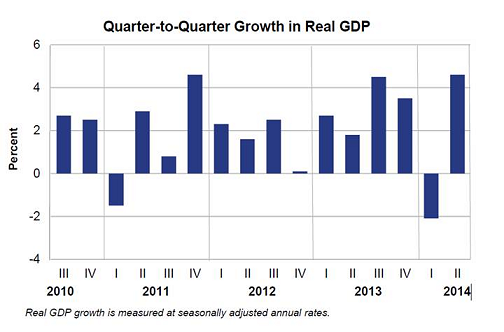 Source: Bureau of Economic Analysis at bea.gov.
Finally, though it's only half the data we'll get for August on the sentiment front, the Michigan Sentiment Index moved to a new 13-month high in August, and is still going strong. As long as optimism continues to rise, so too will the long-term market trend. [That's not necessarily so for the short-term trend.] The Michigan Sentiment Index reading hit 84.6 last month.
Sentiment Trends Chart


Source: Reuters and Conference Board
We won't get August's consumer confidence reading from the Conference Board until Tuesday, but it's in a long-term uptrend as well.
Everything else is on the following grid:
Economic Calendar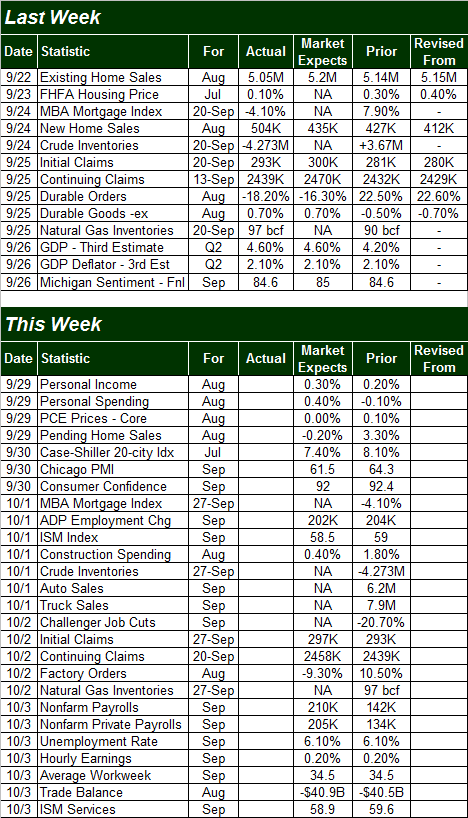 Source: Briefing.com
The coming week will be a busy one, though not much of it will matter until Friday when we get August's job numbers. Forecasters aren't looking for the unemployment rate to budge from 6.1%, though these same pros do think we'll do a little better on the jobs-creation front. The outlook is for 210,000 new payrolls, up from last month's 142,000.
Stock Market Index Analysis
Again, the BigTrends TrendScore (of market momentum) broke down last week, moving into the cautious/hold zone between 40 & 60 (on a 100 point scale) .... but did end up back above 60 by week's end. It has to fall below 40 to become officially bearish - for now, we'll just interpret it as a caution sign.
Technically speaking, the market isn't getting killed. Yet, there are more than enough red flags to collectively paint a mildly alarming picture.
Take the S&P 500's daily chart as an example. Though on Friday the index managed to fight its way back above it, the S&P 500 broke under the 50-day moving average line on Thursday. And, though Friday's bounce may have carried stocks back above the 50-day moving average line, we may not be out of the woods yet. For all we know right now, the 20-day moving average line and the 2010 level are still resistance lines.
S&P 500 & VIX - Daily Chart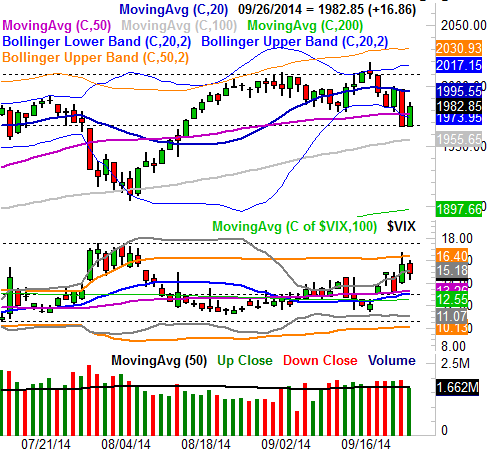 All charts created with TradeStation
From here, the 1966 level has become important - where the index hit a low on Thursday and Friday. The last-ditch support level under that is the 100-day moving average line at 1956, and if that floor breaks down too, look out below. But on the bullish side, keep in mind that in August that level held as support of downside price movement.
Overhead resistance is also a concern here, and now it's further away. It would take a push all the way above the aforementioned 2010 level to really get the market back in bullish gear. Problem is, at or above the 2010 mark, the S&P 500's trailing P/E approaches the 18.0 area. That may be the mental limit for most investors.
The NASDAQ Composite (COMP) (NASDAQ:QQQ) is closely mirroring the S&P 500 right now, having closed below its 50-day average on Thursday but snapping back above it on Friday. It's going to have to clear the ceiling at 4610 before the bulls can breathe easy again. Anything less, and we have to assume the recent choppiness with a downward-sloping bias will continue . A break under Thursday's low of 4466.6 could spark at least a small wave of selling and is a key level to watch.
NASDAQ Composite & VXN Daily Chart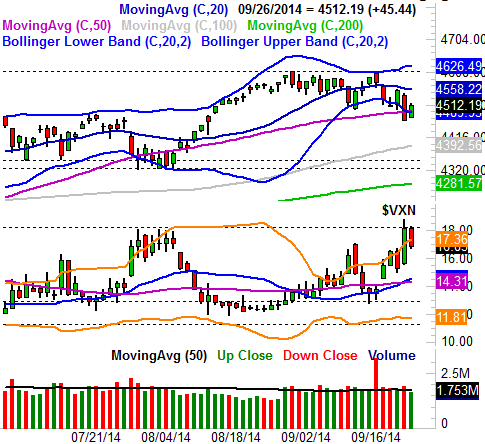 One problem the bears have with the NASDAQ's chart is the possibility that the Nasdaq Volatility Index (VXN) (NYSEARCA:VXX) may have already peaked at its ceiling at 18.2. If the VXN really is poised to pull back, that's going to put some bullish pressure on stock. On the flipside, if the VXN breaks above 18.2, that could be a real warning shot that further volatility is ahead.
Superficially, stocks look like they're still mostly on the fence. From a realistic perspective though, in light of the TrendScore move into the cautious zone at the same time the 50-day moving average lines started to crumble, puts the market on the defensive. The odds still slightly favor more downside from here for the broad market (NYSEARCA:DIA) (NYSEARCA:IWM).
Disclosure: The author has no positions in any stocks mentioned, and no plans to initiate any positions within the next 72 hours.
The author wrote this article themselves, and it expresses their own opinions. The author is not receiving compensation for it. The author has no business relationship with any company whose stock is mentioned in this article.