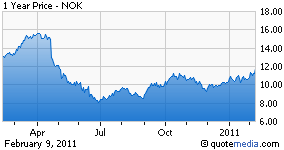 I opened a new, long position in Nokia (NYSE:NOK) amidst Friday's 14% drubbing, and I did so with the aplomb of either a neophyte, who has yet to be humbled by the market's fickleness, or someone mentally unsound. Rest assured that I have been humbled more times over the years than I care to advertise, and before you write me off as a correspondent from an institution with tranquil scenery and no sharp objects, consider this:
When all interest-bearing liabilities are deducted from the December 31 balance of cash, liquid cash equivalents and 80% of the long-term cash-like assets, each diluted share is entitled to $2.12, assuming (i) the EUR / USD rate of 1.3546 on February 13 and (ii) the minority interest's right to 27.4% of assets.
Looking back at 2010, Nokia generated $285M of cash per month from operations, net of capital expenditures and dividends.

For the year, this came out to $0.92 per diluted share.
Looking forward …

Well, that is where it gets tricky, doesn't it?

Despite the disagreements that contribute to an interesting market for NOK shares, hopefully few will quibble with the following:

Nokia's story really, truly is not just about smartphones and the associated third-party ecosystem for software applications and content.

The company in 2010 sold 353M "dumb" phone units for €14.3B.

Lacking the most popular smart phones may have a reverse halo effect on dumb phone sales, but Nokia's footprint in this segment is not disappearing overnight.

The world will continue to have millions of people who can afford neither smartphones nor the expensive data plans the phones require, and the world will continue to have millions of people who want nothing more from their phones than undropped calls (full disclosure:

I am one of them).

So what is this business worth on a standalone basis?
Let's assume that Nokia's dumb phone trends persist for the next decade before reaching some terminal stasis of commoditization: average selling prices decline 2.5% per year, unit volumes decline 3% per year and the negative change in gross margins is 5% per year. Also, let's give Mr. Elop some operational benefit of doubt and assume operating expenses and capital expenditures decline lockstep with gross margins. Using 9% cost of capital and a terminal value of 1x 2020E EBITDA, the discounted cash flows from such a business have a value of about $4.90 per diluted share, inclusive of the $2.12 net cash mentioned earlier.
A Morgan Stanley report published on January 28 mentioned a "bear case" scenario in which the Nokia Siemens Networks and NAVTEQ segments are valued at 0.35x sales and 3x sales, respectively. Using these multiples on 2010A revenues adds another $2.70 per share for a total of $7.60 per diluted share.
Which brings us to Friday's closing price of $9.36. It implies the smart phone business has a value of $1.76 per share, or $6.5B. Pause, and think about that. Nokia's smart phone business last year generated €14.8B in sales at operating margins almost certainly north of the published Devices and Services 11%, a euro-weighted average. Is this segment really worth only 3.0x trailing 12-month operating income? Or less? Or, if you believe the segment will generate in 2011 only 80% of 2010 operating income, is it worth only 3.8x forward numbers?
On Friday, I did not think so. One of the geeky benefits of investing time in a DCF model is that you can back-solve for all sorts of fun facts, such as the implied growth rate that would have to hold true in perpetuity for the smart phone business to actually be worth only $6.5B. Hint: the rate stretches credibility. Also stretching credibility is Mr. Elop's contention that hitching Nokia's wagon to the Windows mobile operating system will somehow help with differentiation. Huh? In what parallel universe? But I digress ... Whatever you believe the merits of Mr. Elop's going-forward strategy to be, the sky is not (yet) falling on Nokia's head for no other reason than even a supertanker takes a while to sink after running aground.

Disclosure: I am long NOK.