By Relmor Demitrius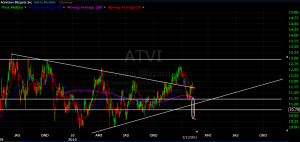 (Click to enlarge)
On February 9 Activision Blizzard (NASDAQ:ATVI) discussed their 4th Quarter results in an after market hours conference call. Shares of Activision closed at $11.69 before the call on that day. During after hours trading the stock went down significantly as the call progressed. The next day the stock gapped down and hit as low as $10.40 a share. This might have been due to lower guidance than expected for 2011as well as dropping their popular Guitar Hero gaming line. The day after the conference call the stock closed at $10.75. The second day after the conference call the stock closed slightly higher at $10.78. Was there anything in the call that would justify buying so soon after a huge gap down? Are their any technical reasons we can examine? Let's take a look at a few points of interest from the conference call as well as some technical analysis on the charts.
There were both positive numbers and relatively good news overall out of the conference call. On a Non-GAAP basis they were profitable as usual, to the tune of $0.53 cents a diluted share, higher than 2009′s $0.49 cents a share for Q4. They also announced a $1.5 billion dollar stock buy back program. This came on the heels of an over 900 million dollars stock purchase in 2010. The company also announced dividend raise: 15%, from .15 cents a share to .165 cents a share. This is the best dividend given in the gaming stock space.
How much stock is $1.5 billion dollars worth? Well they currently have 484 million shares in the float and 1.2 billion shares outstanding. If you remove, let's say, the shares at a price around $12, you in effect remove 125 million shares of stock. That reduces the float from 484 million shares to 359 million shares. The outstanding share count is reduced from 1.2 billion to 1.075 billion shares. There is more benefit to the float reduction than outstanding shares percentage wise. This will reduce supply of the stock and thus decrease the P/E ratio substantially. As for the dividend, who doesn't like a dividend?
Dropping the Guitar Hero line was said by CEO Bobby Kotick to be purely a financial decision on a game line that was losing popularity. Due to high costs (music royalty fees were blamed), continued game production didn't make fiscal sense anymore. You might see this as good news as a shareholder. Cutting 500 jobs as part of this move, but shifting capital and employee assets to other more profitable gaming lines, like World of Warcraft and Call of Duty, seems like the intelligent option as a business.
Kotick also mentioned wanting to shift resources and produce more games with better continual revenue generating power. No longer does he want the launch dates to be the end all of a game, he wants that to be just the beginning. With download-able content, new functions, expansion modules, and online experiences, the company hopes to significantly improve revenue in after-market avenues.
Activision Blizzard also announced that they are beginning World of Warcraft: Cataclysm in China. This could be a huge market for them. They already have 12 million monthly subscribers to their World of Warcraft gaming platform. Also expansion offerings make this game still popular years later.
So I do see enough fundamental reasons to be encouraged about the stock going forward.
Technically, I see the stock held for two days on high volume over a significant support line at $10.75. Looking at the chart below you can see this two day hold over support. Since May of 09 the stock has been below $10.75 for only a handful of days. Also the volume on that gap down day was huge. Is this smart money selling out for huge losses? I don't believe that is the case. Is $10.75 going to hold for sure? Of course it might not, but I think this is a good consolidation area and $10.75 should be at least be a mid range area for any long protracted bearish trading the stock may do for a while. Looking at a long term view, I see $9 as ultimate support. That would be truly a golden gift for sure, in my humble opinion.
Disclosure: No position ATVI