Weak commodity prices and continued speculation about higher rates continued to punish Energy this week, with the EPX down -4.55% . The benchmark MLP index was down -2.09%, and for the first time in over 40 weeks, the number of new lows exceeded the number of new highs. For the month, only 15% of units have generated a positive return, in spite of the later-than-usual abundance of equity issuance.
The EIA reported that the Cushing to Permian spread is at a 2-year peak as production accelerates against stagnant local demand and takeaway capacity.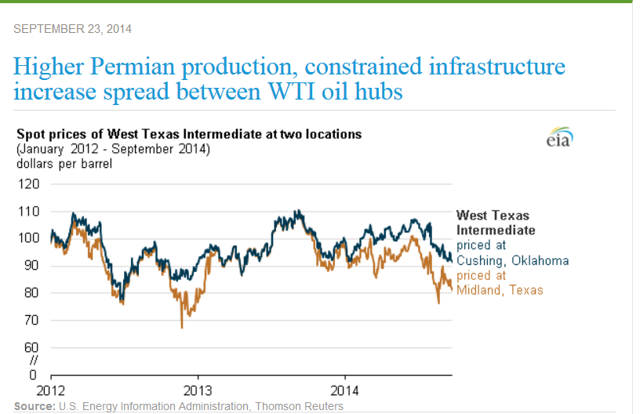 In spite of the negative MLP tape, CONE Midstream Partners (CNNX) priced above its range and closed up 34% from the issuance price, reinforcing that the market will pay for transparent distribution growth. CONE is a new MLP with the largest dedicated Marcellus acreage, with escalating gathering and processing volumes and forecasted DCF growth.
Unit Movers
The Sands pair, Emerge Energy Services LP (NYSE:EMES) and Hi-Crush Partners LP (NYSE:HCLP), continued their volatile path on strong volume and continued media attention on the increasing use and impact of sand proppant in fracking. Viper Energy Partners (NASDAQ:VNOM), the MLP proxy for Permian oil, fell sharply due to the weakening value of mineral rights and a secondary 90 days after its IPO. As expected, Energy Transfer (NYSE:ETP) dropped down to Susser Petroleum Partners (SUSP), its convenience store assets of Mid-Atlantic Convenience Stores, for $768MM, which will be financed by 4MM new SUSP units. SUSP will also acquire Aloha Petroleum Ltd. for $240MM, or 7x EBITDA. Susser Petroleum Partners will also change its name to Sunoco LP. Western Refining Logistics, LP (NYSE:WNRL) has agreed to acquire the southwest wholesale business of local refining and marketing company Western Refining, Inc. (NYSE:WNR) for $360MM, a 9x EBITDA multiple.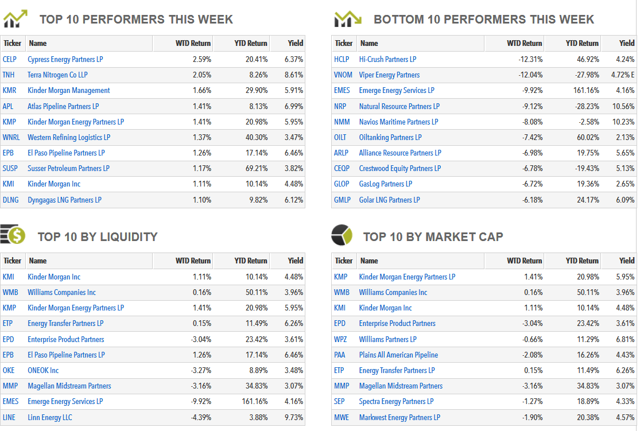 Top Yield Increases
The below list is of the MLPs with the greatest increase in yields over the past month. You may notice there is no secular theme to the list, other than the majority are high-yield units.

Kinder Morgan Transaction
Kinder Morgan Energy Partners (NYSE:KMP) released a tax information package this week to assist investors in preparation of 2014 returns, and likely many CPAs who will have to deal with qualified UBTI payments. Rich Kinder and the IR department opted for a new slogan, the "2/10/2", which represents that Kinder Morgan Inc. (NYSE:KMI) will raise the 2015 dividend to $2.00 in 2015, the company will grow at 10% from 2015-2020, and it will have $2.0B in excess coverage during that period.
New Issuance
Tough week for secondary offerings as hedge funds flipped out of many of the general purpose funding efforts, sending units lower for Genesis Energy (NYSE:GEL), Seadrill Partners (NYSE:SDLP), Martin Midstream Partners (NASDAQ:MMLP) and Atlas Energy (NYSE:ATLS). GasLog Partners (NYSE:GLOP) also issued new units to fund two new LNG carriers, sending units down -6.72% for the week.

Despite such issuance and short-term supply imbalance, these events often provide investors with attractive entry points. As illustrated in the Seadrill chart below, units have moved higher after each secondary offering.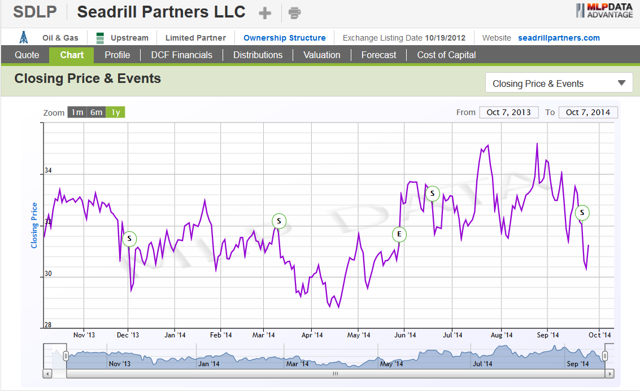 IPO Calendar
Several new issuers filed registrations this week, and JP Energy Partners is scheduled to price next week, with our analysis found here.

To get this round-up each week, please make sure you are following MLPData here on Seeking Alpha.
All charts and tables provided by MLPData.com
Disclosure: The author is long TEP, CNNX, ENBL, HCLP, EMES, ETE.
The author wrote this article themselves, and it expresses their own opinions. The author is not receiving compensation for it. The author has no business relationship with any company whose stock is mentioned in this article.