I have written a few articles in the past about solid dividend yield stocks from Western Europe. I continue to monitor many foreign stocks hoping to find a bargain. I want to move some of my money out of US stocks that are at all-time highs into foreign dividend-paying stocks that are priced right.
In this article, I provide an update to a few Swedish dividend stocks that I had covered more than 2 years ago in March 2012. I remind fellow investors that Sweden has a withholding tax of 30% on dividends paid. This means that stocks from Sweden are not suitable for retirement accounts as the tax paid to Sweden cannot be recovered. Please consult your tax advisor before investing in foreign stocks.
As a quick summary, Sweden is a member of the European Union but does not use the euro. The country continues to use the Swedish krona (SEK or kr.), which has been very stable and quite strong over the years. A ten-year chart of SEK against the USD is shown below that demonstrates that the SEK has not depreciated against the dollar. This is attractive, e.g., when comparing against other big currencies like Japanese yen or Brazilian real.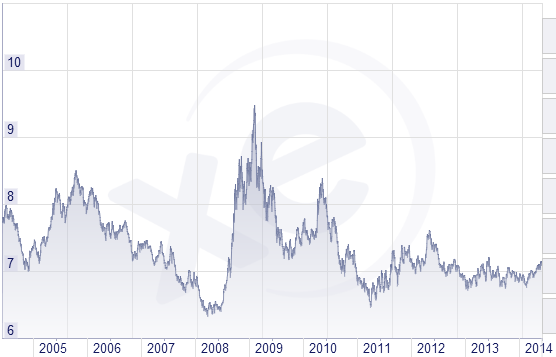 Source: xe.com
Strong Companies with Dividend Growth History
The following table lists six companies in alphabetical order that support decent dividend yield and respectable dividend growth histories. These are all worth watching for further development and initiating a position on any market weakness.
Company

Price (NYSEARCA:USD)

EPS

Div Amt
(USD)

Yield
(USD)

Payout Ratio

Div Growth
10-Yr

Div Growth
5-Yr

Div Growth
1-Yr

AB Electrolux

54.5

2.35

1.79

3.28%

276.60%

n/a

n/a

0.00%

Alfa Laval

20.70

7.22

0.51

2.49%

51.94%

14.13%

10.76%

7.14%

Assa Abloy

25.36

12.89

0.39

1.55%

44.22%

16.38%

9.63%

11.76%

Atlas Copco

26.18

9.92

0.75

2.90%

55.44%

15.97%

12.89%

0.00%

Autoliv

94.70

5.47

2.00

2.11%

36.56%

13.99%

4.56%

5.82%

Ericsson

12.53

3.69

0.41

3.29%

81.30%

n/a

10.15%

9.09%
Source: Company websites and annual reports for last 11 years
AB Electrolux (OTCPK:ELUXY)
Electrolux is a multi-national home appliance manufacturer. It is the world's second-largest appliance maker, second only to Whirlpool. Electrolux traces its origin to a sales company and lamp maker from 1918. It now since grown via numerous acquisitions and mergers. Current brands include Electrolux, Eureka, Frigidaire, Kelvinator, Volta, Westinghouse and few others. The company recently agreed to pay $3.3 billion in cash for General Electric's (NYSE:GE) appliance business. This will help Electrolux double its US sales allowing it to go head-to-head with Whirlpool (NYSE:WHR).
Additionally, the company has been pushing aggressively into emerging markets, where the middle class is slowly beginning to satisfy their hunger for home appliances. Rising standards of living and easier access to credit should help Electrolux sell more appliances in these countries.
The current annual dividend is $1.80, which gives a yield of 3.3% at the current ADR price on the OTC market. No dividend was paid out in 2008, but has been consistent at SEK 6.50 for last four years. The company is expected to have flat revenue over the coming couple of years. Operating profits would grow in the low single digits on the back of restructuring and increasing efficiency. This suggests that the dividend would likely be maintained. The stock had run up after the GE appliance acquisition news was announced. However, it could make a good dividend yield stock if it retreats to $46-$47 for an entry yield of 4%.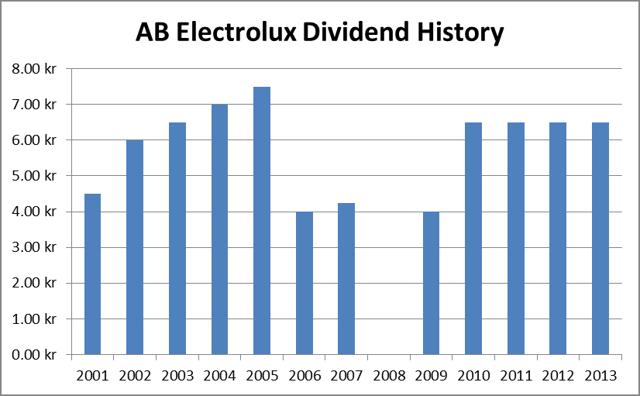 Source: Company Annual Reports
Alfa Laval (OTCPK:ALFVY)
Alfa Laval is a world leader in heat transfer, separation and fluid handling technologies. It was established in 1883 and has its headquarters in Lund, Sweden. The company offers heat transfer solutions and products for various heat exchangers, boilers, burners and gas thermal units. The separation solutions division supplies centrifuges and filtration systems. The company's fluid handling systems are used for desalination, tap water systems, transportation and regulation of fluids.
Its products are used to both heat and cool varied substances such as water, chemicals, beverages, food, pharmaceuticals. Alfa Laval also supplies technology to the oil industry. The company has more than 1900 patents and invests about 2.5% of revenue in R&D every year. The company's biggest competitor is Doosan Heavy Industries based in South Korea.
Alfa Laval has a stellar dividend growth record with a respectable trailing dividend yield of 2.5%. The company is expected to grow revenue at an average CAGR of 8% over next few years. This includes an expected 3%-4% growth from acquisitions. This revenue growth would support EPS and dividend growth in high single digits. An investor can expect to get good total returns from Alfa Laval when purchased below $19 for an entry yield greater than 2.8%.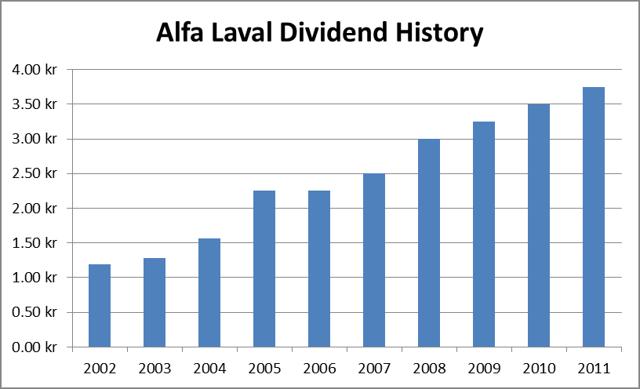 Source: Company Annual Reports
Assa Abloy (OTCPK:ASAZY)
Assa Abloy is world's largest supplier of lock and security solutions. One in every 10 lock and security installation worldwide uses the company's products. Assa Abloy was formed in 1994 through the merger of the Swedish company ASSA and the Finnish company Abloy. ASSA itself was spun out of the Swedish security firm Securitas AB. The company has grown at a fast pace in the last 20 years, aided by more than 200 acquisitions globally. Forbes recognized the company as one of the top 100 innovative companies around the world in 2013.
Some of the company's products include mechanical locks, wireless locks, access control and identification technologies, door closers, hotel locks, panic exit devices and smart cards and credentials. The brands include Sargent, Yale, HID, Abloy, Medeco, MUL-T-LOCK, Norton and Adams Rite.
The European debt crisis has kept the demand for Assa Abloy products muted over the last few years, but demand in the US is picking up. The company is expected to maintain revenue growth on the back of continued acquisitions. The company should be able to grow dividends at 10% CAGR on the basis of a similar growth rate in EPS. The current yield of 1.55% is a bit too low for my preference. However, this also reflects a strong share price and investors' confidence in Assa Abloy's future prospects. I suggest waiting for a market correction before taking a full position in the stock.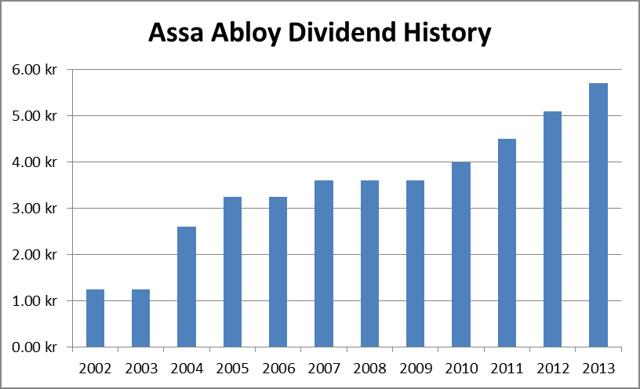 Source: Company Annual Reports
Atlas Copco (OTCPK:ATLCY)
Atlas Copco provides equipment and services that range from compressed air and gas tools, generators, construction and mining tools, industrial tools and assembly systems. The company was founded in 1873 and is the world's leading producer of air compressors. It is a market leader in many other markets, including mining equipment, road construction and power tools. This has helped it grow nicely in Asia, which is Atlas Copco's biggest market now. The company has stellar management that kept it out of serious trouble during the slowdown. Atlas has a number of competitors in the construction and equipment business including Caterpillar (NYSE:CAT), Terex (NYSE:TEX), Ingersoll Rand (NYSE:IR) and Stanley Black & Decker (NYSE:SWK). The company remains tied to general macro-economic conditions and capex has been under pressure in most industries, especially mining.
The annual dividend is $0.75, which gives a yield of 2.9% at the current ADR price. The dividend did not grow during 2007-09 due to the financial crisis, but has since started increasing again. Revenue and earnings have been under pressure due to the weak mining business, and the dividend may not grow more than a few percentage points over the next couple of years. I have been an investor since 2011 and plan to hold for now. I will add to my position if the stock sells for less than $24.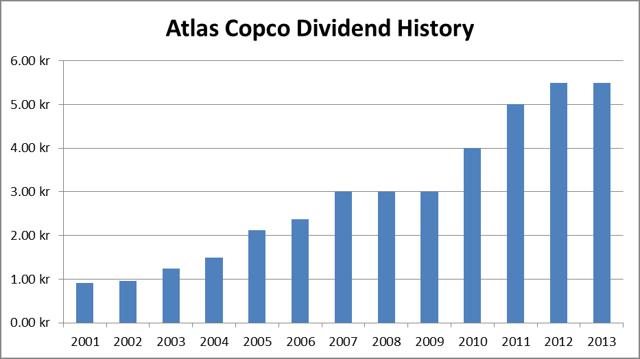 Source: Company Annual Reports
Autoliv (NYSE:ALV)
Autoliv is one of the world's largest automotive protection and safety equipment manufacturers. The company's product portfolio includes seat belts, airbags, steering wheels and more. The company was established in 1953 in Sweden and merged with the US company Morton in 1997. It supplies parts to all leading car manufacturers in the world. Its biggest competitors are Takata Corp of Japan (OTCPK:TKTDY), Magna International (NYSE:MGA) and TRW Auto (NYSE:TRW). The company makes passive safety electronics and active safety systems such as radar, night vision and camera vision systems. Autoliv has a 37% global market share in passive safety and 20% in active safety, which I believe will be the growth driver in the next decade.
The company is obviously tied to global automotive sales, which were anemic during the 2007-2009 period, and Autoliv cut its dividend by a large amount. It has since restored and increased the dividend, but this could be a big issue for many dividend-focused investors. The company gets a third of its business each from the Americas and the EU and only 16% from China, which is its biggest growth market. I expect the dividend growth to continue at a slow rate on the back of single-digit revenue and earnings growth. This is one of the few Swedish companies that declares quarterly dividends, and in US dollars. I would like to buy the stock closer to a 3% forward yield, which would mean 25% lower price than today, and I don't think that is going to happen anytime soon.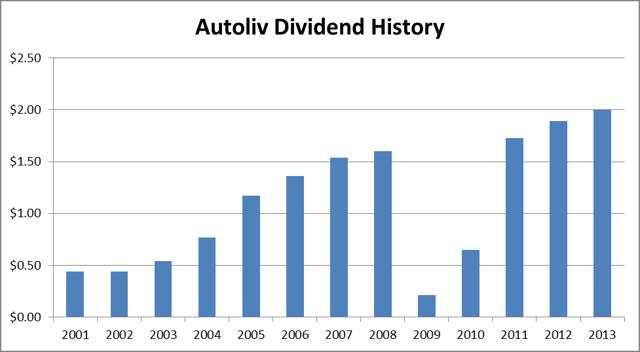 Source: Company Annual Reports
L.M. Ericsson (NASDAQ:ERIC)
Telefonaktiebolaget Lars Magnus Ericsson (Ericsson) is one of the world's largest telecom and services companies. It consolidated its position as the world's largest mobile telecom equipment vendor after acquiring assets of bankrupt Nortel Networks in 2010. Huawei is now neck-to-neck with Ericsson, followed by Nokia Solutions and Networks. The company was founded in 1876 and has a long history of telecom firsts and large-scale equipment deployments. It faced significant problems during the telecom collapse of early 2000s following the dot-com bust. Over the last few years it has aggressively diversified into services wherein it runs the entire network for a cellphone operator (like Sprint (NYSE:S) and T-Mobile (NASDAQ:TMUS) in the U.S.). This allows the operator to focus on marketing and other aspects of the business. This recurring business is far more immune to general economic conditions than the sale of network equipment.
Ericsson sold its stake in a joint venture with Sony (NYSE:SNE) that made mobile phones as Sony Ericsson was unable to gain meaningful marketshare in a market dominated by Apple (NASDAQ:AAPL), Samsung ("SSNLF), LG (OTC:LGEIY) and Huawei. Separately, Ericsson has continued to acquire smaller companies such as Azuki Systems earlier this year, Microsoft Mediaroom in 2013, BelAir Networks in 2012, and Telcordia in 2011.
The annual dividend is $0.41, which gives a yield of 3.3% at current ADR price. The dividend has increased nicely over the last six years. I am looking forward to initiating a position if I can get a 4% entry yield. The company is expected to grow both revenue and EPS as the global boom in telecom and data networks continues.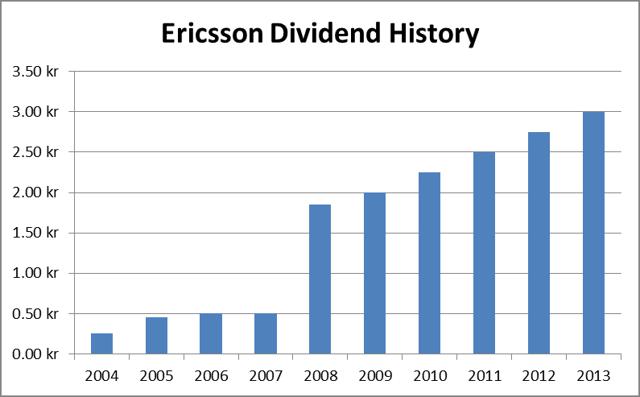 Source: Company Annual Reports
Concluding Remarks
The US markets may continue to head higher, but I don't find many stocks priced fairly. I am not comfortable increasing my positions in most dividend growth stocks in the US. Instead, I am watching Alfa Laval, Assa Abloy and Ericsson closely and may increase my position in Atlas Copco.
Disclosure: The author has no positions in any stocks mentioned, but may initiate a long position in ATLCY over the next 72 hours. The author wrote this article themselves, and it expresses their own opinions. The author is not receiving compensation for it (other than from Seeking Alpha). The author has no business relationship with any company whose stock is mentioned in this article.
Editor's Note: This article discusses one or more securities that do not trade on a major U.S. exchange. Please be aware of the risks associated with these stocks.