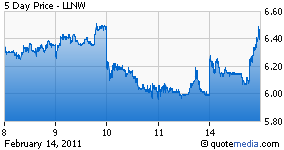 Content stories are catching positive play in the financial media of late, and with Limelight Networks (NASDAQ:LLNW) jumping higher in Monday's after-hours trade longs are not sitting on the fence. They're in.

Limelight, which provides content delivery network services, gained Monday evening after beating Q4 revenue expectations and setting its outlook in line to above the Street view.

Our history on LLNW is strong on the upside, and we would follow the trend and peg a long-side play on the shares Tuesday.

LLNW has recorded an earnings-driven after-hours gain in 8 of the last 12 quarters tracked in our MT Pro database. Also, 100.0% of the time (8 out of 8 times) the stock followed-through in the same direction by the close of the next day's regular session compared to the extended hours "effective close." When it followed through, the price closed further in the same direction on average by 8.3% (in 8 events) from the "effective close."

Buyers may want to linger near the 6.80 to 7.00 mark to start, an area that saw firm upside support through the first-half of after-hours trade and where a floor support could develop for moves into the lower 7s. It's likely, however, that LLNW starts the day closer to the 7.05 to 7.20 range. As a result, more risk tolerant longs may want to test the waters closer to the 7.00 to 7.10 range, an area that could set up as a bottom support as the stock perhaps makes some early turns back up near tonight's highs in the 7.20s.

In Monday's after-hours trade, LLNW jumped to a plus-side range of 6.71 to 7.11 early in after-hours trade before steadying at higher levels between 7.01 and a session top of 7.24 through the bulk of its night trade.

A pre-market open Tuesday may have potential in the 7.05 to 7.20 area.

Disclosure: I have no positions in any stocks mentioned, and no plans to initiate any positions within the next 72 hours.