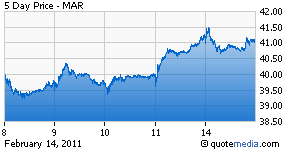 Marriott International (NYSE:MAR) was up in Monday's after-hours trade, holding the door open for longs to get in the shares Tuesday.

The historical data we've tracked on Marriott is strong on the upside trend, but the range we recorded tonight and the stock's position near its 52-week high has us wary of shorts keeping any outsized gains in check.

Marriott gained in evening action on the back of better than expected Q4 results and plans for a spin off of its timeshare business.

MAR has recorded an earnings-driven after-hours gain in 5 of the last 10 quarters tracked in our MT Pro database. Also, 100.0% of the time (5 out of 5 times) the stock followed-through in the same direction by the close of the next day's regular session compared to the Extended Hours "effective close." When it followed-through, the price closed further in the same direction on average by 4.0% (in 5 events) from the "effective close."

As we noted above, the strong historical data in place bodes well for longs on Tuesday, but even with the consistent returns we're leery of betting the penthouse on MAR as there was some decent sell momentum that touched the stock tonight on its attempts to hold above 43.

Monday night's upside move positions MAR close to its 52-week high so longs may have a tough time fighting against what could be some profit-taking Tuesday that could keep gains in check.

With that scenario in place, we would look to play the issue early on the long side and target fast exits if it is looking weak in its attempts to again break through the 43 mark. Longs may want to target possible entry points at 42.12 to 42.50, an area that held as a tentative bottom support through the mid-session and second-half of tonight's trade.

On the short side, a potential ceiling level was established at 43 and above, an area shorts may want to eye as a possible top if sell momentum again starts to pick up here Tuesday.

In Monday's after-hours trade, MAR bolted to an early evening high of 44 before dropping back to upside levels between 42.12 and 43.01 - a range where it stayed through much of its evening trade.

A pre-market open Tuesday looks to have potential in the 42.35 to 43 area.
Disclosure: I have no positions in any stocks mentioned, and no plans to initiate any positions within the next 72 hours.