Praxair is a Real Gas
Anyone who follows my articles probably realizes that I tend to write about companies that operate below the radar, almost in stealth mode. There is absolutely nothing wrong with playing a momentum stock that everybody is screaming about, and it is great fun to do (and write about) now and then. However, betting your portfolio on such plays is very risky.
As a rule of thumb, too much attention on a play is a bearish contrarian signal. For example, the time to load up on gold (unless you are a day trader) was during the early 2000s when few were mentioning it, not 2012 when everybody was screaming at the tops of their lungs about how it was headed to infinity and beyond.
If a company is getting a lot of hype, it can be a terrible play for a value investor (though there are many exceptions). Hype suggests that somebody has beaten you there; it may still be early enough to make good money, but more often than not hearing a stock touted by all the "gurus" is a signal that the early entrants are primed for that last heave higher before they take their profits and leave you wondering where they went.
For a true value investor, the time to load up on a position is before the hype or, more accurately, in its absence. Animated chatter by the mavens who "have all the answers" suggests to me that the stock price has been bought by somebody else they know before they so graciously let you in on the play.
I know, I'm paranoid. But be careful following market gurus who shoot from the hip.
The downside is that the stocks we choose might never become a hot topic on the cable television business shows and get bid up beyond all reason, because you and I can't just pop on a cable show to hype our pet plays. The solution is that we must be discerning about value before setting off on our own. This will allow a portfolio to grow organically rather than depending on the will o' the wisp of random spikes higher (and then lower).
This brings us around to today's stock. Perhaps the most difficult thing about owning Praxair, Inc. (NYSE: PX) is explaining to somebody exactly what it does, so let's get that out of the way. Praxair sells specialty gases, common ones such as pure oxygen as well as more exotic ones for electronics and welding. It also builds the equipment to produce these gases and use them in industrial applications. You might not think that gases are a big deal, but they are a very big deal indeed: the company has been selling them since 1907. It is a true multinational, with extensive operations in Brazil, Russia, Europe and the United States, over 50 countries in all.
You won't hear much about Praxair on the business shows, but it is one of the market's stellar stealth plays.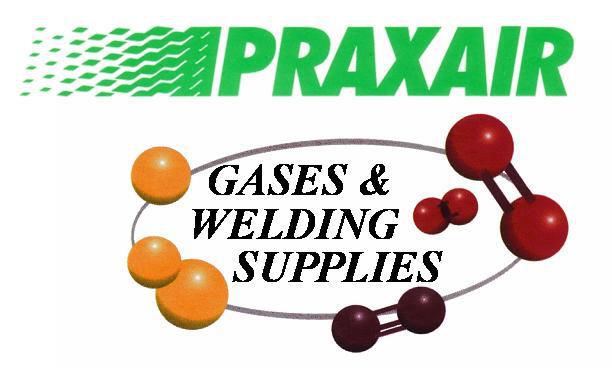 Fundamentals
Our first step is to examine the company's annual statements to see if it might be worthy of our money.
| | | | | | | |
| --- | --- | --- | --- | --- | --- | --- |
| Fiscal Year | Sales | Net Income | Shares | Earn/share | Div/share | Payout Ratio |
| 2009 | $ 8,956 | $ 1,254 | 312,382 | $ 4.01 | $ 1.60 | 0.40 |
| 2010 | $10,116 | $ 1,195 | 311,395 | $ 3.84 | $ 1.80 | 0.47 |
| 2011 | $11,252 | $ 1,672 | 306,722 | $ 5.45 | $ 2.00 | 0.37 |
| 2012 | $11,224 | $ 1,692 | 301,845 | $ 5.61 | $ 2.20 | 0.39 |
| 2013 | $11,925 | $ 1,755 | 299,965 | $ 5.87 | $ 2.40 | 0.41 |
Source: Praxair Annual Reports. All amounts in millions except per-share and ratio figures.
The numbers all look very stable and boring, which is exactly what we want. A few things stand out:
Sales have climbed slowly but steadily;
Net income has followed the same pattern, with the company building on occasional leaps higher;
The share count has been declining steadily, suggesting a repurchase plan is in operation;
Earnings per share has increased every year since the recession;
The dividend has been rising steadily but the payout ratio is still right at the perfect sustainable spot of around 40%.
Taken together, the figures tell a tale of a conservatively run business that builds a little bit on each success to increase shareholder value. It may be best suited to a patient investor looking for incremental improvements rather than a quick ride higher.
Next, let's look at cash flows and see if they confirm what we have learned so far.
| | | | | |
| --- | --- | --- | --- | --- |
| Fiscal Year | Net Cash from Operating Activities | Cap Ex | Free Cash Flow | Total Assets |
| 2009 | $ 2,168 | $1,352 | $ 816 | $ 14,317 |
| 2010 | $ 1,905 | $1,388 | $ 517 | $ 15,274 |
| 2011 | $ 2,455 | $1,797 | $ 658 | $ 16,356 |
| 2012 | $ 2,752 | $2,180 | $ 572 | $ 18,090 |
| 2013 | $ 2,917 | $2,020 | $ 897 | $ 20,255 |
Source: Praxair Annual Reports. All amounts in millions.
Nothing looks much different than the sales and income data. We notice the following:
Net cash from operating activities is up 53% from the 2010 recession low;
Capital expenditures also are up, but free cash flow has grown, at least as measured up through 2013; and
Total assets are up 41% since 2009.
So far, there are no red flags, or even purple ones. The company is steadily growing its assets while maintaining its free cash flow in good order.
As a check on the annual data, let's look at the most recent financial data, from the second quarter of 2014 ending on 30 June, and compare it to similar periods in previous fiscal years. This can alert us to anything that has changed during 2014 or developing patterns that might not have been revealed by the fiscal year data.
| | | | | | |
| --- | --- | --- | --- | --- | --- |
| Fiscal Year | Sales | Net Income | Earn/Share | Div/Share | Payout Ratio |
| 2009 | $2,138 | $ 299 | $ 0.96 | $ 0.40 | 0.42 |
| 2010 | $2,527 | $ 371 | $ 1.19 | $ 0.45 | 0.32 |
| 2011 | $2,858 | $ 425 | $ 1.38 | $ 0.50 | 0.36 |
| 2012 | $2,811 | $ 429 | $ 1.42 | $ 0.55 | 0.39 |
| 2013 | $3,014 | $ 445 | $ 1.49 | $ 0.60 | 0.40 |
| 2014 | $3,113 | $ 467 | $ 1.58 | $ 0.65 | 0.41 |
Source: Praxair Second Quarter filings. All amounts in millions except per-share and ratio figures.
The second quarter data is a little sharper than the annual data, providing a little more insight into the company:
Sales have been improving steadily;
Net Income is up 56% from the recession year of 2009;
Earnings per share increased every year during the period; and
the dividend has been moving up steadily by a nickel a quarter, with the payout ratio slightly decreasing over time.
Once again, there is nothing concerning about any of the data. About the worst that can be said is that company is a slow grower, up only about 11% since 2012. This is often the case in a mature business, where you don't get much rapid growth, but also don't see a lot of volatility, either.
Valuation
According to Morningstar, PX has a price/earnings ratio of 21.5, slightly higher than that of its industry peers at 18.0 and also a slight premium to the S&P 500 multiple currently at 19.6. Its Operating Margin % ttm is 22.5, almost twice the industry average of 12.6, and its Net Margin stands at 15, also much higher than its peers' level of 9.7. Its ROE ttm also is slightly better than other industry players at 25.8.
On the flip side, by several measures the stock is not cheap. Its Price/Sales ttm ratio of 3.2 is higher than the industry average of 1.8, and Revenue Growth (3 year average) of 5.6 is much lower than the industry 19.7. Net Income growth (3 year) of 13.7% also is much lower than its peers' 38.4, while debt/equity at 1.2 is higher than other players in the industry, which sit at 0.7.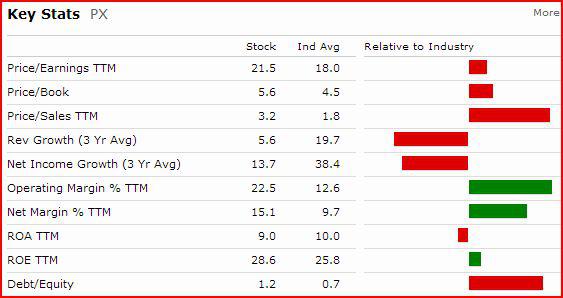 Source: Morningstar
Ordinarily, you don't want to see so much red on a valuation chart, but in this case there is a good reason to discount much of that. The slightly high valuation figures tend to confirm what we saw in the financials: Praxair is a mature company, a fairly slow grower that is running a quite profitable business. Being a long-time player, it no doubt has an array of proprietary technology that is the cause for its high margins. Investors see that, so Praxair rightly trades at a slight premium to the market.
You have to pay a little more for quality. In that sense, Praxair is similar to, say, Analog Devices (NASDAQ:ADI), which similarly dominates its chip niche and has high margins. Both companies pay nice, conservative, well-funded dividends. The wonder is that Praxair is not priced at even more of a premium, given its steady financials.
Technically, the chart for PX shows that it remains in a multi-year bullish run higher. It has traded sideways throughout 2014, though making higher lows and engaging in some coiling action. The stock is still above the 200-day moving average, so it remains in overall bullish orientation. It is possible to see a bullish flag forming this year, a pattern that tends to resolve to the upside, though there is no way to know when that might be. Generally speaking, the longer the move sideways, the greater the subsequent move after a breakout.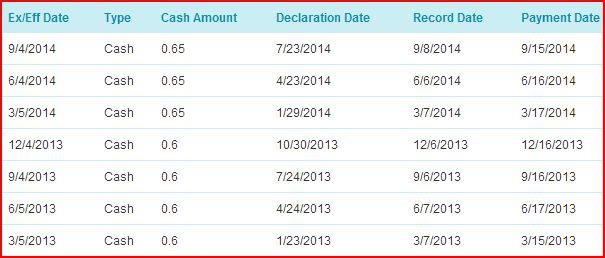 Source: Nasdaq.com
Praxair pays a steady dividend which has been steadily rising since 2004. At an annual dividend per share of $2.60, the stock currently yields roughly 2%. As shown above, the company appears to be able to pay the dividend handily and continue raising it, assuming all stays the same.
One other factor to consider is that Praxair has a very low beta (measure of volatility) of 0.77, according to Nasdaq.com. That means it is less volatile than the overall market, and in fact less volatile than the vast majority of other stocks. Thus, it is not the stock to buy if you are looking for "excitement." If you are looking for a "sleep well at night stock," though, that's a major point in its favor.
Looking Ahead
During the second quarter conference call, the company had this to say looking forward:
"We are updating estimated full year 2014 EPS guidance to a range of $6.30 to $6.45 representing 6% to 9% year-over-year growth. This includes approximately 2% negative currency translation. Therefore this guidance results in 8% to 11% year-over-year EPS growth excluding foreign currency impact. We have taken the top end of the guidance down the nickel but let the bottom unchanged."
The slight drop in the guidance was due to uncertainty in Brazil, which we'll get to below. Margins, which are the company's strong point, have only gotten better this year, suggesting there is nothing going wrong with their business model:
"Year-to-date we have expanded the operating margin by 50 basis points to our relentless focus on price and productivity and generated operating cash flow of 23% of sales."
Also, the third quarter should show nice growth:
"Our earnings guidance for the third quarter is for EPS in the range of $1.58 to $1.65 which represents 5% to 9% growth year-over-year. We expect sequential growth to come from continued improvement in the United States on-site merchant and package gas volumes."
Analysts are moderately bullish on the stock, with a consensus price target of $144.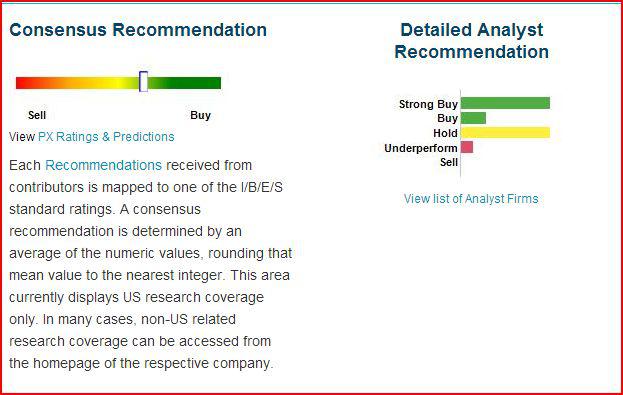 Source: Nasdaq.com
Analyst forecasts currently are in the middle of the range of the company's own guidance, suggesting there could be some upside by the end of the fiscal year.

Source: Nasdaq.com
The analyst forecasts suggest continued steady earnings growth. Praxair is a reasonably closely watched stock, so there are 17 estimates, which could give those optimistic numbers a touch more validity than some other sedate stocks we sometimes look at.
Overall, if the company and the analysts are correct, the outlook for Praxair remains bright for the foreseeable future.
Overseas Diversification
International diversification is a good thing to have, just as is diversification across sectors or asset classes. It's even better when you get a two-fer - a domestic company that dominates some overseas markets. Thus, you don't necessarily have to diversify by hunting down companies incorporated elsewhere, though we have some ideas about that, too. Instead, you can invest in a company such as Praxair, which has a good grip on some of the most enticing foreign economies around the world. As stated in its 2013 annual report, along with a list of too many countries to list here:
"Praxair is a global enterprise with approximately 60% of its sales outside of the United States."
With so much business overseas, the United States becomes just another market for Praxair. While we can generally get a good feel for business conditions here by staying abreast of the news, it is not so easy to know how a company such as Praxair is faring.
Fortunately, the company gives regular updates on its overseas business conditions. Regarding Brazil, which has been having its issues lately, the company had this to say during the conference call:
"We still feel good about the long-term prospects in Brazil. You look at country like Brazil they have today and will have a wealth of natural resources. And there is still significant infrastructure opportunities as you have a growing middle class and the increase of the wealth."
The challenges in Brazil appear to be fairly short-term:
"So the primary poor performance rest this quarter was really around June and as we have come into July here, the first couple of weeks were also little soft and we have been picking up in the back half now as we have kind of got into World Cup. So it remains to be seen but we are expecting some sequential recovery here and the elections will be a big impact here in the fourth quarter depending on who wins and what direction it goes at least for the near term."
The Brazilian election could negatively affect the company's Brazilian business:
"Right now at least our opinion is if Dilma [Rousseff, President of Brazil] is reelected you may see a bit of a sell-off in the real and that's why we had mentioned we think there's some uncertainty in the real. And I think you might just see '15 as a continuation of kind of what we saw in '14. If there is a new candidate elected I think you will see some potential confidence just in the change itself that might improve some of the foreign investment. But regardless of who wins, they still have significant infrastructure needs for that country."
Turning to Russia, the company is more optimistic, with the Ukrainian situation actually being 'slightly positive,' which just goes to show that you can't make blind assumptions about these things:
"Regarding the risk, we knew going in Russia would-- there would be risks. So as I mentioned in prior calls, we have taken a lot of mitigating steps, contractual protection, we are taking protection from the ruble and those are all playing out today. So as far as what we are seeing on the ground now, based on some of the recent events, initially the impact us has been slightly positive because with the border Ukraine shut down, you are not getting import of product from Ukraine and we don't operate in Ukraine."
The Indian economy does not usually get a lot of press, and it is not the easiest place for ordinary investors to get diversification there. However, it is a huge market, and Praxair is right there:
"Well, at this point we've actually had a lot of interesting projects we have been working toward in India, primarily in refining and steel space. And I think with the new government and some of the new confidence in the country, I hope that those investment decisions might accelerate. So at this point I feel fairly good about India and if Modi can deliver on the promises that they have laid out, I think that will bode well, and I think we can see some good growth there."
The bottom line is that, despite the inevitable local issues, Praxair is executing well around the globe, and that is usually a good bet for an investor seeking a diversified portfolio.
Continued Innovation
Praxair is not just some ancient company refilling acetylene torch tanks and eking out a dividend while its executives hit the links: it is at the cutting edge of technology in its field and solving very real contemporary problems. For instance, the company just recently announced on 18 September 2014 a potential solution to the nagging problem of pollution of groundwater due to fracking:
"Our DryFrac system is a game-changer for the industry," said Tony Wallace, vice president, Energy Services at Praxair. "Through our state-of-the-art technology and extensive carbon dioxide supply chain, we provide an alternative to water-intensive fracturing. Praxair's innovative waterless fracturing technology is yet another example of our commitment to helping our customers be more productive and sustainable."
If that becomes widely adopted in the industry, a major green objection to fracking could disappear (though you can rest assured there would be others to take its place). While perhaps unlikely to move the needle for Praxair financially because the company is so large, developments such as the DryFrac system illustrate that the company is continuing to expand its proprietary technology, reach new customers and not just coast on its lengthy laurels.
Conclusion
Praxair is not the most exciting stock you will own, but it is a solid growth stock with a dependable dividend. Aside from quarterly income, it will give you good diversification overseas and a handhold in some of the most vibrant economies around the world. You pay very little premium for steady growth and a steadily growing dividend. While others chase the mo-mos and the latest touts on the business shows, Praxair might be just the right stock for a well-diversified conservative portfolio.
Disclosure: The author has no positions in any stocks mentioned, and no plans to initiate any positions within the next 72 hours.
The author wrote this article themselves, and it expresses their own opinions. The author is not receiving compensation for it (other than from Seeking Alpha). The author has no business relationship with any company whose stock is mentioned in this article.