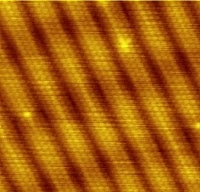 The mathematical definition of 'nano' is one billionth; so for example, a nanosecond is one billionth of a second. Nanotechnology is the science of manufacturing and utilizing extremely small particles and devices, sometimes as small as single atoms and molecules. A nanometer is one-billionth of a meter, which is approximately 80,000 times thinner than a human hair. Nanomaterials include carbon nanotubes used in electronics, body armor and cancer treatments, nanoclays which are used in composite materials, and nanoscale metals, alloys, and oxides, used in the energy and renewable energy industries.
WallStreetNewsNetwork.com just updated its list of over 40 different stocks that are involved in the nanotechnology field. They range from the microcaps (maybe these should be called nanocaps?) to the large multi-billion dollar corporations. For some of these companies, nanotech may represent only a small part of the business, such as Dow Chemical Co. (NYSE:DOW), Eastman Kodak Co. (EK), EI DuPont de Nemours & Co. (NYSE:DD), Ford (NYSE:F), General Electric (NYSE:GE), General Motors (NYSE:GM), and Hewlett-Packard Co. (NYSE:HPQ). Here are a few examples of companies involved in this fast growing field.
Amkor Technology Inc. (NASDAQ:AMKR) is in the business of microelectromechanical systems, microelectronic assembly, and testing. The stock trades at 6.5 times forward earnings and has a very favorable PEG of 0.86.
ABB (NYSE:ABB) has a nanotechnology research division relating to surface structures and material parameters. The stock has a forward price-to-earnings ratio of 15.9. The company also pays a yield of 2.0%.
Another dividend payer is Eaton Corp. (NYSE:ETN) makes micro and nano connectors. The stock has a forward P/E of 12.8 and a yield of 2.5%.
Cabot Microelectronics Corp. (NASDAQ:CCMP) develops proprietary Advanced Nanoscale Surface Technology and is designed to deliver Angstrom level finishes. The stock has a forward P/E of 15.8.
Disclosure: Author owned F at the time the article was written.