Good start to the week for risk today, as growths in Chinese exports and muted Chinese CPI helped bring EM risk back on, as copper hits new highs and Asian bourses rally hard off recent lows. After rumors of a 4.9% CPI print due to a cut in the food weighting to the CPI basket, the official figures delivered precisely that, leading to cooled rate risk and a nice bid for oversold EM. The Chinese January trade figures are interesting, however, considering exports beat (37.7% YoY vs 22.5% YoY expected), imports surged through expectations at a margin well beyond that (51.0% YoY vs 27.0% YoY expected), leading to a $6.46b trade balance, $4.84b below expectations. Food imports undoubtedly were a big factor in that. Eurozone and Portugal GDP both miss by 10bps QoQ (0.1% vs 0.0% and 1.2% vs 1.3%, respectively), leading to a bit of euro weakness that was extended after WestLB announced failure to reach a restructuring agreement, causing fears of senior bondholder impairment to rise. Meanwhile in the US, Obama continues his reelection mode agenda with a $1.1t deficit cut in his FY 2012 budget proposal.
The S&P (NYSEARCA:SPY) up another 0.24% today, extending its bounce off of 1300 from yesterday, although volume continues declining. With EM risk back to being bid for now, the short EM/long DM trade could be in for some unwinds, and with US equity as extended as it is, I added a bit more protection in the form of short index ETF exposure to hedge my longs at these levels. Summer 2008 highs in the SPY ETF are about 100bps away from current levels.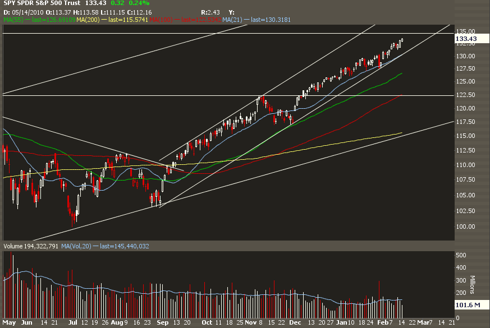 (Click charts to expand)

After a sharp drop in London trading on the WestLB news, EURUSD spent much of the New York session recovering early losses, and bounced smartly off of the important 1.340-1.345 S/R level that marks December and January 2010 cycle highs. Look for price action around that zone to be key for future trend development. With event risk popping back up in the Eurozone and fiscally hawkish rhetoric from Obama, my bias remains to the downside in this pair, to perhaps a retest of its 200d.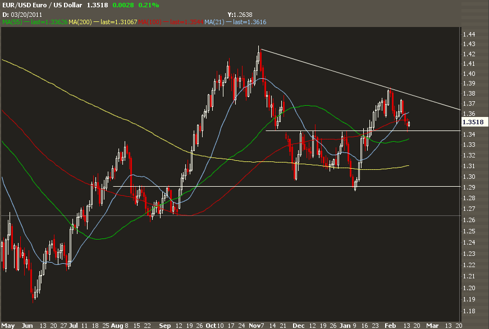 Also be watching EURCHF here, as USDCHF is hitting cycle highs and retracing a bit, while EURUSD appears to have some risk of rolling over in the near-term. EURCHF has been retracing off of just below the 1.325 pivot that held up as good support last fall before being breached in November. 200d and trendline resistance are also within a couple big figs to the upside of current levels. With periphery concerns starting to heat up again as Portuguese 10year yields stay above 700bps, I think EURCHF is a terrific short at current levels and presents an attractive risk/reward opportunity. Below January cycle highs at 1.305, I'll be adding in size to my short.

CAD, one of my top 11 market themes of 2011, has been trading well since yesterday's bullish merchandise trade figures, and USDCAD appears poised to break below the 9850 level, which could to lead to much more CAD upside. After bouncing sharply off of significant support at 9800, AUDCAD has been more or less stagnant and a break below 98c could send CAD pairs surging across the board, as AUDCAD is a widely-watched relative value short play at these levels and in this market environment. With Canadian equity indices approaching all-time highs, the case for Canada is strong here.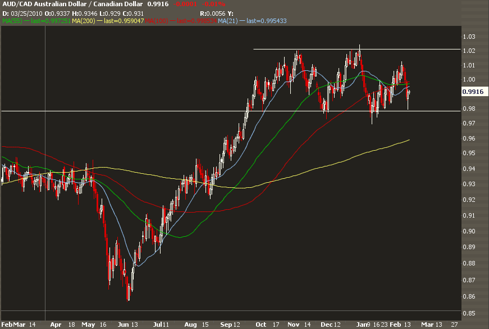 Moving over to US equity, I'm switching gears from yesterday's bull cases for BSQR (which was up over 10% today) and MRCY, to a short opportunity I see in Carkmike Cinemas (NASDAQ:CKEC). When stocks are extended as they currently are, I like to look for some weak companies that have been holding up in the strong market but exhibiting significant relative weakness, suggesting a turn in the general market could lead to some strong breakdowns in the stock. Today was an instance of Bukowski's NR7, with the range being as small as it was, and as per Sentiment Trader, NR7 at 52wk highs with lower volume than the previous two days has led to a decline within a week in eleven of the last twelve occurrences.
As such, I ran some scans today and came across CKEC, a movie theater operator catering to small, rural markets. Theaters are obviously not the best industry to be in, with the digital commoditization of video media due to the likes of Netflix (NASDAQ:NFLX) and such, and sales have gone absolutely nowhere in the last two years. With debt/equity ratios through the roof and an expensive 22x multiple for a stock that has seen four sequential quarters of decreased fund sponsorship, the fundamental story looks ripe for shorting. Moving to the technical side of things, the 200d is approaching a cross back below the 55d, while the stock price approaches an underside test of both moving averages. October and November both saw failures at the 200d and I expect the same here, while a stop on a close over the 200d allows for an attractive risk/reward, considering I think this stock is headed back below $5. I love to short stocks during bull cycles that have underperformed significantly trading sideways/stagnant, after selling off sharply during the previous bear cycle. This is precisely what the chart shows for CKEC, which fell from $19 to the mid-$5s from April highs to June lows, and has traded unimpressively exclusively in single digits since then. Relative strength vs the S&P broke down earlier this month to new cycle lows, and we are currently retesting that breakdown level, making today's entry point all the better. I'm short from an average fill of 7.33. No word on what the spike in volume this afternoon was about.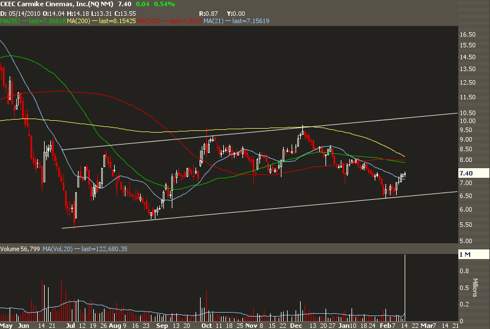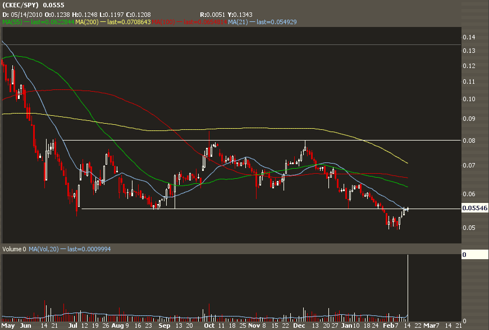 Rounding things out for tonight, I wanted to point a few hedge fund position changes for Q4, as per 13F filings. Paulson out with a 10% reduction in his BAC position in Q4, down from 137m shares to 124m shares. Perhaps litigation risk led him to sell into strength after the bank rally from lows where BAC was trading under book value (whatever that means for a bank). Paulson also out with a new 7.2m stake in driller Transocean (NYSE:RIG) in Q4, his thirteenth largest equity position as per the filing, to join his fifth largest equity stake, Andarko Petroleum (NYSE:APC). Meanwhile, Tepper added to his financials longs in Q4, as well as significantly to International Paper (NYSE:IP) (which, incidentally, Paulson also owns a lot of) and Microsoft (NASDAQ:MSFT) (which I am bullish on and long). He also started a new 17m share position in Micron (NASDAQ:MU), now his ninth biggest holding, as well as in Dean Foods (NYSE:DF).
Tomorrow brings:
Q4 Eurozone GDP (5:00 AM EST: +0.4% expected | +0.3% prior – QoQ)

Q4 Greece GDP (time N/A: -1.5% expected | -1.3% prior – QoQ)

Q4 Germany GDP (2:00 AM EST: +0.5% expected | +0.7% prior – QoQ)

January UK CPI (4:30 AM EST: +4.0% expected | +3.7% prior – YoY)

January US advance retails sales (8:30 AM EST: +0.5% expected | +0.6% prior – MoM)

February US Empire Manufacturing (8:30 AM EST: 15.00 expected | 11.92 prior)
Disclosure: I am short CKEC.

Disclaimer: Nothing contained anywhere in this commentary, including analysis and trade ideas, constitutes or should be construed as investing or financial advice, suggestion, or recommendation. Please consult a financial professional and do due diligence before engaging in any purchase or sale of securities.