Earlier this month, we posted the top 100 dividend stocks; since then we have looked a bit deeper into some of the stocks that looked the most promising. Some of them are truly great potential additions to a passive income portfolio, at least on the surface.
So just how does Molson Coors Brewing Co (NYSE:TAP) rank as a dividend stock? Of course, we will be ranking it based off of the top 20 things that we consider when evaluating dividend stocks.
Dividend Metrics
[Click all to enlarge]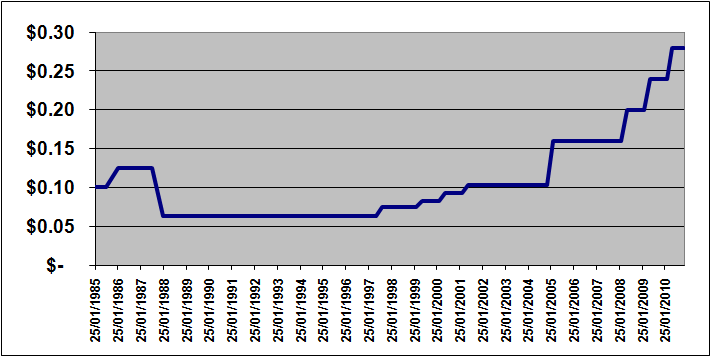 | Ticker | Name | Current Dividend Yield | 5 year Dividend Growth | 1 year Dividend Growth |
| --- | --- | --- | --- | --- |
| TAP | Molson Coors Brewing Co | 2.22 | 11.03 | 17.39 |

Molson Coors has a dividend yield smaller than many others that we've looked at in the past -- barely over 2% -- but its growth in recent years has been spectacular, to say the least; if it can keep things up, the dividend yield will increase quickly as well. The million dollar question, of course, remains whether the company can keep up such high growth.
Company Metrics
| Ticker | Name | Sales Growth (1 year) | Sales Growth (5 year) | Earnings growth | P/E ratio | Margins growth | Payout ratio | Return on Equity | Debt to Capital Ratio |
| --- | --- | --- | --- | --- | --- | --- | --- | --- | --- |
| TAP | Molson Coors Brewing Co | 7.32 | -5.18 | 88.98 | 12.65 | N/A | 23.26 | 10.97 | 0.24 |
Most of the numbers cited here are very impressive and would give TAP a great grade, but in this specific case, I'm very happy to have added a new criterion -- 5-year sales growth -- and seeing that sales have diminished over the past five years is worrying, no doubt. Sure, the company has gone through a merger, difficult economic circumstances and other challenging moments, but that number still sticks out and is not enough for me -- despite the impressive earnings growth, the very interesting payout ratio and very reasonable P/E ratio. I do think the company has solid metrics, but that 5-year sales number is worrying.
Stock Metrics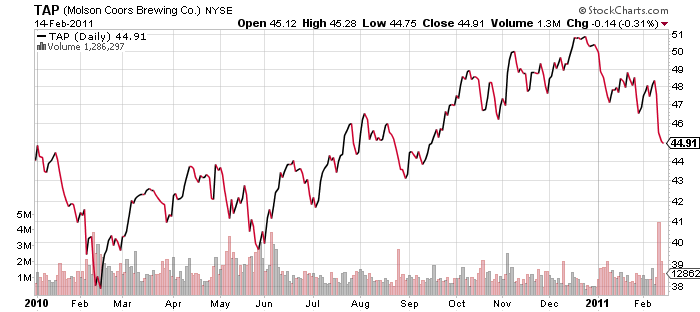 Ticker
Name

Trend

Analysis

Price
TAP
Molson Coors Brewing
-100
45.05
In technical terms, there is no doubt that the stock does not look very attractive and its trend analysis score is as bad as it gets: -100.
Industry Metrics & Fit Within Your Portfolio
Molson Coors Brewing Co is part of a very competitive industry, and I do not really see a day where TAP will be able to improve its margins that much. It is the result of a huge merger -- and that could pay off to some extent -- but prices remain very inelastic for TAP, and I do not see things getting much easier. That being said, sales and profits should be recession-proof and remain steady no matter how the economy goes (more or less) ... so it is a good fit for most dividend portfolios.
Overall Analysis
If I compare Molson Coors Brewing Co. to other dividend stocks such as Verizon (NYSE:VZ), Coca-Cola (NYSE:KO), Pepsi (NYSE:PEP), McDonald's (NYSE:MCD) or others, I would consider the stock to be one around the average. It does have high potential, but its current dividend yield is not as high as some of these others, and I remain nervous about its long-term sales.
Do you agree?
Disclosure:
No positions on Molson Coors Brewing Co.