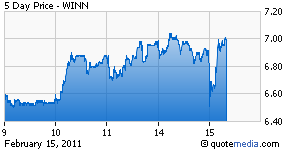 Winn-Dixie (NASDAQ:
WINN
) just reported its second quarter results and apparently the cash registers have been working overtime, because despite operating with 30 fewer stores, the company was still able to squeeze out a small sales gain ( $2.098 billion versus $2.094 billion) aided by new marketing and merchandising initiatives. Both transaction count and basket size improved on a sequential basis and although identical store sales fell by .3%, identical store sales on a sequential basis, were actually 250 basis points higher than its first quarter and a whopping 470 basis points higher than what its fourth quarter produced.
Gross profit margin squeeze: unfortunately, WINN's gross profit margin (27.7%) and operating and administrative category (28.5%) both traveled 50 basis points in the wrong directions. Despite higher expenses and a lower gross profit margin, WINN was still able to beat analyst expectations for operating earnings by two cents (-.26 versus -.28). If the supermarket operator was just able to keep both of these crucial components (GPM & O&A) at the same levels as last year, its EBITDA of $24.7 million would of nearly doubled to $46 million!
Capital expenditures reigned back: WINN has decided to cuts its capital expenditure budget from $158 million to $132 million( they are deferring 15 remodels until 2012). This $26 million in decreased spending should go directly into buying back the shares in the open market, as this would act as a big confidence builder and represent nearly 10% of WINN's beaten down market cap. This could easily be done, as a $26 million commitment would represent a mere 25% of its EBITDA contribution and in the process make shareholders very, very happy!
Bottom line: the company seems to be making steady progress in the sales department , but needs to focus more on reducing costs. River Road Asset Management seems to concur; as it just went out on the line, by acquiring a significant 2.65 million share position (shouldn't we be following the smart money?) Increasing sales is the hard part, and with that firmly in progress, fatting up the gross margin and contracting operating expenses should be a top priority. Once this occurs, the bottom line will surely begin to thicken, translating to a much higher share price!

Disclosure: I am long WINN.