Business Model
Valmont Industries (NYSE:VMI) is a global leader in the manufacturing of engineered metal products. The company has four operating segments that are leveraged to a growing and urbanizing world. In each of these segments they hold strong and sometimes duopolistic positions. This provides them leverage through scale and expertise, allowing them to remain dominant in their businesses and retain strong returns on capital.
Engineered Structures: Manufacturers structures and components globally for lighting, traffic, wireless communication, roadway safety, and towers for wind turbines
Utility Support Structures: Produces steel and concrete infrastructure for the utility industry worldwide
Coatings: Provides coating services that includes galvanizing, anodizing, and powder coatings
Irrigation: Produces steel pivot irrigation products for agricultural fields and is expanding into technological offerings within agriculture
Growth
Valmont Industries has strong secular tailwinds and value adding products that will enable them to continue growing over the coming decades.
Urbanization: As more and more people move to towns, a road network needs to be created and supported by auxiliary products. Valmont provides many of these products including street lights, stop lights, and road safety products. Additionally they produce large custom lighting systems used in venues and stadiums.
Data Connectivity: With the increasing urbanization, standard of living follows suit; the demand for wireless communications also increases which requires cell towers to expand networks.
Electrical Consumption: One of the strongest ties to higher standard of living is the increased consumption of electricity. The infrastructure needed to produce these large quantities of electricity will continue to be in demand from developing nations which Valmont produces the housings for and also domestically where an upgrade cycle will be beneficial. They work with many of the leading electrical engineering firms like Siemens and ABB to go in and provide the housing for all of the components these engineering firms put in to support utilities. Valmont additionally creates the pedestals of wind turbines for onshore and offshore electrical generation; if there is a shift to wind power they will also benefit. Finally they also offers a superior product for electrical poles in the form of a monopole which requires near zero maintenance once installed over the life of the product, compared to lattice towers which are the current standard and have higher maintenance costs.
Water Efficiency: Water consumption going forward will continue to be one of the most difficult environmental issues to tackle. Valmont is strongly positioned to help drive greater water efficiency globally, which will help reduce the strains on the water systems. Valmont Industries produces pivot irrigation systems which provide the strongest value to farmers along with the most efficient use of water; it has the potential to reduce water usage by up to 40% compared to more simplistic forms of irrigation including gravity flow, hand moved irrigation, and non-irrigated fields. Pivot irrigation also provides farmers higher confidence in its ability to water crops even during droughts and benefits farmers with a payback period of less than 10 years, but lasts nearly 20. The product is currently shifting from being a luxury into becoming a requirement for all fields that can utilize the method of irrigation. Domestically in America ~45% of irrigated cropland (55m of the ~400m acres of cropland is currently irrigated) is using pivot irrigation and that has potential to rise to 55-65% by taking share from other methods and will be combined with general market penetration. Internationally is where the major growth opportunities remain available; of the current 563 million acres of land currently irrigated internationally, ~90% is using gravity flow and 8% uses sprinkler systems like pivot irrigation. Irrigation levels as a % of total cultivated land are also in the single digits of many other countries like Brazil, Australia, Ukraine, and Russia. Gravity Flow irrigation is currently the largest competing product to pivot irrigation so it is important to show the value add provided by this product. In terms of water use you can save between 10-25% on total water applied while boosting yields by an additional 10-20% due to better water application. Additionally operating costs and man hours yield benefits in the 25-35% due to less diesel consumption and lower labor needed, creating a clear reason to go to pivot irrigation over even gravity flow which is the strongest competing product. Of course not all fields can utilize pivot irrigation but most key cash crops are capable of using it.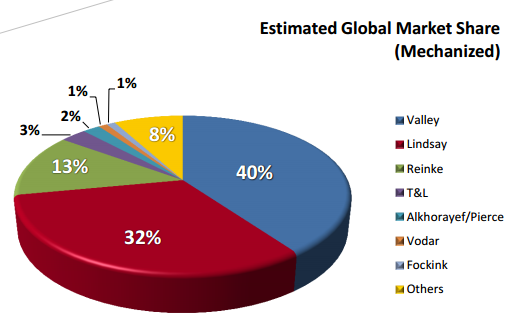 Source: Lindsay Corporation June 2014 Presentation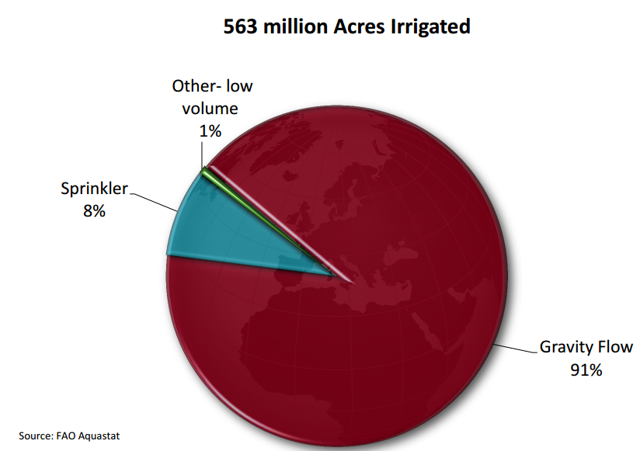 Management
Capital Allocation: Valmont continues to be a good steward of shareholder capital. Many executives have been with the company since the 80's and 90's with only a few new additions in the 2000's. They continue to compare each project against a hurdle rate of ~9% but have consistently achieved returns in the low to mid-teens at minimum. Additionally they have a strong balance sheet which allows them to weather cyclical downturns and can be aggressive when opportunities arise. Currently they have a neutral net cash position and are issuing another $500m of debt to refinance an older offering at higher rates with half the cash and using the rest to increase their share buybacks up to the authorized $500m cap. All of this is achieved through management which has decentralized the business by acting more as a piggy bank and a transferor of best practices while otherwise leaving operations to locals who only have to report back monthly.
Capex
Valmont additionally benefits from a strong and simple cookie cutter approach to growth. They have shorter lead times for opening new facilities; so during downturns capex can quickly be turned down to maintenance levels. Their typical plants they build need ~2 years to become operational and are tooled by off the shelf components they customize for their specific purposes. This allows them to weather downturns more easily than other companies or industries with longer term projects. The capex tap which can be turned on and off in a quicker manner helps reduce the pain of downturns along with firing seasonal workers in slower times.
Competition
All of the markets Valmont competes in have many competitors. However many of these companies lack the size and expertise to compete on the large scale projects that Valmont focuses on, leaving their effective competition being 1-3 competitors per segment. This expertise in their markets allows them to expand and grow effectively. In irrigation they are the leader with ~40% market share, with Lindsay Corporation (NYSE:LNN) following suit in the mid to low 30's. They lock up regions through dealership exclusivity and have a very clear process to expand their networks. In coatings you need to have a plant within 500km of the location to be economical which leaves it slightly fragmented and ripe for Valmont to pick up local companies. Utilities and Engineered products for municipalities is handled by 3 companies which allows them to operate in an oligopolistic fashion.
ROIC
Valmont continues to be fantastic managers of shareholder capital. They hold a stringent capex policy and are opportunistic on acquisitions. The company pre 2008 had an ROIC in the low teens but has increased it to the mid teen levels. Their only weaker year was 2010 when they had previously acquired companies out of the recession and were working to integrate them with a larger balance sheet.
Valuation
Valmont currently has a market cap of $3.6 billion but has been sliding due to near term concern over 2013 being a record year that won't be repeated; the company however remains ahead of the figures they posted in 2012. It ended 2013 with a free cash flow of $290m but this year will be closer to $175-$200m for 2014 due to 2013 being their strongest year on record because of large agricultural purchases. This fall in FCF will be supplemented by the larger dividends and $500m in share buybacks that were initiated in May 2014. Shares should achieve ~$8.5 in EPS for 2014 which leaves the company trading at ~15.5x and I expect a rebound to at least $10 for 2015, implying 13.5x forward P/E with the subsequent growth of FCF nearer to the 2013 highs.
Going forward the company is well positioned to grow at a normalized high single digit to low double digit on the top line rate, with subsequent leverage on the bottom line through capacity utilization and efficiencies to allow for slightly higher EPS and FCF growth rate mainly through margin strength and buybacks. It trades at a discount to its nearest agriculture competitor Lindsay corporation which trades at 19x earnings and has a lower FCF but has a net cash position of ~15% of their market cap on the balance sheet.
Summary
While 2014 and potentially 2015 will be difficult for Valmont, it is well positioned to continue growing at a good rate with strong corresponding returns on invested capital. This will lead to a robust but cyclical return which will hopefully be mitigated going forward by increased returns to shareholders through dividends and buybacks. All that is required will be the ability to sit through difficult stretches of time when the cyclicality rears its head.
Disclosure: The author is long VMI.
The author wrote this article themselves, and it expresses their own opinions. The author is not receiving compensation for it (other than from Seeking Alpha). The author has no business relationship with any company whose stock is mentioned in this article.