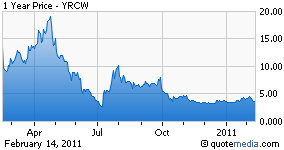 YRC Wolrdwide Inc. (NASDAQ:YRCW) was and still is one of the largest trucking companies in the world. The company specializes in logistics for customers who require less than a full load (LTL) to be delivered. For example, if you are a business that needs to transport one or two palettes of merchandise across the country, YRC will simply aggregate your shipment with other similar shipments and transport them together in a single truck. You know all those Yellow Roadway trucks you usually see on American and Canadian highways? That's YRC.
Due to some badly-timed acquisitions and taking on too much debt, the company almost went bankrupt last year. Almost. Management was able to do a large debt for equity swap (which diluted shareholders by 95%) and renegotiate labour deals with the Teamsters Brotherhood union. As such, the company narrowly avoided liquidation.
YRC is still losing money and is actively restructuring its balance sheet, but it seems to be making a comeback. It's trading cheap at less than $5 per share, around a market cap of $200 million. The company is regaining many of the clients that it lost last year because of bankruptcy concerns, and from an EBITDA perspective is showing signs of profitability. This is a company with good hard assets and a strong brand. The stated enterprise value is $1.15 billion, which would translate to a share price of $24.
So, why are shares trading so cheaply?
Well, the union concessions it received are conditional to the company being able to raise an additional $300 million in liquidity by February 28, 2011. Management has not given many hints as to whether or not they will be able to do this. With a share price now in the mid-$3 range, it would have to issue over 80 million shares in order to raise that much equity. Currently the company has about 45 million shares outstanding, and an indicated maximum allowable limit of 80 million. The probable outcome will be that the company only issues 35 million shares (thereby not exceeding its allowable limit) and raises the remainder with a secured debt offering or with current debt holders taking a haircut. It's a complicated process, and there are no guarantees that it will actually get done. It is precisely because of this uncertainly that the shares are trading at these low levels.
Let's not kid ourselves, if the company fails to raise the extra liquidity by the end of the month, the stock will fall to zero and the company goes bankrupt. But in a bankruptcy situation, everybody, including the unions, and senior debt holders are heavily damaged. As such, it is in their best interest to keep the company as a going concern and to take the necessary steps to raise additional liquidity without triggering a Chapter 11 filing.
Should the company successfully restructure its balance sheet and raise the necessary liquidity, share price gains would likely be quick and substantial. In this kind of a scenario, given the company's strong brand and enterprise value, you could see shares at $20 within a year based purely on the company's hard asset value and free cash flow generating potential.
Also of note, shares have recently come under considerable selling pressure. This is likely because of strong institutional short selling as large investors looking to underwrite the equity offering are trying to lower the share price as much as possible in order to gain a larger proportion of the company at the time of the offering. From this perspective, we actually think that the intense selling pressure is a positive sign as it indicates that the underwriters are working on a deal and actively trying to lower the stock price in order to maximize their equity proportion of the offering.
This is the kind of speculative investment which is like a gamble: if you play it, only use a very small proportion of your portfolio. It's a risky bet, but it has a good chance of working out, and if it does, the payoff should be great.
While we never mention the composition of our partnership fund, we are actively following developments in the company, and believe that it offers a good risk to reward opportunity. Although this is not typically the type of company which we invest in, we take note of a good opportunity when it presents itself.
Disclosure: I have no positions in any stocks mentioned, but may initiate a long position in YRCW over the next 72 hours.