WHAT IS IT?
AT&T (NYSE:T) launched a new promotional Mobile Share Value plan offer that doubles the data thresholds for Mobile Share Value plans with 15GB to 50GB of data applicable to new and existing customers who proactively sign-up by October 31. The new promotional levels remain with customers in contrast to expiring data levels at competitors.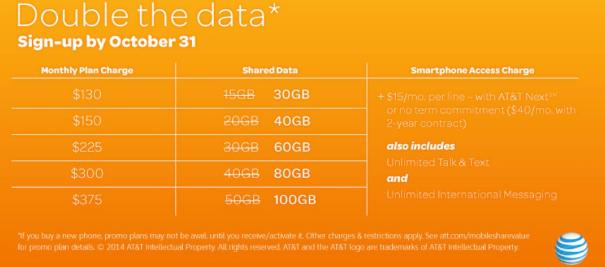 Combining data doubling and a limited time promotion has been a popular tool in carrier price planners' tool chest in driving specific buyer behavior. Keeping a price point but giving away more data drives subscriber retention, upsell and new customer acquisition opportunities.
ANALYSIS
Unlike past AT&T plan adjustments (i.e., Mobile Share to Mobile Share Value) where customers automatically receive new data levels, this offer requires customers to proactively interact with AT&T thereby providing an opportunity for the company to upsell or renew commitments, where applicable.
The Mobile Share Value promotion is a tool to migrate customers on older Mobile Share and FamilyTalk plans to the current Mobile Share Value plan structure. This increased data could be incentive to convert legacy unlimited data plan customers, if reps message it correctly.
The offer targets and incents high-value data hungry customers. New data thresholds have 5 tiers from 30-100GB. Looking ahead, introducing outrageous large data buckets is foundational in driving customer thinking so they won't hesitate to add more devices to the account (e.g., tablets (new iPad promos?), cars, Digital Life accouterments, etc.). The popular $160/10GB lead offer plan is untouched.
- This is a defensive and offensive move against the Sprint (NYSE:S) Family Share Pack launch in late August.
o Defensive: The Sprint Family Pack put AT&T and Verizon Wireless (NYSE:VZ) at a data value disadvantage. If there weren't any competitive pain, AT&T would not be acting. By giving away more data, it's a better option than dropping price which ultimately impacts service revenue. Moreover, doing so as an anti-churn measure is less expensive than losing customers and trying to reacquire them. However, like anything, this is without risk. There are likely a percentage of customers that will drop their current higher priced plan levels to lower price points. Overall ARPU impact may be minimal.
The chart below depicts the new Mobile Share Value promotion against family mobile share plan competitors Sprint and Verizon Wireless.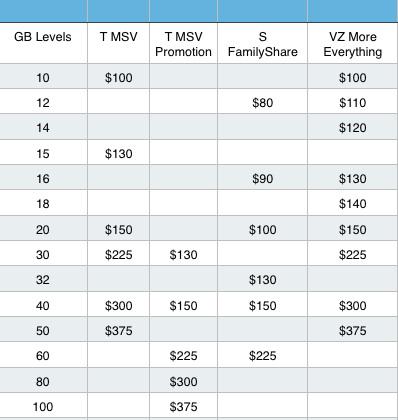 o Offensive: AT&T attacks both Sprint and Verizon Wireless. Against Sprint, it is at price parity at the 40 & 60GB levels but offers new data tiers at 80 and 100GB. Against Verizon Wireless, the attack is more pronounced as AT&T offers a wide price and value gap at the 30 ($95) and 40 ($150) GB levels. Moreover, AT&T opens up three tiers that Verizon doesn't even offer at the same price points of lower tiers.
Additionally, the permanent nature of the doubled data relative to competitors' promotions stands out as something AT&T sales representatives can message easily.
COMPETITIVE IMPACT?
While such high data thresholds may not attract the mainstream customer pool, it does serve not only the extreme data hungry consumer/prosumer segment but also the multiline business accounts. Here enterprise sales reps have a nice limited time offer to dangle existing and new prospects to close deals quicker.
Verizon Wireless and Sprint are clearly in AT&T's crosshairs, as T-Mobile (NASDAQ:TMUS) doesn't play in data share plans. Moreover, AT&T needs some tool to blunt Verizon Wireless' net addition momentum.
Verizon Wireless will likely need to react, as this is a very strong promotion that targets its high-value customers, putting it at a price and data value disadvantage.
Although Sprint is at price parity at the 40GB level, AT&T reps will no doubt be playing the superior data network card. Similar to Verizon Wireless, the business accounts may be vulnerable.
It's certain that AT&T will be driving the promotion throughout its distribution channels to maximize its effect over the next five weeks with price and value messaging.
Disclosure: The author is long VZ.
The author wrote this article themselves, and it expresses their own opinions. The author is not receiving compensation for it (other than from Seeking Alpha). The author has no business relationship with any company whose stock is mentioned in this article.
Additional disclosure: The author has a small long position in VZ.