The closest thing to a government debt crisis in the U.S. has been the exodus from muni bonds. Yet very few people talk about the possibility of the U.S. actually defaulting on federal obligations. Rising rates aside, the world seems to believe ... at least for the moment ... that Americans are capable of getting their fiscal house in order.
Ireland? Greece? Hmmm ... not so much. In fact, investors still doubt that Portugal can resolve its own problems, as the 10-year yield on Portuguese treasuries remains near euro-era record highs.
With that said, 2011 has been playing out differently than 2010. The sovereign debt meltdown in Europe isn't crippling German stocks in the same manner as it had the year before.
And with good reason. Current economic sentiment is the highest it has been since July of 2007. That's a sentiment reading BEFORE the worldwide financial collapse.
So should you consider investing in iShares MSCI Germany (NYSEARCA:EWG)? Here are three good reasons why EWG may work for you:
1. Fundamentally Speaking. The "Current P/E" for the S&P 500 has moved up to 19, while its price-to-book is in the neighborhood of 3.75. The Forward P/E is far more attractive for the S&P 500 and ... since the U.S. benchmark is tech heavy ... the index may deserve a higher multiple. Nevertheless, value-oriented investors rarely buy into the "info-tech-commands-a-premium" argument. It follows that iShares MSCI Germany (EWG) may be more attractive with its 17.8 P/E and 2.05 P/B.
2. Technically Speaking. While the S&P 500 SPDR Trust (NYSEARCA:SPY) has seen its relative strength percentile rank hold steady in 2011, iShares MSCI Germany (EWG) has benefited from stronger relative strength momentum since the start of the year. Year-to-date, EWG has accumulated roughly 8% whereas SPY has amassed about 6%. EWG's series of higher highs in December, January and February, coupled with a price that's above a 50-day moving average, suggest a healthy uptrend.
Click to enlarge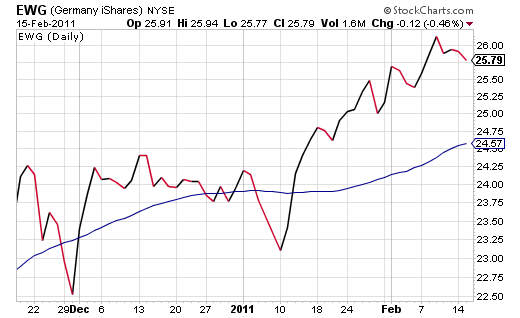 3. Economically Speaking. The German jobless rate at 7.5% is at the lowest that it has been since 1992. Orders at Germany's largest construction company, Hochtief AG, have been surging. And while inflation accelerated to 2% from 1.7%, companies have passed along costs to consumers BECAUSE the German economy is strong enough to handle it.
Granted, China will need to be successful in its inflation-fighting campaign if Germany is to continue exporting there. Moreover, there are no guarantees on how the markets will react to Italy, Spain or Portugal in the coming months. Still, if you had to single out a country where the businesses and the employees were both whistling a happy tune, it'd be Germany alright.
Disclosure: Gary Gordon, MS, CFP is the president of Pacific Park Financial, Inc., a Registered Investment Adviser with the SEC. Gary Gordon, Pacific Park Financial, Inc, and/or its clients may hold positions in the ETFs, mutual funds, and/or any investment asset mentioned above. The commentary does not constitute individualized investment advice. The opinions offered herein are not personalized recommendations to buy, sell or hold securities. At times, issuers of exchange-traded products compensate Pacific Park Financial, Inc. or its subsidiaries for advertising at the ETF Expert web site. ETF Expert content is created independently of any advertising relationships.