By George Sokoloff, PhD, CFA
In the presence of "tail risk events," the observed distribution of returns of most asset classes and many investment managers is skewed to the left with a clear, fat tail. These negative, fat tails are often observed at the same time - seemingly uncorrelated asset classes suffer simultaneous losses. As a result, aggregate global private and institutional wealth is highly correlated with the performance of the stock market, particularly when both lose value. Tail risk events are the most important events contributing to negative changes in global wealth.

Each investor type - pension funds, endowments, foundations, or high net worth investors - has its own problems related to periodic stock-market performance shocks. For many investors, perception of risk is implicitly tied to tail risk events that usually result in significant portfolio drawdowns.

Active managers are also affected by tail risk events, as these events are characterized by a lack of liquidity in the markets. These reduced-liquidity conditions tend to cause unexpected performance shocks for investment strategies, as the price behavior of many assets starts being driven by prevailing capital flows and departs from fundamentals or other pre-established patterns that managers use to create alpha.

Several approaches have emerged to deal with the exposure of investment portfolios to market risks:

1.Classical diversification, endowment model, mean-variance optimization
2.Risk Parity, budgeting risk according to the contribution of each element to the overall portfolio
3.Tail Risk Parity, budgeting risk according to the contribution of each element to the overall exposure during Tail Risk events
4.Drawdown Parity, budgeting risk according to expected future contribution to the portfolio drawdown

Another solution to the problem of hedging tail risk events is to have a complementary strategy with a performance pattern that helps reduce the impact of market performance shocks. An instrument with a returns distribution featuring a positive mean and a fat, right (positive) tail that is realized just when traditional portfolios take a hit.

When tail risk events, bear markets, or significant market corrections occur, portfolios' negative outcomes are countered by overlapping strong positive outcomes from such an instrument. During quiet markets, on the other hand, the instrument is still earning a positive return that contributes to the portfolio's overall return.
Asset allocators would include such an instrument in their investment portfolios on a regular basis to hedge portfolios from tail risk events.
During periods of market stress when traditional diversification fails, a sufficient allocation to such an instrument may solve the problem of periodic portfolio performance shocks.
The name Holy Grail distribution captures both the difficulty of finding a strategy with these characteristics and the unique value it provides to an asset allocator.

The Holy Grail distribution has a positive mean to justify the instrument's permanent role in the asset allocation framework. Its positive fat tail, which is "co-located" with the left tail of other instruments, adds protection to investment portfolios during tail risk events.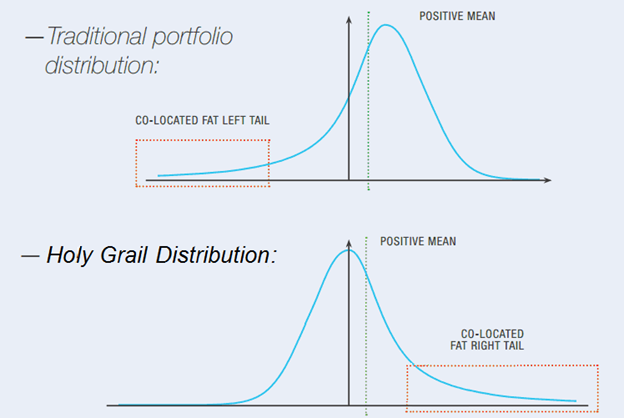 Holy Grail distribution is a missing piece in almost every investment portfolio seeking protection from tail risk events combined with positive average returns.
How hard is it to find instruments or strategies following this return distribution? It is hard for many reasons. First, any investment strategy that tries to create such a payout profile by using derivatives of some kind with an asymmetric positive payout profile is mathematically guaranteed to lose money over time.
Second, as mentioned earlier, tail risk events are characterized by a lack of market liquidity, which leads to widespread underperformance by active managers. In other words, strategies that look great on paper but have not been through a real liquidity crisis (the 2010 Flash Crash comes to mind) are liable to behave other than as designed. Successful market timing to foresee a liquidity crisis would work too, but very few managers are capable of achieving this on a consistent basis.
It is hard to deliver returns with Holy Grail distribution using only replication and generally available asset classes; such returns have to be "engineered". At the same time, allocation to investment instruments and strategies with Holy Grail distribution of returns may provide clear benefits of diversification and protection from periodic market-performance shocks.
George Sokoloff is founder and Chief Investment Officer of Carmot Capital.
Disclosure: The author has no positions in any stocks mentioned, and no plans to initiate any positions within the next 72 hours.
The author wrote this article themselves, and it expresses their own opinions. The author is not receiving compensation for it. The author has no business relationship with any company whose stock is mentioned in this article.