Eli Lilly (NYSE:
LLY
) CEO, John Lechleiter, Ph.D., has been making the rounds lately promoting innovation in pharmaceutical research. Most recently, he delivered the keynote speech at The Economist's 2011 Pharma Summit: Reinventing Pharma for a New Generation this past February 10, in London.
In his remarks, Lechleiter highlighted some of the problems facing the innovative drug developers as well as compelling reasons to continue seeking novel medicines.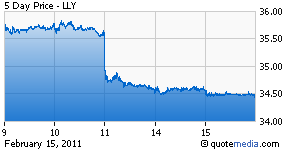 "Our industry is taking too long, we're spending too much, and we're producing far too little," he said. Lechleiter also cited pressures from the health care system, saying reforms are needed to promote innovation rather than penalize it.
Lechleiter suggests pharma companies need to change the way they conduct research and find a way to bring drugs to patients faster and cheaper. This would require a more networked, global, and entrepreneurial company, sharing expertise, investment risk, and producing greater efficiencies.
Lilly is not new to the art of innovation in drug development business models. In 2002, prior to Lechleiter's appointment as CEO, Lilly introduced its Chorus unit, an independent virtual drug development division designed to move compounds quickly and cheaply to proof of concept. Then in 2007, headlines were made when the company announced plans to outsource half its research.
Early this month, Lilly put plans in place to tie employee bonuses, in part, to research advances. A plan to raise $750 million through a venture capital fund was announced soon after on February 14. In this unique arrangement, venture capitalists would provide funding, while Eli Lilly's and external developers' contribution would come as the value of the experimental drugs, according to Lechleiter. The fund allows Lilly to leverage its research spending, allowing it to test a larger number of molecules. "Innovating on innovation," said Robert W. Armstrong, Lilly's vice president, global external research and development, regarding the new venture capital fund.
Only time will tell whether anything will come of these latter developments. Lilly has been enamored with its Chorus division; it has now been cloned, with units in the US, Europe, UK, and India. Call me a skeptic- after nine years of existence I would expect a molecule from Chorus in late phase development to call it a success; a unit designed to crank out data seems rather useless.
Eli Lilly is in a tough spot. Between now and 2016, half its revenue is at risk due to patent expirations. The company boasts over 60 compounds in its pipeline, but has been beset lately by late stage failures. It hopes to begin gaining two approvals per year beginning in 2013 to dig itself out of its hole. This would be quite a feat considering only 21 new drugs were approved by the FDA in all of 2010.
Perhaps it's time to turn away from "innovating on innovation" and simply go back to conducting research. Perhaps cheap and fast drug development is but an illusion.


Disclosure: I have no positions in any stocks mentioned, and no plans to initiate any positions within the next 72 hours.