My post earlier today on the Producer Price Index triggered an interesting email conversation with Terry in Reston, VA. Commenting on the Core PPI CPI comparison, Terry writes: "it appears they are amazingly UNcorrelated. My guess would have been the PPI leads the CPI more closely and that today's dispersion is much greater than the norm."
Here is the chart that occasioned Terry's email.
Here now is a view of the cumulative change over the same time frame focusing on the headline (as opposed to core) PPI for finished goods and headline CPI.
The relationship between PPI and CPI is indeed curious, often uncorrelated, and sometimes downright puzzling.
Also, within PPI itself, the correlation between crude, intermediate and finished goods is often remote to virtually nonexistent. See for example this fascinating post Producer Price Food Inflation at SeekingAlpha by Mark J. Perry, currently a visiting scholar at the American Enterprise Institute. Here is the chart illustration, which I've linked from Professor Perry's blog.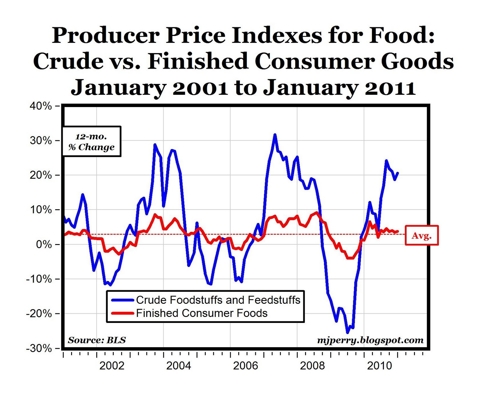 To repeat one of the points in the SeekingAlpha article:
Double-digit inflation (or deflation) rates in crude food items (like we've had for the last 7 months now starting last July) never translate into double-digit inflation (deflation) rates for finished consumer food products.
More tomorrow after the January CPI numbers are published.