CBS reported slightly better than expected 4Q10 results, no small feat given rapidly rising estimates and a surging stock price (see earnings results here and earnings call transcript here). Adjusted EPS of 46 cents beat the street consensus of 44 cents. Revenues of $3.9 billion exceeded consensus by about $50 million. EBITDA was better than expected at the segment level, driven by beats at radio and TV stations, Showtime, and Outdoor.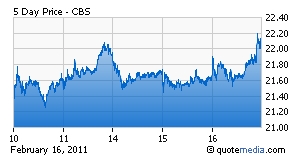 CBS does not provide guidance, but commentary about strength in advertising continuing in 1Q and set up for strength throughout 2011 is encouraging. In addition, management reiterated excellent expense control in 2011. The only flaw I see is that management stated that 1Q11 revenues would be down year over year due to last year's Super Bowl broadcast and sharing March Madness revenue with Turner. Consensus is for flat revenue. However, management reiterated that margins would expand considerably and profits would grow despite the down revenues. Consensus EBITDA is 1Q is $436 million, up from $300 million a year ago despite the lower revenues.
Les Moonves opened the call by stating the EBITDA margins in 2011 should at least match the 19.7% reported in 4Q10. Right now, consensus calls for an EBITDA margin of just 18.4%. In addition, given advertising strength and a perfect setup for the May upfront, revenue estimates for 2011 are likely too low despite the down 1Q. In other words, estimates for 2011 are going higher. I expected this given the benefits of a stable primetime schedule, the new NCAA basketball contract, the new retransmission deal with Comcast (NASDAQ:CMCSA), new movie contracts at Showtime, and good management of expenses.
Maybe more bullish was Moonves, stating that CBS can exceed peak margins within "a couple of years." In 2007, pre-recession, CBS had an EBITDA margin of 22%. If a couple of years means 2012, then estimates for next year are way too low as current consensus is for a margin of 19.4%. Keep in mind that 2012 is going to be a mega year for politics, something not widely discussed quite yet.
On the risk front, investors will worry if the NFL does not play next season. This would likely pressure CBS shares, but Moonves indicated that the contract has protection built in so that it is a timing issue rather than a forever lost profits issue. And ratings are always a risk. Right now, CBS is enjoying ratings at least as good it promised advertisers. But the fall of 2011 is another season and some of the long-time hits at CBS are aging.
With estimates headed materially higher for 2011 and 2012, free cash flow exploding, a great management team, and a commitment to return cash to shareholders, CBS shares remain very attractive despite the huge run over the past two years.
Disclosure: CBS is widely held by clients of Northlake Capital Management, LLC, including in Steve Birenberg's personal accounts. Steve is sole proprietor of Northlake, an SEC registered investment advisor. CBS is a net long position in the Entermedia Funds. Steve is co-portfolio manager of Entermedia, owns a stake in the Funds' investment management company, and has personal monies invested in the Funds.