1. RBS: positive profit warning
2. Delta Lloyd: new highs for the move
3. Buy more Italian and Spanish Banks
4. Shale/LNG
5. Valeo: continue to avoid
6. easyJet (HQGB): will continue to gain share
7. Trader watch: Breakevens, Retail, Balfour Beatty, Just Eat & Tungsten
---
1. RBS: positive profit warning
The restructuring story continues and is running ahead of street expectations. There is scope for decent upgrades after news today.
Basically, RBS are writing back £500mn in provisions from their bad-bank (RBS Capital Resolution) with potential to do more, £300mn from Ulster Bank and taking a small hit on a disposal (£200mn), the net write back is £600mn on expected pre-tax profits of £4.1bn in 2014. All else equal that should be a 14% upgrade (although some of this write back may have been anticipated, Ulster Bank is after-all in an economy growing at 7.7%).
They have also upgraded their return guidance for Coutts bank from 11% RoE in 2013 to >15% over the medium term (no wonder Julius Baer are interested). Coutts generated income of £1.1bn, equating to 11% returns last year. Assuming CR remains at similar levels (it probably falls as costs are expected to drop by 20%) and they hit those targets then that is another implied upgrade to earnings.
Two other potential positives:
Further appreciation on Citizens Financial Group (NYSE:CFG) which has traded well despite volatility in the US. On day one it added $1bn in value to RBS's remaining stake. This and yet few seem to even discuss it.
Relief from litigation.
The weekend press is talking about a UK settlement of GBP1.5bln for 6 banks for FX which is lower than what was rumoured at the back end of last week. Should this be confirmed it removes a big negative and the market should breathe a sigh of relief that these fines are manageable. It may even lead to further provision releases (we have no idea of the scope).
Of course these will impact the NAV and CT1 ratio, but we are yet to calculate the magnitude. What we can say is the upgrade to 2014 numbers should provide some indication for today's likely move and remember RBS still trades at a large discount to BV, c.75x.
For our earlier note see: http://europe.aviatelive.com/rbs-what-if/
2. Delta Lloyd: new highs for the move
It is interesting to see Riccardo, our technical analyst, pick up a number of Insurance stocks this week. He has new buys on, Axa, and ING. Our favourite stand-alone stock idea in Insurance remains Delta Lloyd. The simple investment case for Delta Lloyds is that the business is generating ~€2.50/share in free cash flow each year, of which €1.03 is paid as a dividend (we expect this to be paid on a full cash basis by 1H15 vs. a current 4% scrip incentive). These figures look attractive against a current price per share of €18.84 (13.3% FCF yield, 5.5% dividend). In addition, a number of catalysts exist at present, such as the imminent announcement of the sale of their Belgian Bank (worth around €240-300m), 3Q results are due on 6th November, and the CMD to follow on 21st November (http://europe.aviatelive.com/tag/delta-lloyd/).
3. Buy more Italian and Spanish Banks
What we didn't realise is while the current focus is on September (poor) and December TLTRO tenders, the big boosts come in March 2015 when banks can borrow up to 3x their net lending (and this multiple could move higher). In other words banks need to prepare for this NOW insofar it is the second derivative of lending that is being measured: a slowing in the contraction of loans could lead to a big boost in funding. According to JPM, if banks just maintained the slower pace of loan contraction seen since April (when things started to turn) TLTRO allowances could be c€400bn next year. Should the ECB increase the multiple, it could be a lot higher. The point is there is an incentive for banks to start lending NOW, and lower rates will help.
Who is set to benefit?
For clues we look at those who took up funding in the Sept TLTRO as a proxy for who may be already seeing some benefits. Spanish and Italian banks accounted for the vast majority and it may not be coincidence they are trading quite well in what is a pretty horrendous market. Italy was the standout in the July ECB lending survey and Spain now has house prices that have gone positive YoY, the 1st time in 6 years (see chart below) and mortgage approvals have risen 28% year-on-year, the strongest rate of growth rate since 2006 (and this coming before planned ECB purchases of ABS).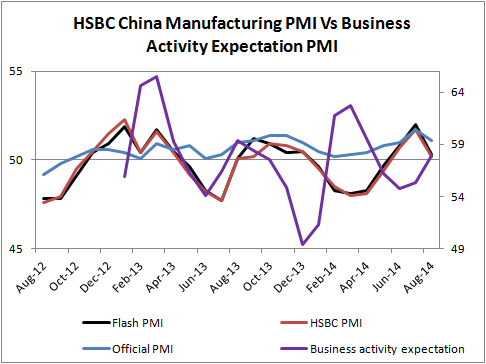 UBI, UniCredit, Intesa Sanpaolo, Mediabonca, BMPS (is by far the riskiest), Bankia, CaixaBank, Bankinter, Liberbanketc
The AQR is penciled in for October 17th, but we already know the outcome and post that we expect more talk of consolidation and a potential catalyst of labour reform in Italy, and so, we remain of the view buying the Italian (and Spanish Banks) ahead of these events is a good way to position yourself for yearend dynamics which we expect to be quite explosive given the level of extreme underperformance this year.
It may seem hard to consider this given the high levels of uncertainty over growth, CB policy, China's transition, Brazil elections, War, carry trade unwinds and FX volatility etc BUT there is one constant, one pervasive dynamic that has the potential to ignore all these concerns and act under its own impulse; human fear. Whereas fear normally leads to risk aversion, we wonder if it may have the opposite effect into year end and cause rotation into beta. The reason = performance is so bad this year that save losing money or worst their jobs, managers much play catch- up into year end, a game that can only logically be played in beta .
4. Shale/LNG
We note Athlon Energy was bid for by Encana yesterday which reminds people of the long-term opportunity in shale. Athlon closed up 25%, an all time high and Encana also rallied. Note they announced a commitment to spend at least $1B in capex in 2015, more than what was spent by Athlon in 2012 and 2013 combined. Earlier this week the Horizontal rig count made a record high which provides good context for the shale gas/LNG supply chain of which Weir Group (and Hunting, Linde, GTT) are well placed. Note the close correlation between rig counts and WEIR below.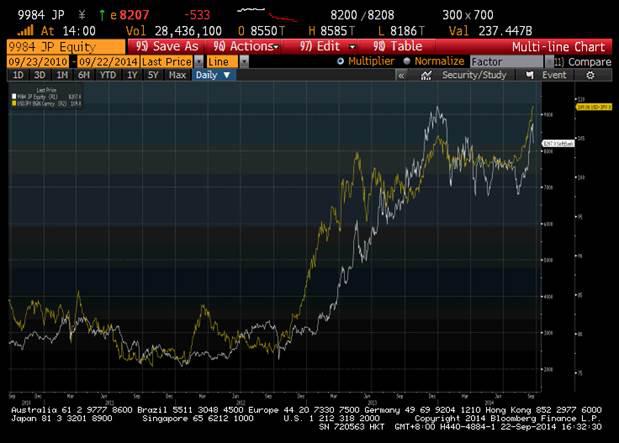 5. Valeo: continue to avoid
On May 8th we wrote "It's show me time"
"Valeo's P/E multiple has gone from 5x Y2 earnings to 12x in two years. Fine, but it is still a cyclical business. So let us assume the next trough margin is well above the previous trough (sector less indebted, removed a lot of costs etc) and assume a low of 3% EBIT margins (0% in crisis) or a thru-cycle margin of 5% (instead of 4%). Take 2014 sales, on 5% margins, 20% tax (they have a low tax rate) you get…downside. Any bad news therefore, and it is in trouble".
Is Ford that bad news (Michelin having said similar things last week)?
Continue to avoid.
6. easyJet: will continue to gain share
One of the (many) structural advantages of the low-cost carriers easyJet and Ryanair is they suffer less government interference than their flag-carrying peers. On-going pay disputes at Lufthansa and Air-France are two recent examples and remind us the competitive environment easyJet finds itself in is quite benign and so share-gains, improved efficiencies and returns should continue to grow over time. While the same can be said for Ryanair, another name we like, the underperformance of easyJet is what appeals more at this point, and if we were to be adding to either we would be adding easyJet shares.
With 25% EPS growth expected in 2 years, it seems harsh for easyJet to be trading on just 13.5x trailing earnings. Our interpretation is that this is a stock caught in the 'taper tantrum' headwinds, with investors wary of the effects of rising interest rates on the consumer's propensity to jet off to Europe for the weekend. However, the LCCs have become more of a commuter, business and utility service than luxury good over the past decade. With load factors currently in excess of 90% for the last quarter, the business remains healthy and set to continue taking share from the flagship carriers and less efficient airlines across Europe over time.
7. Trader watch: Breakevens, Retail, Balfour Beatty, Just Eat & Tungsten
i) US Breakevens… New lows
Can the FED be hawkish on rates when inflation expectations are collapsing? Punch bowl to remain…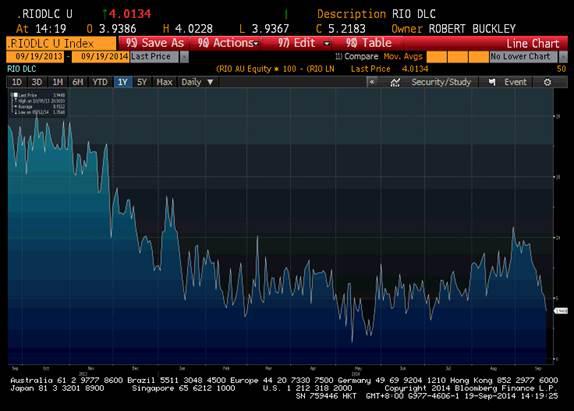 10 yr breakevens are at levels last seen in the Taper Tantrum last year.
ii) Retail woes and climate change.
28 degrees in New York on Sunday, 24 in London, 25 in Milan… Global warming?
Next warns today blaming weather. Watch Marks & Spencer etc but also Next itself where people are not used to this kind of thing. Warnings happen to other people. Note Riccardo has been short the SXRP (Retail Index) for months (get on his list) and just re-iterated that overnight. Hennes missed last week too. Inditex margins displeased people a few weeks ago also.
iii) Balfour Beatty
Seems like a sitting duck to us. Traded up more than 10% from yesterday morning to the close. Bear in mind Carillion's approach was barely a month ago. Watch this space. Tick tock.
iv) Just Eat
Lockup expires today. Stock on 17x 2013 Sales, 30x 2015 EBITDA, 60x 2015 P/E. Form an orderly line, folks..
v) Tungsten
Up 2% yesterday, barely, after having won SIEMENS contract. Adds about 7% to their total addressable invoices. Buy more TUNGSTEN.
Disclaimer: Aviate Global LLP is authorised and regulated by the Financial Conduct Authority (FCA reference 465131). Aviate Global LLP is not covered by the Financial Services Compensation Scheme (FSCS).
The material contained within this presentation is NOT INTENDED FOR RETAIL CLIENTS i.e. those who are not:
a) Per Se Professional Clients or an Eligible Counterparty as defined in the European Parliament and Council Directive on Markets in Financial Instruments (MIFID);
b) 'Professional Investors' as defined in the Securities and Futures Ordinance (Chapter 571 of the Laws of Hong Kong) and its subsidiary rules;
c) Persons other than "major institutional investors" as defined in SEC Rule 15a-6 in the United States)
Aviate Global only trades on instruction from clients. Aviate Global does not hold proprietary positions and nor does it manage portfolios.
IMPORTANT INFORMATION FOR UNITED STATES PERSONS
This document / report / presentation has not been prepared, reviewed or approved by Aviate Global (US) LLP, Aviate Global LLP's affiliated U.S.-registered broker-dealer and a member of FINRA. This report is intended to be distributed by Aviate Global LLP in the United States solely to "major U.S. institutional investors" as defined by Rule 15a-6 of the Securities Exchange Act of 1934, as amended. For the avoidance of doubt, this report is not intended for individual or non-institutional investors and should not be distributed to any such individual or entity. Interested "major U.S. institutional investors" should contact Aviate Global, (US) LLP, our U.S. registered broker-dealer affiliate, or another U.S.-registered broker-dealer, to effect transactions in the securities that are the subject of this report. Aviate Global (US) LLP also is registered as an Introducing Broker with the National Futures Association (NFA ID 0439324). Aviate Global (US) LLP does not deal with or for U.S. persons that do not meet the definition of an Eligible Contract Participant (as defined in the U.S. Commodity Exchange Act).