Below is a list of 10 small cap stocks with recent earnings surprises to consider in the short (or long) term. For the purpose of this monthly list, I define value as a stock with a projected current year PE of under 20 and a Price to Earnings growth ratio under 1. Small cap is defined as having a market capitalization under $1 billion. The earnings surprises are defined as stocks which have beaten estimates the past 2 quarters and have an average earnings surprise of 20% or more for the past 4 quarters. I also require stocks to be trading above their 200 day simple moving average. I use stockscreen123 as the tool and screener.

Last month's portfolio can be seen here. Last month the list was generally in line with overall US equities, returning 3.69% (excluding any dividends) versus 3.62% for SPY and 3.37% for VBR, a small cap value ETF. Last month's returns were bolstered by Insight Enterprises (NASDAQ:NSIT) at 27.16% and Molina Healthcare (NYSE:MOH) at 14.94%.

Why do I track this screen? I find PEG an effective ratio for identifying growth stocks at a reasonable value. In addition, a recent history of earnings increases could, in theory, help identify companies with the ability to continue to surprise. Backtesting this screen with a rebalance period of every 4 weeks and a maximum position size of 10% (in instances where less than 10 companies qualify) has produced solid 5, 3, and 1 year returns (see December's list for a backtest). A quick visual inspection shows this screen has done well as a high beta play - outperforming in positive market environments and struggling in down markets. Also, a 4 week rebalance period can lead to high turnover and transaction costs which can be neutralized by free trades.

I exclude OTC stocks and I further narrow the list based on additional stockscreen123 fundamental factors to 10 stocks or less. The list, as always, is not a specific portfolio but a recommendation for further research. Since this is a purely mechanical screen, I play no discretion in the results (other than establishing the original screen criteria).
Of note, MDF has been a qualifying stock on this list since May. I continue to watch closely. Last month I highlighted $4.50 as a key support/resistance level with resistance moving to $4.80 this time last month. The stock has once again broken out, just within the past three days. $4.80 now becomes a support level and with no resistance the stock could continue its move up based on current technicals and fundamentals (chart courtesy of
Finviz
). Click to enlarge: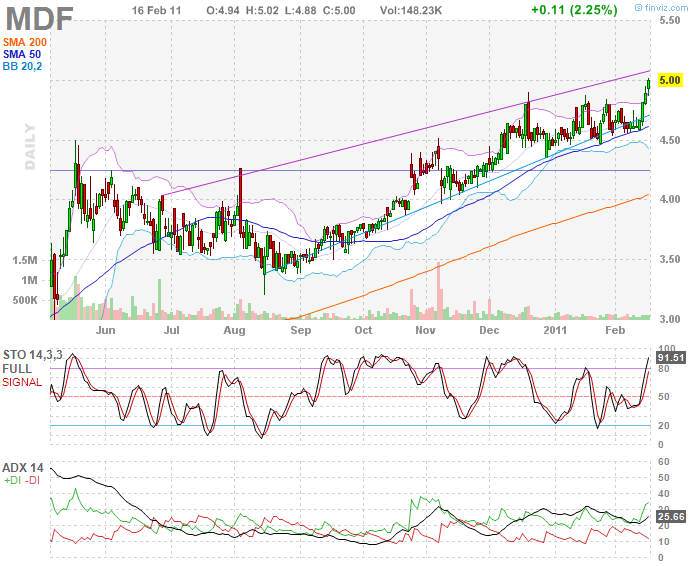 This month's list consists of the following 10 stocks:
| | | | | | | |
| --- | --- | --- | --- | --- | --- | --- |
| Ticker | Name | Trend | Rank | Mkt Cap | Proj PE CurFY | PEG |
| MDF | Metropolitan Health Networks, | Here | 99.24 | 197.79 | 7.87 | 0.79 |
| ASYS | Amtech Systems, Inc. | Here | 99.2 | 232.49 | 11.21 | 0.32 |
| DDIC | DDi Corp. | Here | 98.46 | 224.26 | 11.19 | 0.75 |
| SCLN | SciClone Pharmaceuticals, Inc | Here | 98.16 | 204.12 | 9.15 | 0.47 |
| KEM | KEMET Corporation | Here | 98.14 | 550.94 | 7.85 | 0.65 |
| KELYA | Kelly Services, Inc. | Here | 98.02 | 823.3 | 19.9 | 0.9 |
| GLDD | Great Lakes Dredge & Dock Cor | Here | 97.9 | 499.13 | 16.14 | 0.49 |
| ATRO | Astronics Corporation | Here | 97.83 | 255.18 | 17.03 | 0.97 |
| HITK | Hi-Tech Pharmacal Co. | Here | 94.49 | 287.29 | 8.67 | 0.52 |
| CRD.B | Crawford & Company | Here | 91.62 | 206.73 | 8.03 | 0.49 |
Disclosure: No positions