It's fairly intuitive to think that real estate isn't the best investment to throw money at these days. Even with talk of a market bottom in the U.S. and report after report of over-inflated prices in Asia, one could be forgiven for thinking that it's just not a solid, safe bet in the long-term.
But that's actually far from the case, particularly when it comes to institutional investors looking for "alternative" investments that can yield them something a little better than single digits, according to several recent research reports that have crossed our path lately. Despite having their heads handed to them during the '08 crash, institutional investors continue to be the popular kids.
Unfortunately for the hedge fund industry, interest in real estate-type investments means less love for them and other "non-core" assets, and certainly more competition. Indeed, a survey of pension funds published in January that we wrote about noted that property, infrastructure and private equity are tops on institutional investors' wish lists – all in the name of post-2008 diversification – casting a shadow over hedge funds.
Real estate is certainly a big part of that non-core bucket, in particular Real Estate Investment Trusts, or REITs, which have been around for more than half a century and have certainly had their ups and downs but are increasingly gaining favor among pension funds and other investors.
The reason? That despite ebbing and flowing in terms of popularity, REITs have generally managed to generate good payouts and lots of cash. Indeed, a recent academic overview entitled An Overview of Equity Real Estate Investment Trusts (REITs): 1993-2009 (click here to download from SSRN), notes that returns from assets and equity remain positive on average and that the industry has outperformed the replacement cost of its assets.
The positive spin stands somewhat at odds with other recent research items AllAboutAlpha.com has come across on real estate investments in general, including this study from Preqin released last week suggesting that institutional investors in particular are still roughly 50/50 on whether they are likely to commit capital to real estate, an increase from the year before but still far from a majority.
The academic paper, written by Zhilan Feng, S. McKay Price and C.F. Sirmans, identified and analyzed 118 REIT IPOs from 1994 through 2009. More of a broad snapshot than an argument, the study focuses on publicly traded REITs, particularly those going public in the 1990s, as a gauge for their popularity and performance and overall market cap as a group. They also looked at changes in equity REIT characteristics to get a sense of how the trusts morphed over the years, particularly as property investment opportunities changed.
The findings are a bit surprising. For starters, despite a reduction in the number of publicly traded equity REITs toward the latter part of the 1990s, the industry continued to grow – a lot. As the chart below shows, even when the real estate market seemingly went down the hole in the mid-1990s, REITs were still going public with investors active in bumping up their market capitalization.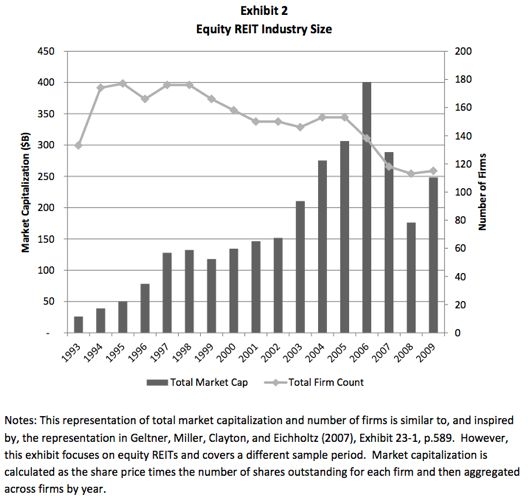 In turn, the total industry equity value of $26 billion in 1993 swelled dramatically and, following the 2008 recession, settled in at roughly a quarter of a trillion dollars by the end of 2009.
The results carry the same theme as much of the other recent real estate research we've analyzed: that post-2008 real estate, particularly commercial real estate as well as specific structured vehicles that focus on real estate, are a great way to augment a portfolio.
On top of that, most institutional investors say they are actually underinvested in real estate; the Preqin survey found that 64% investors surveyed were below their target allocations to real estate, while 28% were at their target allocation and 8% were above their targets. Meanwhile, two-thirds of those surveyed said they expect to commit more capital to real estate funds in 2011 than they did in 2010.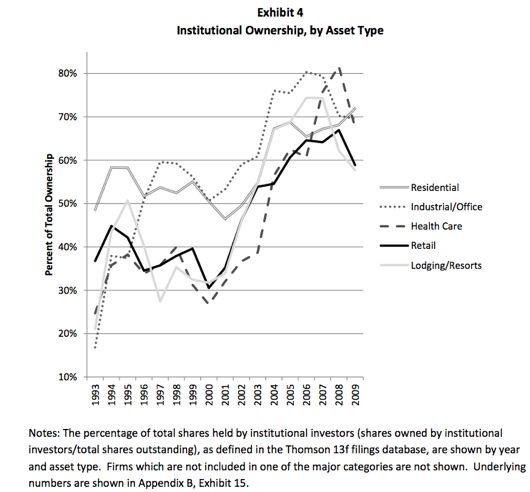 As for what kind of real estate, the academic study found that residential REITs were actually most in favor among institutional investors in 2009, followed by industrial / office. Health care, retail and lodging / resorts were all in a downslide in 2009, though may have rebounded last year.
The bottom line is that real estate is more than alive, well and in the purview of institutions looking for diversification and a bit of alpha. The bad news, for hedge funds in particular, is that interest in real estate is casting a bit of a long shadow.