A trailing P/E of 0.96, forward P/E of 1.75, a PEG of 0.35, and a price/sales ratio of 0.59. Are you kidding me? Just those numbers say that Newcastle Investment (NCT) is undervalued despite its 526% run up over the last three months.
The real estate investment company reports 4th quarter earnings on March 1st. Investors can tune in here. Expect good things. Analysts expect $2.36 on $82.25 million.

Source: MSN Money
The $2.36 for the 4th quarter is lower than the $2.61 the company earned in the 3rd quarter. The company's business, which sells mortgage-backed securities and real estate, is likely improving from the credit crisis. But a small dip in earnings can be expected based on last year's performance. But a $0.25 dip seems a little high.
For the revenue, $82.25 million is not much higher than $81 million in the 3rd quarter. Again, if the business is assumed to be improving, this shouldn't be hard to beat.
And ideally, the PEG is supposed to be 1. Its P/E should equal its growth rate. Based on this assumption, the stock is trading for 1/3 of its value. In fact, this would support the stock going back to about its average from 2004 to 2007.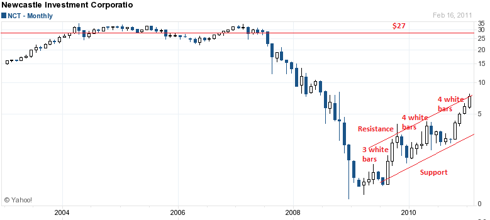 Source: Yahoo Finance
However, one can also notice that the stock has marched upward in a range between support and resistance. The price is near the resistance line, meaning a pullback is possible. Plus, the graph shows three white (buying) bars in the first up-leg, four white bars in the second up-leg, and four white bars for the current up-leg. To follow the pattern, one will also expect a pullback.
On the other hand, by zooming into the 5-day graph, technicals DO NOT give a sell signal. In fact, every indicator shown, except the MFI (Money Flow Index), is either in the middle between overbought and oversold territory or in the lower half. These all are relatively bullish signals.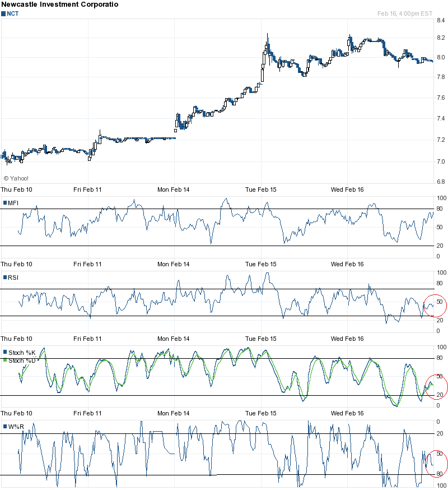 Source: Yahoo Finance
Top black lines in each graph are overbought territory, and bottom black lines are oversold territory.
So will NCT go up in the short run? Maybe. But will it go up in the long run? Definitely.
Disclosure: I have no positions in any stocks mentioned, and no plans to initiate any positions within the next 72 hours.