I'm not a chart guy. Never have been. Never will be. I'll use them to look at the price history of something and then match it up with the fundamentals. But as far as the wiggles being the sole determination? Nah.
But have you seen the charts on the iPath S&P GSCI Crude Oil Total Return Index ETN (OIL)? Most of them look like an EEG of the guy who comes in second in a UFC title bout. Let's look at the daily first.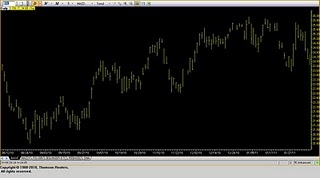 Looks like it's got one more semi-decent run before the fina
l break. Here's the weekly chart.
That's the point in a hospital drama when the ER doctor yells "CLEAR!" And lastly, the monthly.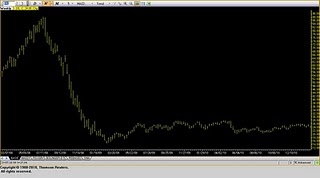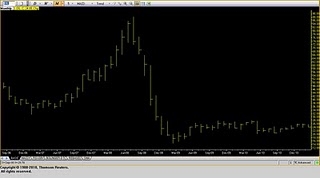 What's going on with oil? I wish to hell I knew. Are CNG (compressed natural gas) conversion kits about to hit the shelf at O'Reilly's (ORLY)?

With the constant chatter about "peak oil" and the Arab world doing its impression of the French Revolution, you'd think we would be at $150/bbl. WTI is hovering around $85/bbl. However, gasoline is still over $3/gallon (I drive a German car that requires premium...thanks a lot). I don't know what it is, but something is definitely afoot.

Well...we do know about this week''s three lil' piggies…sort of.

"Fill 'er up!"

Getty Realty Corp. (GTY)
Recent Price: 28.50
P/E: 15.32
Current Yield: 6.73%

The Skinny
Most REITs pick one space or the other: office, industrial, retail, medical, multi-family. GTY specializes in the owning and leasing retail motor fuel and convenience store properties and petroleum distribution terminals. Now that's a niche. The company owns and manages about 1,075 properties throughout the country. GTY's biggest tenant, Getty Marketing, is a subsidiary of the Russian energy behemoth Lukoil (OTCPK:LUKOY), which represents about 70% of the company's revenue. But recently, GTY is diversifying away from LUKOY having acquired 36 Exxon (XOM) stations since 2009. Getty Marketing is also subletting to other branded distributors. And based on current coverage, most analysts are comfortable with GTY's ability to maintain the dividend.

The Danger
There's a bit of a premium on the shares. NAV is around $22, so don't think that you're buying anything at a discount. Also, Getty Marketing, the aforementioned largest tenant, had some serious cash flow problems in 2008. That's just now getting straightened out but that difficulty definitely put the hurt on GTY. AFFO (Adjusted Funds For Operation) is also declining: down 1% YOY. Not a huge number, but not going in the direction we like.

" A Line on Value"

Value Line (VALU)
Recent Price: 13.88
P/E: 14.72
Current Yield: 5.70%

The Skinny
In 6th grade, I remember my mom dropping me off at the neighborhood public library to do research for my math class stock project. Asking the librarian where I should begin, she directed me to the reference section. Next to the Moody's and S&P guides, were the big black three ring Value Line binders. I used all three but I found Value Line to be the most user friendly. It was 1979 and that was about as state of the art as it got. Even as a rookie broker in the mid 90s, Value Line was still an important research tool (remember…the Internet was barely potty trained back then). Honestly, I haven't seen a printed Value Line report in a decade or more so, naturally, I was surprised to find out it still had a pulse. Besides the periodical, the company also licenses certain trademarks and information and also has a money management business. As a stock, the numbers are interesting. The 9 year average ROE is a strong 20.46%. Shares trade at half off their 52 week high, the P/E isn't ridiculous, and lately, the company has been kicking off special dividends here and there. As far as the world of investment information publishing goes, it's a well known, old (1931) brand name that may offer some…pardon the pun…value. Incidentally, I made an "A" on the 6th grade project. My best friend called me a fascist. Go figure.

The Danger
While VALU has some compelling metrics, others cause some concern. Revenue has been shrinking consistently. EPS are down by more than half (not good). And on a broader scale, how relevant is VALU anymore? I'm in the investment business and didn't realize they were still a viable entity. Their digital product, while decent, isn't all that whiz bang. The information VALU provided two and three and four decades ago is highly commoditized and usually free. Competition is everywhere. What makes them special now? Good question.

"Yes…ANOTHER BDC…"

Saratoga Investment Corp. (SAR)
Recent Price: 21.15
P/E: 11.37
Current Yield: 9.45% (projected)

The Skinny
The attractiveness of BDCs continues to grow as businesses attempt to adjust to the new normal in the era of limited credit. SAR focuses (like many) on debt investments in middle market companies. Shares are off 16% from the 52 week high and trade .86 times book value. Being able to purchase a fairly decent portfolio throwing off some good income? Not bad at all. Also, portfolio credit quality has improved which should boost 2012 EPS by about 4%. Interest income is also higher. Something else to like.

The Danger
Shares trade a nice discount to book. However, book has declined by 16% due to dilution created by a stock dividend issued back in November. If you're diving for deep value, you don't like to see book shrinking. SAR is also working out problem loans in the portfolio of a recent acquisition. While it appears that management is doing a good job of this, it's still a challenge nonetheless. Lastly, BDCs do well in a low rate environment. Things will change when rates creep up which they will do sooner than later.