With the general stock market sharply lower, commodity markets are higher today. The bounce is nice to see but it is hard to say exactly what is going on in some of these markets right now. A few appear to have already bottomed, while there are a number of commodities which look to be building bases as they trend sideways between ranges.
WTI Crude is higher today after the crude inventory numbers were released and caught some traders on the wrong side of the trade. Even with WTI teaching some traders a lesson, we seriously doubt that any lessons have been learned by the bears and that it will be a while longer before the bulls once again have the upper hand. If a bottom has not been reached yet in energy, we cannot be that far from reaching one and think that readers might want to start focusing on some of these markets and hand picking premier names to add to portfolios. We say this because the energy sector has outperformed to the downside, and considerably so, which would lead us to believe that any further losses in the general market should be absorbed by other sectors.
Chart of the Day:
For those looking to play a rebound in commodity prices, Freeport-McMoRan (NYSE:FCX) remains one of the best ways to play price swings among copper, gold and oil. The stock has seen a sharp pullback from highs hit in July, but could soon find some support.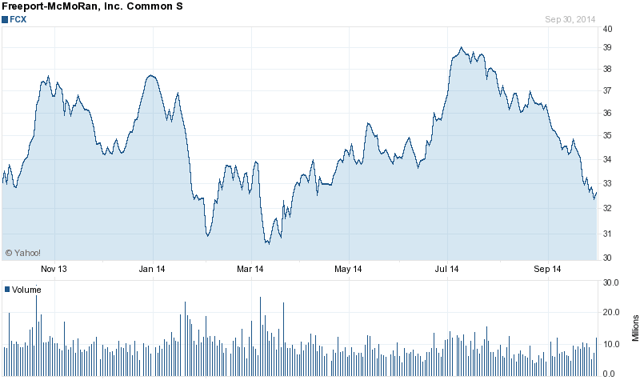 Source: Yahoo Finance
Commodity prices are as follows (at time of submission):
Gold: $1,219.20/ounce, up by $7.60/ounce
Silver: $17.425/ounce, up by $0.368/ounce
Oil: $92.66/barrel, up by $1.50/barrel
RBOB Gas: $2.4897/gallon, up by $0.0524/gallon
Natural Gas: $4.139/MMbtu, up by $0.018/MMbtu
Copper: $3.0265/pound, up by $0.019/pound
Platinum: $1,286.80/ounce, down by $13.70/ounce
Brazilian Stocks Under Pressure
Both Petrobras (NYSE:PBR) and Vale (NYSE:VALE) have been under pressure recently, as Brazilian President Dilma Rousseff has pulled ahead of challenger Marina Silva in the latest polls. Couple the most recent political polls with weakening commodity prices and it is not surprising that the large commodity companies, which are some of Brazil's largest corporations, have been faring so poorly in the market recently.
With the election quickly approaching, market participants are hoping that Ms. Silva can gain ground and hopefully pull off an upset, as she has put together a solid team of advisers who are moderates and focused on implementing economic reforms to help get Brazil's economy on track. One of the main pillars of the economic plan is to have Brazil's central bank become independent, a move many market watchers suspect would lead to moves by Brazil to utilize their large reserves to stabilize their currency. We like the plans, but until an election is won it is simply nice talk.
Energy Names Looking Cheap
With the pullback in energy prices and recent geopolitical events, investors have watched as some high quality stocks have come under pressure. One name we would not have second thoughts about buying is Kinder Morgan (NYSE:KMI), a stock which has lost around 10% on the pullback even though only a few weeks ago every analyst on Wall Street was in love with the company's future plans and talking favorably about the proposed mergers with their MLPs. Cash flows are strong and the company is paid to move other companies' production, so these short-term price gyrations have little effect upon Kinder Morgan's long-term plans.
For those looking to buy this name, we think shares could be purchased at these levels successfully, but also believe that some buying power should be kept in reserve as a move below $38/share could see the shares settle around $35/share. Due to this a buying program of fourths or halves should be utilized.
Also of interest to us is BP (NYSE:BP), which has been hit with lower oil prices, geopolitical issues in Russia and fresh losses in US courts relating to the Gulf of Mexico oil spill. Investors should have had all of these issues discounted in the stock price at some level, but right now it seems that many are simply heading to the exits. While there are still cases pending regarding the oil spill, the company could drag out the process by appealing rulings and dragging this through the legal system. That being said, there is headline risk of multi-billion dollar losses that could spook the market and that is what many investors we talk to appear worried about.
With Ukraine and Russia appearing to play nice now, BP might come out of this a bit stronger in Russia, as they stood by their partner and undoubtedly used their political connections at home to keep the EU and UK from enacting sanctions which were as tough as the United States' - which forced Exxon Mobil (NYSE:XOM) to have to sideline its Russian ambitions.
Disclosure: The author has no positions in any stocks mentioned, and no plans to initiate any positions within the next 72 hours.
The author wrote this article themselves, and it expresses their own opinions. The author is not receiving compensation for it (other than from Seeking Alpha). The author has no business relationship with any company whose stock is mentioned in this article.