By Maria Halmo
I'm out of the office right now at a conference in Palm Beach [1], so I've been getting all my news remotely about the NiSource (NYSE:NI) analyst day. I have to say, I'm bummed that I missed being with the other stat nerds at Alerian when we got news of another MLP filing an S-1 and the split of a diversified utility company into a pure utility and a pure energy infrastructure company.
NiSource announced the formation of an MLP yesterday, confirming longstanding rumors in the market. Columbia Pipeline Partners (anticipated ticker: CPPL) will own a minority interest in the following traditional [2] MLP assets: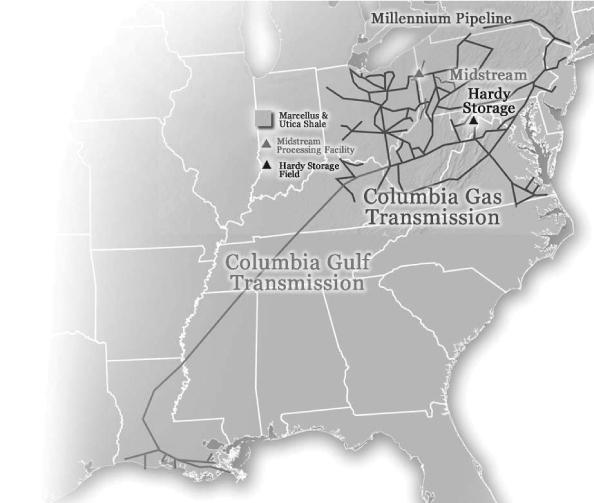 If you're an investor who's looking for an MLP focused on Marcellus and Utica infrastructure, this could be worth your research efforts. As wells in the Marcellus come online, the company expects to see increased throughput on its pipeline systems.
Shortly after CPPL is taken public, NiSource expects to split into two companies. The GP interest and IDRs of CPPL (as well as an LP stake in the MLP), together with the majority interest in those assets in the map above, will be owned by Columbia Pipeline Group (anticipated ticker: COLP).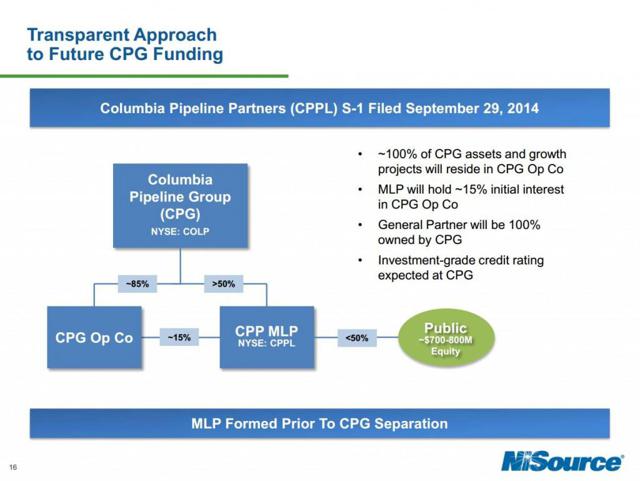 Over time, COLP does not plan to sell specific assets to CPPL, but rather additional stakes in the OpCo. As CPPL will only own a 15% interest in the OpCo when it is taken public, there is significant visibility to future distribution growth just from dropdowns. Additional growth is expected to come from organic growth projects at the OpCo: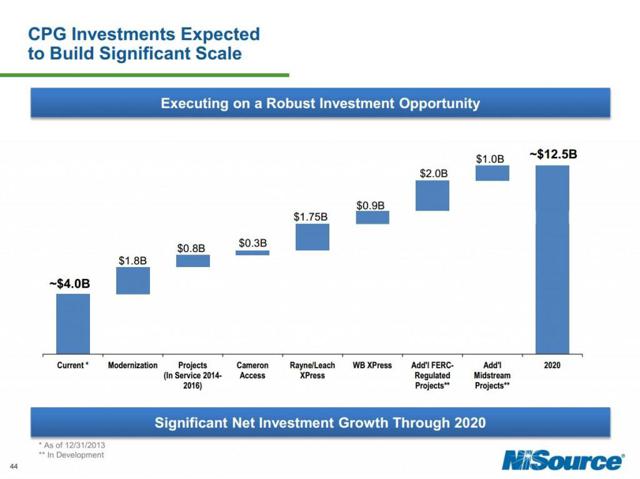 NiSource traded up almost 6% yesterday on heavy volume on the back of these two announcements (the COLP spinoff in particular, as it was not expected by most analysts). Not quite the 25%-plus pop that ONEOK Inc (NYSE:OKE) got last year on the day of its announcement in the same vein, but I'm sure NiSource shareholders will take it nonetheless. If COLP is received well by the investor market next year, expect other utilities with significant earnings contributions from midstream assets to explore a similar type of transaction.
Footnotes:
[1] Don't get too jealous—I've been up since before dawn reading the S-1.
[2] By traditional, I mean fee-based, long-term contracts on pipeline and storage assets.
Disclosure: © Alerian 2014. All rights reserved. This material is reproduced with the prior consent of Alerian. It is provided as general information only and should not be taken as investment advice. Employees of Alerian are prohibited from owning individual MLPs. For more information on Alerian and to see our full disclaimer, visit http://www.alerian.com/disclaimers.
Maria Halmo is the Director of Research at Alerian, which equips investors to make informed decisions about Master Limited Partnerships (MLPs) and energy infrastructure. Ms. Halmo leads the firm's research efforts, which include examining MLP regulatory filings, monitoring legislative activity, and investigating industry developments. She also oversees Alerian's public communications strategy through investor and media outreach. Ms. Halmo is a former Associate at SteelPath Capital Management LLC, a Dallas-based MLP investment manager, where she conducted valuation analyses of petroleum transportation partnerships and researched macro-level energy issues. Ms. Halmo graduated with a Bachelor of Arts in Astrophysics from Barnard College at Columbia University. She is also a contributing author to Midstream Business, a monthly publication addressing the need for business market intelligence on North American energy infrastructure.