By Steven Carroll
Gross' choice of firm was interesting. According to this Reuters story, Gross had threatened to resign from PIMCO multiple times and the company had recently decided to dismiss him. Given the impending fall of the executioner's axe, one imagines Gross' choices on such a time frame were fairly limited. The market reaction was certainly sharp - with billions of euros wiped from Allianz's (OTCQX:AZSEY) market capitalization and Janus (NYSE:JNS) shares climbing 43%.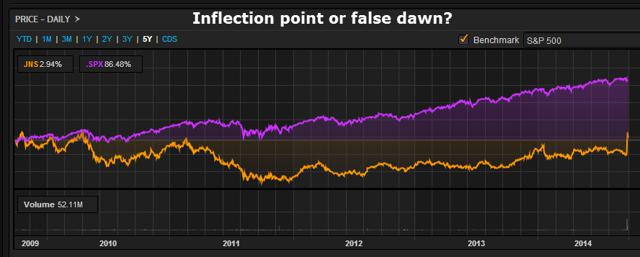 Analysts' review
Janus has suffered five years of underperformance, with the stock price still requiring an enormous rally just to draw level with the S&P over the period. Focusing on Janus, let's look at what exactly is built into the price after the exuberant rally of Sept. 26, the day of Gross' announcement. The answer is, not that much. Despite the rally, the markets have been positively sanguine - with the market implied five-year CAGR now standing at a respectable 10.9%.
Just barely into double digits with one of the best known names in fund management now having joined the firm? That seems entirely reasonable from my perspective. Analyst revisions have already begun to surge, with Janus in the top 2% for North American stocks on Sept. 30, and no doubt most of the upgrades are yet to occur.

Covering the shorts
If we leave aside the hyperbole and "game changing" nature of Gross' arrival, one point to note is that many of Janus' StarMine scores were already looking attractive, with the Smart Holdings score, Earnings Quality and Insider scores all at or very near the top decile. One other point of note, or schadenfreude, is that Janus already had an elevated short position - hedge funds were positioned for a sharp share price fall. I think it's safe to assume that there were some cranky long/short equity managers playing with the kids on Saturday morning, the day after the big news.

Scanning the horizon
As Janus symbolizes transitions and beginnings, it seems an entirely appropriate place for Gross to start over. As the market begins to step back and take a rational look at Janus, and the billions of dollars that are likely to follow Bill's long-term track record, it seems that Janus' stock price doesn't really reflect the new reality.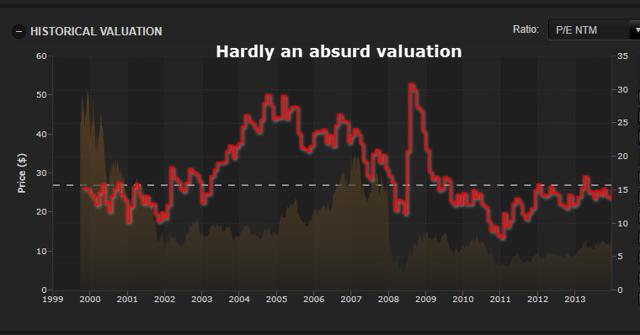 Still room for a lift?
Janus' 15 year median P/E ratio is 15.7, exactly where today's ratio sits. With the arrival of one of the megastars of the fund management industry, I'd have to assume that the company's prospects have lifted significantly.
So the stock is trading in line with the median ratio despite the potential of billions of dollars of new assets under management that would drive both earnings and margin unless Gross cut himself a particularly sweet deal (unlikely under the circumstances). There's a good chance the stock may have plenty of runway in the medium term.
Disclosure: The author has no positions in any stocks mentioned, and no plans to initiate any positions within the next 72 hours.
Business relationship disclosure: Alpha Now at Thomson Reuters is a team of expert analysts that are constantly looking at the financial landscape in order to keep you up to date on the latest movements. This article was written by Steven Carroll, independent commentator and analyst. We did not receive compensation for this article, and we have no business relationship with any company whose stock is mentioned in this article.
Editor's Note: This article discusses one or more securities that do not trade on a major U.S. exchange. Please be aware of the risks associated with these stocks.