Competition in the US wireless telecom service industry remained strong in the third quarter of 2014. It is not just the "maverick" T-Mobile (NASDAQ:TMUS) that took all the competitive initiatives. Verizon (NYSE:VZ) and AT&T (NYSE:T), each of which has a much larger wireless subscriber base, were quite decisive in offering more incentives to wireless subscribers. Sprint (NYSE:S), the third largest provider, also started aggressive price campaigns in the third quarter.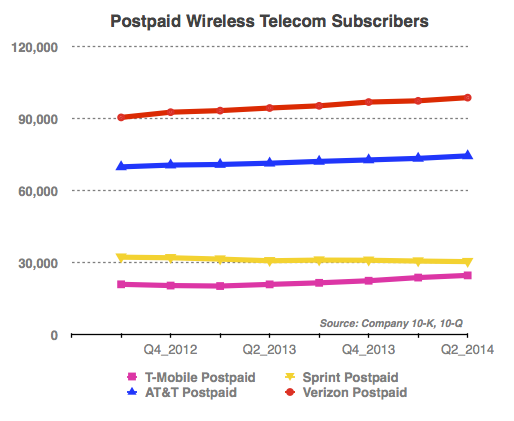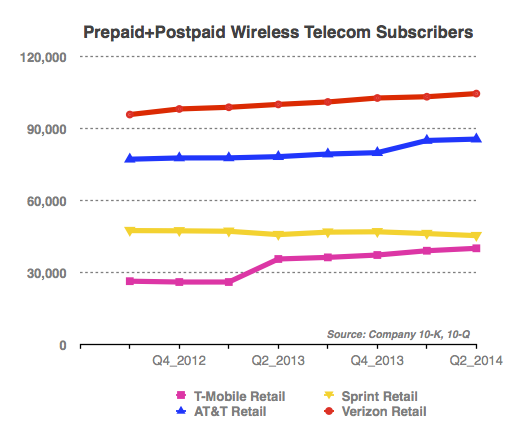 The current competitive dynamics of the industry are expected to continue into the fourth quarter. In addition, increasing adoption of no-contract phones along with lower costs of switching carrier will keep it challenging to attract and retain new subscribers. That could result in more price and non-price incentives for consumers.
Near Saturated Base
In a near-saturated wireless telecom services industry, it is unlikely that every wireless carrier will end up with net positive handset subscriber adds. In fact, a net positive subscriber add for one carrier will likely come at another carrier's expense. Until the middle of the third quarter of 2014, other carriers were adding subscribers while Sprint was losing them. Sprint's new aggressive pricing strategy is likely to stem that trend, if not reverse it.
In short, net customer addition is going to be difficult for every carrier.
In addition, a number of appealing promotional offers by Sprint and T-Mobile were going to end with the end of the third quarter. Thus, without similar new promotions, both carriers will be competing with AT&T and Verizon based on their un-discounted prices.
Switching Costs and iPhone 6
In the past, two-year service contracts with high early termination fees created significant disincentives for consumers to switch from one wireless carrier to another. However, an increasing use of no-contract phones along with wireless carriers' offers to pay early termination fees in the recent quarters have lowered a subscriber's cost of switching from one carrier to another.
Under the circumstances, the launch of highly-popular iPhone 6 models in the third quarter extended an opportunity to go after competitors subscribers. And, the carriers wasted little time to do so. Almost immediately after the iPhone 6 launch announcement, Verizon offered $200 ($300 for 5S) trade-in promotion for four older iPhone models used on any wireless carrier. AT&T followed up with a similar promotion. T-Mobile and Sprint were also quick to guarantee matching any trade-in offers from their respective competitors.
Strong iPhone 6 sales (projected to be 65 million) in the fourth quarter of 2014, will once again provide the wireless carriers the opportunity to lure subscribers away from one another.
It's not Just the "Maverick"
Almost three years ago, the US Department of Justice (DOJ) decided to challenge the then proposed merger between AT&T and T-Mobile. Since that aborted merger, the US wireless telecom service industry has become significantly more competitive.
For much of this time, T-Mobile played the role of a 'maverick' firm-a firm that plays a disruptive role in the market to the benefits of consumers. The "Un-carrier" eliminated long-term service contracts, shortened the device upgrade eligibility window, lowered international roaming charges, started paying an early termination fee, among others. Other carriers mostly responded to T-Mobile's initiatives, sometimes with a significant lag.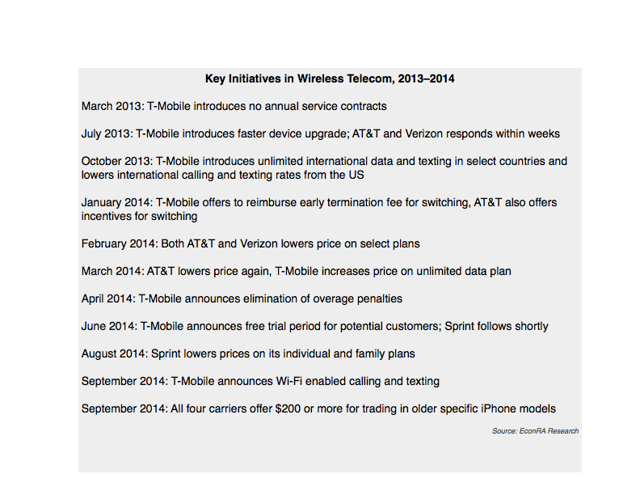 That has started to change in recent months. Instead of responding to T-Mobile's initiatives, other carriers have become more proactive in offering their own incentives to lure customers away from each other. They have also started reacting quicker. For example, Verizon was the first to offer appealing trade-in option for iPhone 6. It was quickly matched (with some variations) by all the other carriers. AT&T doubled the data on its higher-tier Mobile Share Value plans at the end of the third quarter. It is now matched by Verizon and doubled by Sprint!
Final Thoughts
Continuing on the recent trends, competition in the US wireless telecom service industry is likely to stay strong in the fourth quarter. Lower switching costs along with huge projected demand for iPhone 6 models in the fourth quarter, will encourage the carriers to go after each other's subscribers. Given their swift reaction to each other's competitive initiatives in recent months, any of these carriers is unlikely to enjoy the first mover's advantage for an extended time.
Consequently, quality rather than price may become more important for subscriber growth in the fourth quarter. In the short-run, that will help Verizon and AT&T, carriers with highest network quality ratings.
Disclosure: The author has no positions in any stocks mentioned, and no plans to initiate any positions within the next 72 hours.
The author wrote this article themselves, and it expresses their own opinions. The author is not receiving compensation for it. The author has no business relationship with any company whose stock is mentioned in this article.