The green flag waves - and they're off! Only in this auto race we have auto company stocks competing instead of their cars.
For nearly 100 years, America's auto race has had three racers known as the "Big 3": Ford Motor Company (NYSE: F) which was founded in 1903, General Motors (NYSE: GM) founded in 1908, and Chrysler Corporation founded in 1925. For most of this American auto race GM has been in the lead, with Ford trailing close behind and Chrysler bringing up the rear.
But near the turn of the millennium Chrysler began swerving by the wayside. In 1998 Chrysler was bought-out by German automaker Daimler-Benz AG, and while it continued to book large sales volumes in the U.S., it was no longer officially an American company.
Chrysler was partially repatriated in the wake of the 2008-09 auto crisis / financial crisis (a crisis within a crisis) when it was purchased by a consortium comprised of the United Auto Workers pension fund, the U.S. and Canadian governments, and the Italian automaker FIAT. But over the following years, Chrysler once again began swerving out of the American race as FIAT steadily purchased more Chrysler shares until gaining full ownership by the start of 2014. The American auto race was officially down to just two American contestants.
Suddenly, out of nowhere comes a supped-up hotrod that screams past GM and Ford in a blur. The two American auto giants never even saw it coming in their mirrors, and suddenly there it was in front of them kicking up dust in its wake. America's auto race had been joined by the upstart Tesla Motors (NASDAQ: TSLA) when it went public on June 29th of 2010. Once again the American auto race has three home-grown automakers competing for American consumers' affections.
How have they been performing? Looking at just their stock prices alone, Tesla is leaving GM and Ford coughing in a cloud of dust, with its founder Elon Musk having a chuckle as he waves bye-bye to them in his rear-view mirror. And with good reason, as noted in the graph below of the race's standings. (I don't need to mention which color is TSLA, do I?)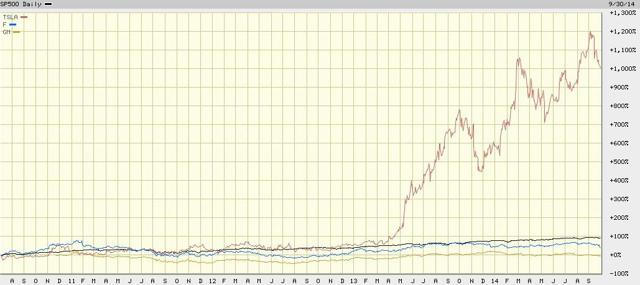 Source: BigCharts.com
Of course, investors are going to need a lot more than stock performance to determine if a company represents a good investment opportunity going forward. So let's pop open the hoods of these investment vehicles to get a sense of which of the three American carmakers offers investors the nicest ride.
Our diagnostic will use the following format: a) financial comparisons, b) estimates and analyst recommendations, and c) rankings with accompanying data table. As we compare each metric, the best performing company will be shaded green while the worst performing will be shaded yellow, which will later be tallied for the final ranking.
A) Financial Comparisons
• Market Capitalization: While company size does not necessarily imply an advantage and is thus not ranked, it is important as a denominator against which other financial data will be compared for ranking.

• Growth: Since revenues and expenses can vary greatly from one season to another, growth is measured on a year-over-year quarterly basis, where Q1 of this year is compared to Q1 of the previous year, for example.
In the most recent quarter, Tesla enjoyed the highest revenue growth year-over-year by a substantial margin. However, since Tesla's quarterly earnings growth figure is not available, that comparison will be omitted from this competition.

• Profitability: A company's margins are important in determining how much profit the company generates from its sales. Operating margin indicates the percentage earned after operating costs, such as labor, materials, and overhead. Profit margin indicates the profit left over after operating costs plus all other costs, including debt, interest, taxes and depreciation.
Of the three, Ford's profit and operating margins are the best, while Tesla's are the worst.

• Management Effectiveness: Shareholders are keenly interested in management's ability to do more with what has been given to it. Management's effectiveness is measured by the returns generated from the assets under its control, and from the equity invested into the company by shareholders.
In this comparison, Ford's management is performing best in generating the highest returns on assets and equity, while Tesla's management isn't fairing very well right now as it is depleting shareholder equity.

• Earnings Per Share: Of all the metrics measuring a company's income, earnings per share is probably the most meaningful to shareholders, as this represents the value that the company is adding to each share outstanding. Since the number of shares outstanding varies from company to company, I prefer to convert EPS into a percentage of the current stock price to better determine where an investment could gain the most value.
Of the three companies here compared, Ford provides common stock holders with the greatest diluted earnings per share gain as a percentage of its current share price, leaving the other two well behind by quite a distance, with Tesla bringing up the rear.

• Share Price Value: Even if a company outperforms its peers on all the above metrics, however, investors may still shy away from its stock if its price is already trading too high. This is where the stock price relative to forward earnings and company book value come under scrutiny, as well as the stock price relative to earnings relative to earnings growth, known as the PEG ratio. Lower ratios indicate the stock price is currently trading at a cheaper price than its peers, and might thus be a bargain.
Among our three combatants, GM's stock is the cheapest on all three metrics and represents the most untapped value not yet worked into its price. Meanwhile, Tesla's stock screams overbought and may indicate the stock has run far ahead of where the company's finances say it should be (as CEO Musk himself recently cautioned).

B) Estimates and Analyst Recommendations
Of course, no matter how skilled we perceive ourselves to be at gauging a stock's prospects as an investment, we'd be wise to at least consider what professional analysts and the companies themselves are projecting - including estimated future earnings per share and the growth rate of those earnings, stock price targets, and buy/sell recommendations.
• Earnings Estimates: To properly compare estimated future earnings per share across multiple companies, we would need to convert them into a percentage of their stocks' current prices.
Of our three specimens, GM offers the best earnings per share percentages in three of the four time periods, Ford offers the best for 2014, while Tesla offers the lowest in all periods.
• Earnings Growth: For long-term investors this metric is one of the most important to consider, as it denotes the percentage by which earnings are expected to grow or shrink as compared to earnings from corresponding periods a year prior.
For the current quarter of Q3, GM is the only one of the three expected to deliver earnings growth. Yet for the remaining time periods, Tesla is expected to not only deliver the best earnings growth of the three but by a wide margin to boot, while Ford is expected to register the lowest.

• Price Targets: Like earnings estimates above, a company's stock price targets must also be converted into a percentage of its current price to properly compare multiple companies.
At the upper end of analysts' price targets, all three companies are projected to rise sharply over the coming 12 months, with Tesla leading the way. Yet for the average and low price targets, Tesla's stock seems poised to give back a good deal of its price, while Ford's and GM's stocks are expected to provide good capital growth and preservation.

• Buy/Sell Recommendations: After all is said and done, perhaps the one gauge that sums it all up are analyst recommendations. These have been converted into the percentage of analysts recommending each level. However, I factor only the strong buy and buy recommendations into the ranking. Hold, underperform and sell recommendations are not ranked since they are determined after determining the winners of the strong buy and buy categories, and would only be negating those winners of their duly earned titles.
Of our three contenders, GM is best recommended with 5 strong buys and 7 buys representing 26.32% and 36.84% of its analysts respectively. Ford comes with 4 strong buy recommendations and 8 buys, while Tesla is close behind with 3 strong buy and 8 buy ratings.

C) Rankings
Having crunched all the numbers and compared all the projections, the time has come to tally up the wins and losses and rank our three competitors against one another.
In the table below you will find all of the data considered above plus a few others not reviewed. Here is where using a company's market cap as a denominator comes into play, as much of the data in the table has been converted into a percentage of market cap for a fair comparison.
The first and last placed companies are shaded. We then add together each company's finishes to determine its overall ranking, with first place finishes counting as merits while last place finishes count as demerits.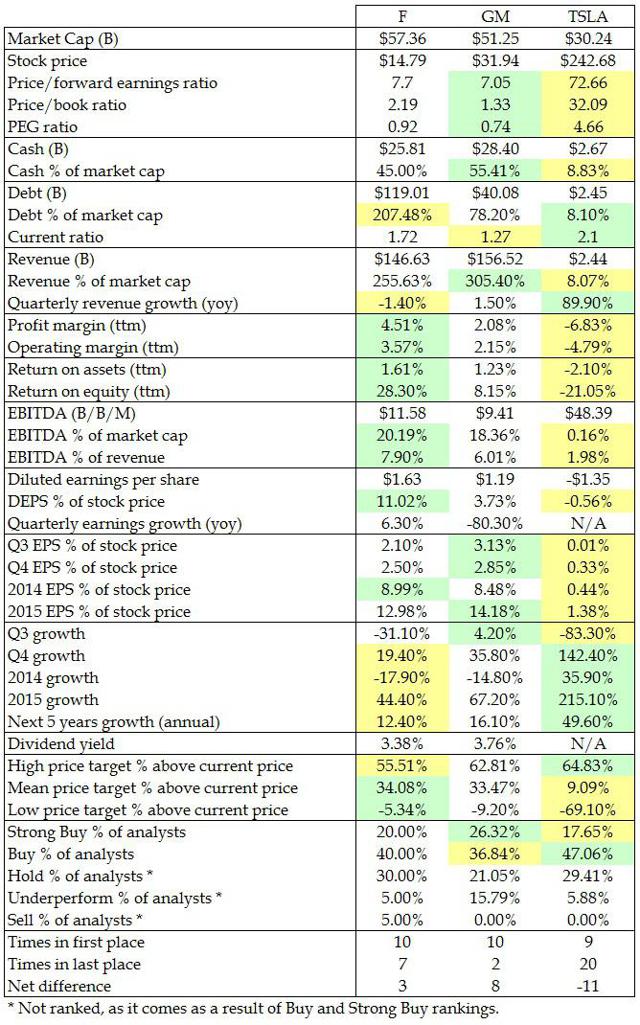 It's a blowout finish! General Motors wins the race by a mile, outperforming its rivals in 10 metrics, finishing with a net score of +8, followed by Ford which also outperformed in 10 metrics but finished with a net score of +3.
In a remarkable turn of events, Tesla Motors finishes in last place as it outperformed its competitors in 9 metrics but underperformed in 20 for a net score of -11. The fans in the stands are beside themselves as the company that zoomed the farthest ahead in stock price crosses the finish line last on company fundamentals.
It just goes to show how investors need to look at more than just stock prices when deciding which companies to invest in. When you pop open the hoods on those investment vehicles you just might find some potential problems that might run your investment off the road.
In Tesla's case it's an overheating stock price that has been running too hard for too long. While it still has fine growth prospects down the road, investors should be aware of the heat the stock is giving-off. At some point, TSLA will have to pull-off to the side of the road and cool down a little before it's ready for the next leg of the race among America's new Big-3 automakers.