This is the third of a set of articles that try to identify a set of ETFs in sectors that seem poised to outperform the general market well into 2015. So far, the going has been not too difficult as ETFs in the healthcare1 and utilities2 sectors readily presented great candidates for holdings in the retirement portfolio.
Again, these ETFs are suggestions of how one might supplement the ETF retirement portfolio so as to add some growth potential to a core that is designed to focus on dividend yield.
Methodology
So far, the criteria for ranking ETFs have worked well:
Assets under management (AUM);
Price to earnings (P/E);
Price to book value (P/B);
Performance, year to date (YTD);
Performance, annualized from past five years;
Index tracking ratio (ITR);3
Percentage of weighted holdings comprising top 33% of assets;
Dividend yield;
Expense ratio (ER).
This article's subject - the information technology sector - presented some problems, however.
First, there was a much larger body of funds to work with - 34 ETFs were identified by my sources.4 While number alone does not make for an insurmountable obstacle, it was exacerbated by other concerns.
Second, there are many highly specialized ETFs in this sector: internet, semiconductors, multimedia, software and networking - not to mention general information technology. A similar problem arose in the healthcare sector, but it was avoided by picking top performers in the two major sub-sectors. Here, some "sub-sectors" are represented by only one ETF, with the ETF low in the rankings overall.
Third, there are a lot of international funds - some generally global, some ex-U.S., developed nations only, Asia-Pacific specific, emerging nation, and China-specific. Indeed, 13 of the 34 ETFs under consideration focused on some form of international holdings - more than five with a focus on China - and none of these would likely have placed very high in the ranking because of the next consideration.
Fourth, 14 ETFs are relatively new, and did not have a five-year track record to provide the annualized performance data I have been using.5 In the previous articles there were only a few ETFs that lacked annualized data and their performance otherwise (along with other factors) did not pose any particular issues with me - so I gave them "0" for annualized performance.
Devaluing 40% of the ETFs on the IT list seems a bit drastic. Moreover, most (11) of the newer ETFs were focused outside the U.S. - including all of the Asia-based funds. Risking excluding that many ETFs seemed to risk ignoring some potentially profitable funds - particularly in a sector in which so many players are not in the U.S.
All things considered, it struck me that if I considered all ETFs together, the newer funds - and, hence, the Asian funds - would not get mentioned. So I have decided to include in this piece only those ETFs having at least a five-year basis for annualizing their performance, giving me a set of 20; all other ETFs (14) will be ranked in my next article. In this way, I avoid stacking the deck against a large body of funds that some investors might feel deserve some consideration.
The Results
The only sub-sector representatives that I would have considered weighing separately (had they not placed in the top five naturally) from the "herd" were the semiconductor ETFs which are by far the best performers in IT YTD. As luck would have it, however, two semiconductor ETFs made it into the top five; the other three are general info tech funds.
Three of the top five have "relatives" in the two previous lists: Guggenheim Investment's S&P equal-weighted fund, State Street Global Advisor's sector-select SPDR, and Vanguard Group, Inc.'s ubiquitous U.S. sector fund. A second State Street fund and an offering from BlackRock Inc.'s iShares round out the top five.
The five "finalists" are: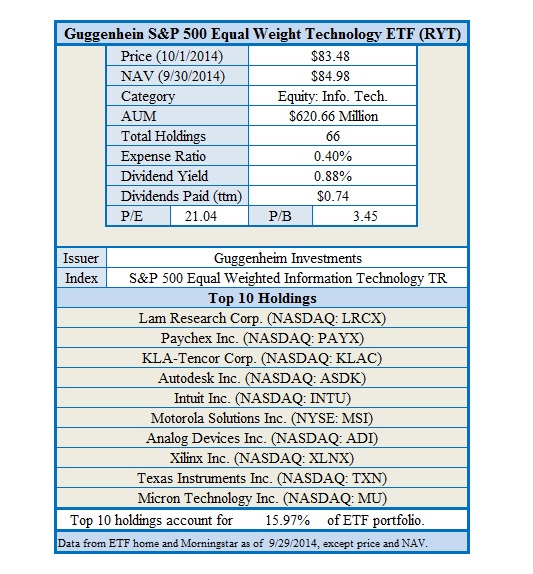 Guggenheim's equal-weighted, sector-specific, funds have fared very well when compared to other ETFs in the same sector. RYT's performance YTD was eighth among the 20 funds considered, and its annualized performance was fourth. The average ER for the 20 ETFs was 0.50% - RYT comes in under that (as do the other four selectees). Its P/E and P/B are in the middle of the pack of five "finalists."
RYT follows its index closely, with an ITR of 99.42%.11 The weighting of the top ten holdings, as well as the number of holdings constituting the top one-third of the fund (22 of 66 total) are what one would expect of an equal-weighted fund.
RYT is currently trading at a discount of -1.77% to its NAV.12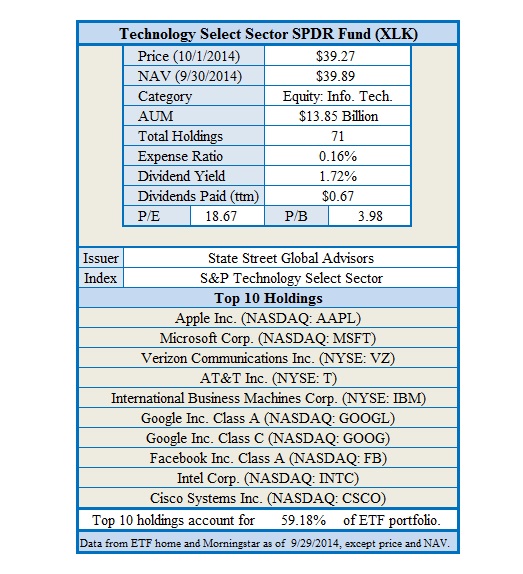 As one would expect, XLK contains all but a couple of the holdings in RYT, and a few more. Its performance YTD is seventh - and its annualized is fifth - among the initial 20; its P/B is fourth highest of the group, while its P/E is second lowest. Of the finalists, it has the lowest P/E and the highest P/B. XLK offers the highest dividend yield of any of the 20 funds considered; it also has the highest AUM of all ETFs in this sector. Versions of this fund have appeared in the previous two articles.
As for tracking its index, XLK has an ITR of 99.74%.13 The fund is weighted by a modified market cap system - the results seem a bit top heavy: the top two holdings account for 33% of its AUM, while the top ten make up almost 60%. Apple, Inc. (NASDAQ:AAPL) is at the top of the list, with over 15% of the fund's total AUM.
XLK is currently trading at a discount of -1.55% to its NAV.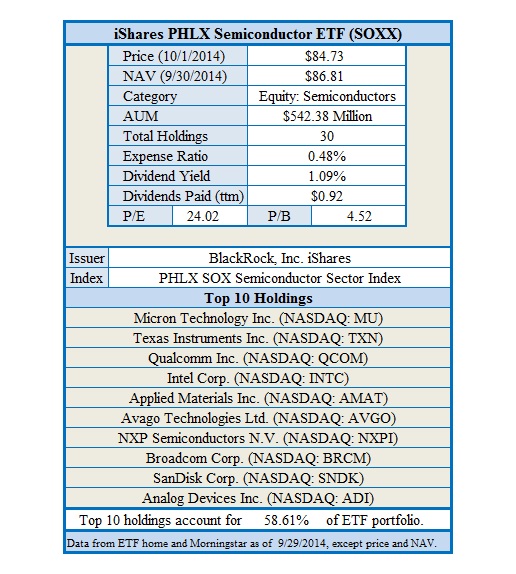 SOXX is the first of our two offerings in the semiconductor sub-sector. This is not a value offering, as its P/E and P/B are among the highest on our list. Its performance is great for this sector, at 20.4% YTD, and annualized at 15.76%. Relatively speaking, its yield is among the best in the sector.
The fund is performing at 95.49% of its index.14 The top four holdings constitute approximately 33% of its assets, and its top ten holdings account for 58.61% of its AUM. SOXX's holdings are weighted according to market capitalization.
SOXX is currently trading at -2.4% discount to NAV.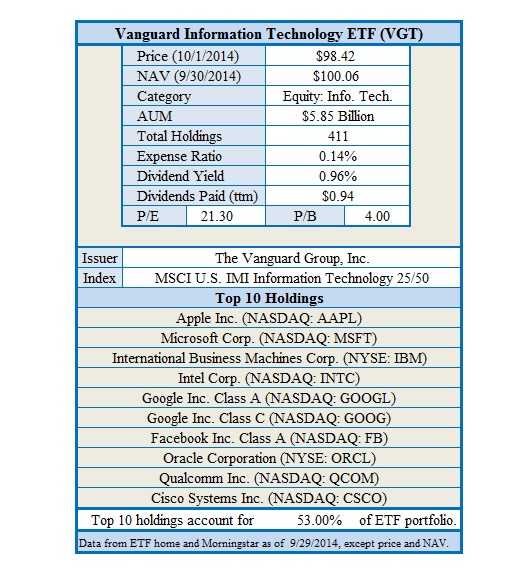 VGT is the info tech version of the Vanguard funds that appeared in the healthcare and utilities lists. Vanguard ETFs are probably among the most solid ETFs on the market, and they tend to show it across all criteria. VGT has the lowest ER of all funds considered, and the next-highest AUM. Its yield is good for this sector. Its performance YTD is 11.77% (sixth- highest on the list), and its annualized performance is 15.86% (fifth-highest).
VGT has an ITR of 99.07%.15 As usual, Vanguard tends to have a truckload of holdings, with 411 here. It orders its holdings in this fund according to market cap, with 53% of its AUM in the top-ten holdings, and with only the top four companies making up the top 33%. Again, Apple takes up a very large chunk of the fund's assets.
VGT is trading discount to NAV, by approximately 1.64%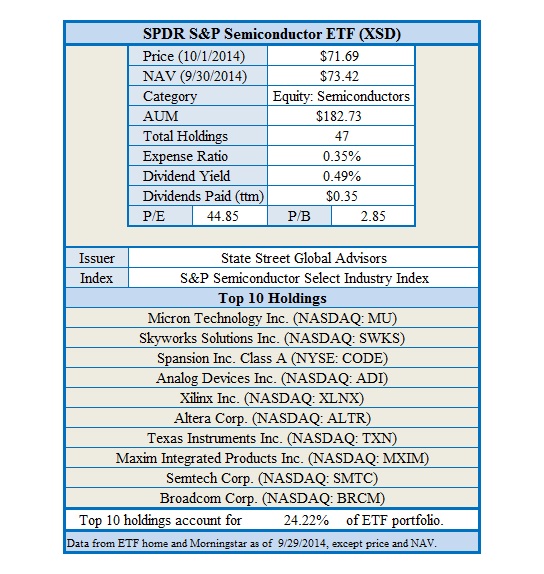 The last ETF of our finalists is also the second representative of the semiconductor industry. Only five ETFs on the original list have lower AUM; XSD has one of the lower yields; its P/E is fourth-highest. At the same time, XSD's ER is below the average, and its P/B is one of the lower on the list (only two were lower). While its annualized performance was a middling 13.41% (for the sector ETFs), its YTD performance was a second-highest 22.07%
XSD is the only one of the top-five information technology ETFs to outperform its index, sporting an ITR of 101.01% (the second-highest ITR of the original 20 ETFs).16 The ETF is an equal-weight fund, and the assets comprised of the top-ten weighted holdings, as well as the number of holdings (14) comprising the top-third, are consistent with that methodology.
XSD is currently trading at a discount to its NAV, at approximately 2.36%.
Assessment
In general, the information technology sector doesn't seem to be over-populated with high-performing ETFs on a YTD basis - technology stocks in general have been hard hit at times, this year. On an annualized basis, however, IT has many ETFs to choose from.
The five funds contained here are among the top half of the IT ETFs I started out with; on an annualized basis they hold their own very well.
I would be comfortable with any of these funds in my portfolio, and the individual investor will have to decide which factor is most important.
XLK offers the highest yield of the group. XSD offers the greatest YTD performance of the finalists, and second-best in the whole list. RYT offers the best annualized performance of the group, and fourth-best of the 20 ETFs I started with. SOXX is overall one of the better performers, consistently placing well in all factors. VGT is a solid, reliable ETF that will be a safe place for one's money, and sporting second-best annualized performance in the group.
Disclaimers
This article is for informational use only. It is not intended as a recommendation or inducement to purchase or sell any financial instrument issued by or pertaining to any company or fund mentioned or described herein.
All data contained herein is accurate to the best of my ability to ascertain, and is drawn from the ETF's homepage, its index's website, ETF.com and Morningstar, Inc. to the extent possible. All tables, charts and graphs are produced by me using data acquired from those sites. Data from any other sources (if used) is cited as such.
All opinions contained herein are mine unless otherwise indicated. The opinions of others that may be included are identified as such and do not necessarily reflect my own views.
Before investing, readers are reminded that they are responsible for performing their own due diligence; they are also reminded that it is possible to lose part or all of their invested money. Please invest carefully.
"Choice Healthcare ETFs For Growing The Retirement Portfolio," Seeking Alpha, 22 September 2014.
"Utilities ETFs For Growing The Retirement Portfolio," Seeking Alpha, 25 September 2014.
The ITR is determined by dividing the fund's performance YTD by its index's performance YTD. The higher the ITR, the better.
As for the previous two articles, I have been using the ETF screeners at ETF.com and Merrill Lynch Bank of America of Bank of America Corporation (NYSE:BAC).
There is actually some foundation for wanting a five-year track record. According to the MSCI, Inc. findings presented in their Research Insight "Factor Indexes in Perspective: Insights from 40 Years of Data," pp. 6 - 8, ETFs generally experience fairly volatile performance for their first two-three years, and tend to underperform their indices during that same period. By the fifth year, performance, in general, tends to be less volatile and the funds tend to be more likely to outperform their indices.
RYT homepage.
XLK homepage.
SOXX homepage.
VGT homepage.
XSD homepage.
Note that the prices & NAV were collected on October 1, 2014, and the market was down in a big way. This is reflected in rather extraordinary discounts to NAV for all the funds discussed.
Disclosure: The author has no positions in any stocks mentioned, and no plans to initiate any positions within the next 72 hours.
The author wrote this article themselves, and it expresses their own opinions. The author is not receiving compensation for it (other than from Seeking Alpha). The author has no business relationship with any company whose stock is mentioned in this article.