A U.S. dollar rally begun in July has yet to reverse, and combined with a slowing Chinese economy, commodity exporters and emerging markets have been hit hard. New ETFs propose to limit risk by hedging emerging market currency exposure, but will they work?
First, here's a look at some of the worst-hit country ETFs. Funds such as WisdomTree Commodity Country Equity ETF (NYSEARCA:CCXE) are at ground zero. CCXE has the following country allocations:

Source: wisdomtree.com
A country ETF exists for each of these countries. Below is their performance relative to CCXE and the iShares MSCI Emerging Markets ETF (NYSEARCA:EEM).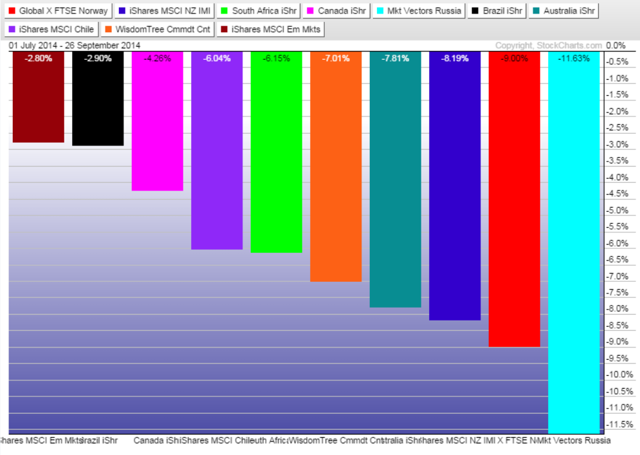 Over the past three months, which covers most of the U.S. dollar rally, oil producer country ETFs Market Vectors Russia (NYSEARCA:RSX) and Global X MSCI Norway ETF (NYSEARCA:NORW) suffered the largest drop, due to sinking crude oil prices. Next is iShares MSCI Australia ETF (NYSEARCA:EWA), a major exporter of metals consumed by China's fixed asset investment-led economy, closely followed by iShares MSCI New Zealand Capped ETF (NYSEARCA:ENZL). In each case, the currency change is a major component of the losses; in the case of New Zealand, is it more than 100 percent of the losses, since the local stock market advanced over this period.
Emerging markets have fared poorly across the board. China, Brazil and Russia are major components of most emerging market ETFs. A fund such as iShares MSCI Emerging Markets Minimum Volatility ETF (BATS:EEMV) held up well over the past three months, but losses in the past month are only slightly less than the rest of the emerging market complex.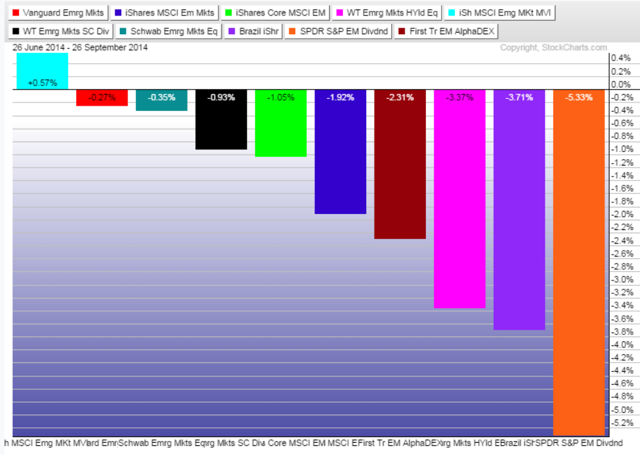 The best way to limit exposure without going to cash is to use ETFs that hedge currency exposure. One such fund had been around for more than two years: Deutsche X-trackers MSCI Emerging Markets Hedged Equity ETF (NYSEARCA:DBEM). The fund unfortunately has very low volume, but it has done reasonably well. Here is a ratio chart of DBEM versus EEM (a rising line shows DBEM outperforming), with the WisdomTree Emerging Currency ETF (NYSEARCA:CEW) in blue.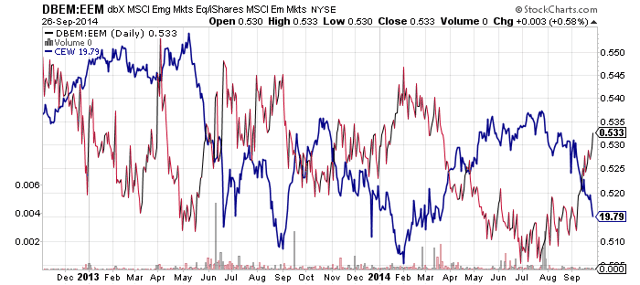 DBEM performs as expected, outperforming when the emerging market currencies are weak, and underperforming when they rally versus the U.S. dollar. Investors also have a second option which launched on September 23, 2014: iShares Currency Hedged MSCI Emerging Markets ETF (NYSEARCA:HEEM).
DBEM has a 0.65 percent expense ratio, slightly less than HEEM's 0.70 percent ratio (currently discounted from 1.45 percent). Both funds track the same index, the MSCI Emerging Markets U.S. Dollar Hedged Index.
Neither fund has much in the way of assets or volume yet, and the funds may not become popular because emerging markets typically move in concert with exchange rates.
Large developed economies can see their stock and currency markets move independently, but emerging markets show greater correlation between their stock markets and currencies, due to their smaller size. Foreign investors buying U.S. stocks and real estate are a small part of the total market for investments and the total market for U.S. dollars. When foreign investors pile into a smaller emerging economy, the flow of funds has a larger impact on the currency market. Asset prices move up and the currency goes with it, since foreign investors must first buy the currency before investing. When they look to sell, asset prices tumble along with the currency.
Here is iShares MSCI Emerging Markets ETF with CEW in blue.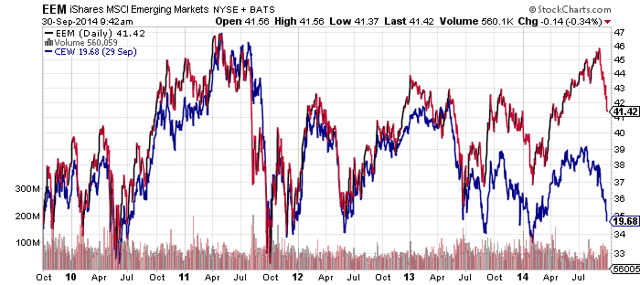 Here is WisdomTree Brazilian Real ETF (NYSEARCA:BZF) versus the Bovespa Index in local currency. Both move in the same direction most of the time.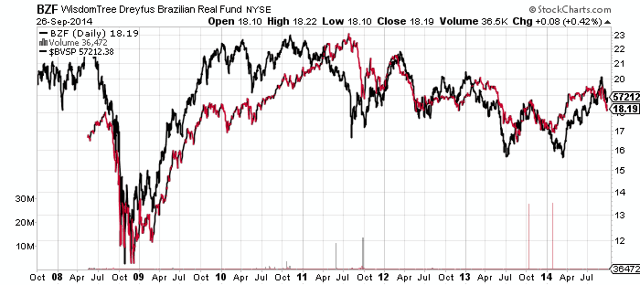 For comparison, here is the UK.
And of course Japan, which has seen a strong inverse correlation between stocks and currency, which is why an ETF such as WisdomTree Japan Hedged Equity ETF (NYSEARCA:DXJ) has performed well.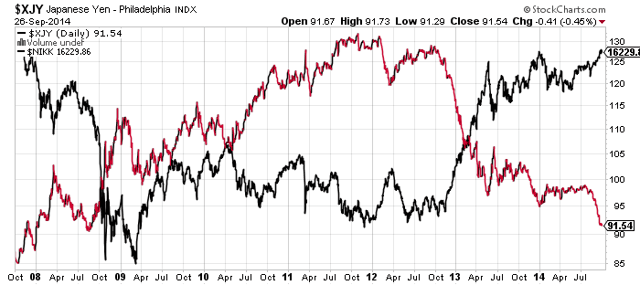 The best-case scenario for a currency-hedged ETF is one such as Japan since late 2012. When the stock market is rising and the currency is falling, hedging currency risk is the best strategy. (Prior coverage: Japan Hedged ETFs Ready To Shine Again)
There may come a time when emerging market currencies tumble and their stock markets rise in value, such as a very high inflation scenario. At the moment, emerging market stocks are moving in the same direction as their currencies. The best strategy for markets where the currency and equities move in the same direction is to go long when they are both rising, and go short or get out of the way when they are falling.
Disclosure: The author has no positions in any stocks mentioned, and no plans to initiate any positions within the next 72 hours.
The author wrote this article themselves, and it expresses their own opinions. The author is not receiving compensation for it (other than from Seeking Alpha). The author has no business relationship with any company whose stock is mentioned in this article.