Over the past several months, I have been cautioning that rising (soaring!) agricultural prices would raise the risks of margin compression and would intensify the price competition for shelf space among food companies such as Campbell Soup (NYSE:CPB) and Sysco (NYSE:SYY). The latest report from CPB highlights the risk, with the stock down close to 5% on the heels of earnings that missed by a penny, and more importantly, guidance that was meaningfully lowered for FY11.
For some time I've been rotating out of Consumer Staples, especially those reliant on agricultural inputs, and moving into Consumer Discretionary, Energy, Materials and Tech. With the overall market continuing to power higher, there is an increasing risk (and many technical players citing this) that the 'bull' could run out of steam soon. For shorter horizon investors/traders, that caution raises all kinds of questions as to how best to position for a near-term pullback. Likewise, medium and longer horizon portfolios need to consider the relative weightings of various sectors in the face of what might be a short term pullback within a longer term upwardly moving equity market.
In that context, while Consumer Staples companies are likely to remain under higher ag price pressure for some time, not to mention fierce competition for shelf space, many of these companies still represent reasonable "defensive" plays when embedded within a broadly diversified portfolio. Dividends generally are above average and, at least at this time, appear to be far from in doubt. And the sector's overall lagging, which should continue if the broader market keeps moving up, will only make them more attractive on a relative basis down the road.
So, with the Staples sector having lagged (see chart below) and with margin and price pressures continuing, if one is considering reducing exposure even at this time, then it would be worthwhile to remain focused on reloading as the relative value improves ... which it could as the market punishes the stocks in a similar fashion to what has happened to CPB today, and as the risks of an overall market pullback grow.
Click to enlarge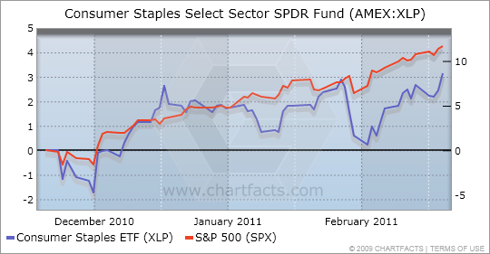 (Please note: This article is solely meant to be thought provoking and is not in any way meant to be personal investment advice. Each investor is obligated to opine and decide for themselves as to the appropriateness of anything said in this article to their unique financial profile, risk tolerances and portfolio goals).
Disclaimer:
Please read and consider important information related to all communication made by Soos Global on this site by clicking
here.
Disclosure: I am long CPB, SYY.
Additional disclosure: Long several stocks within SPX and XLP. Positions may change at any time without notice.