Commodities feel price pressure on two dimensions
Weak economic growth in Europe, China, Japan and other key BRICs like Brazil has already had a significant and direct impact on forecasts for oil demand growth in both 2014 and 2015. The International Energy Agency (IEA) has now revised lower its global oil demand estimates for both this year and next year for three consecutive months.
In its September Oil Market Report, the IEA estimated global oil demand growth in 2014 at just 900,000 bpd. The same trend of lower global demand growth will likely hold true for other important industrial commodities heading into 2015, particularly the base metals category. US Dollar strength merely piles on, or compounds the downward pressure on the prices of these industrial commodities. And we see few reasons for this two-fold pressure on hard commodities prices to ease in the coming months.
US GDP growth and US Dollar: Off to the Races?
After making its 2014 lows at 79.24 on May 8th, the US Dollar Index (DXY) has since rallied nearly 9% in just over four months. The DXY made new highs for the year this week at 86.22, and the move marks the longest rally phase for the DXY since the index was created in 1973.
The major driver in a sustained dollar rally is the growing divergence between the US and European economic outlook, and how this will translate to monetary policy over the next few quarters. The contrast between the two outlooks at present could not be greater. Last week, the US Bureau of Economic Analysis (BEA) revised second quarter GDP growth higher from 4.2% to 4.6%.
The US Federal Reserve Bank has already begun the gradual process of tapering its monthly bond purchases. At the close of its September 17th FOMC meeting, the Federal Reserve indicated it would trim its purchases of agency mortgage-backed securities by another $5 billion per month and likewise also trim its purchases of longer-term Treasury securities by another $5 billion per month.
Will the Fed pull the trigger on rates next spring?
There remains ambiguity about the precise timing of when the Federal Reserve will increase interest rates. Nonetheless, there is an expanding amount of openness on this topic from various Federal Reserve Governors and a growing consensus in the market that a hike in the Fed Funds rate will occur in 2015, and in our opinion likely as early as the second quarter.
While the exact length of the path to US monetary tightening remains somewhat uncertain, it is clear that the US central bank is much further along that path than both its European and Asian counterparts. Likewise the boost the US economy receives from rapidly expanding domestic energy production tied to shale development, and the economic benefit from correspondingly more competitive energy costs, cannot be replicated elsewhere anytime soon.
EU heavyweights struggling
The EU on the other hand has faced a steady barrage of poor economic data in recent weeks that raises even more questions about the fragility, and sustainability, of any recovery in the Eurozone. EU heavyweights France and Germany both posted disappointing revisions to GDP growth in recent weeks. Updated second quarter GDP figures show zero growth in France and a 0.2% contraction in Germany.
Likewise, business and consumer confidence in the EU's largest economy are both on the wrong track. The German Purchasing Managers Index (PMI) released September 23rd showed growth at the slowest pace in 15 months. Likewise, IFO Institute data released last week also showed German consumer confidence lower for the 5th consecutive month.
This puts the European Central Bank's (ECB) Mario Draghi in a unique, and difficult, position. Fears of deflation are creeping back into the fragile Eurozone despite multi-year central bank efforts to boost growth. In August, EU inflation was just 0.3% versus an ECB target of 2.0%. Draghi's stated goal is to revive EU inflation. His only game plan is to inject still more liquidity into the EU economies by growing the ECB's balance sheet from € 2 trillion to € 3 trillion.
The ECB trimmed its interest rates again earlier this month to -0.2% which pushed the Euro below $1.30 for the first time in more than a year and sent some European bond yields into negative territory. By design more than half of this new ECB liquidity would come from buying securitized private debt and from fresh ultra-long-term loans via the Targeted Long Term Refinancing Operation (TLTRO).
What will Draghi do?
Proceeds from the TLTRO must be used to fund corporate borrowing on a long-term basis, but so far the appetite for new credit by EU business and industry, even at zero cost, has been tepid at best. Eurozone banks took much less capacity than expected in the first tendering of TLTRO Ultra Long Term Loans September 23rd. The next ECB window for new TLTRO funds is mid-December and will provide an important test for Draghi's game-plan. It should also provide insight into what different and potentially bolder steps the ECB may need to take in 2015 in terms of stimulus policy.
Given the lack of traction, both in terms of economic recovery and the ECB's incremental plans like TLTRO to ignite asset growth, it appears highly likely there will be additional moves toward easing taken by ECB in 2015 and possibly as early as mid-December. It is more simply a question of what monetary tools will be used, and whether those tools will move further into the broader repurchase of securitized assets, or perhaps a much larger move into an open-ended program of quantitative easing like that used by the US Federal Reserve. Mario Draghi has made it very clear that in terms of the ECB "... will we do whatever it takes." With TLTRO sputtering we think we will get to see precisely what Draghi means by "…whatever it takes" and "whatever it takes" translates to even greater divergence in monetary policy between the US and Europe in the first half of next year.
Japan's aggressive easing to continue
Japan has been battling economic stagnation and deflationary pressure for well over a decade. Japan like its EU counterparts, is running out of fresh options. The Bank of Japan has maintained an aggressive program of quantitative easing via bond purchases with the most recent round begun in April. At present, BOJ is purchasing ¥6 to ¥8 trillion (US $55-$75 billion) of government bonds per month and, with some of its September purchases, the BOJ drove 3-month interest rates into negative territory.
The latest government inflation estimates do not suggest much of a boost from the latest move to bolster liquidity by the BOJ. Japanese Core Consumer Inflation in August was up 3.1% versus 3.2% in July. Netting out the effect of the second quarter hike in national sales tax these numbers shake out to about 1.1% and 1.2% respectively.
The purchase of a yield less than zero underscores the BOJ's willingness, like the ECB's Draghi, to do "whatever it takes" to battle deflation and stimulate the economy. It is expected the BOJ will continue to buy ¥ 65 trillion per year of assets through at least 2015. Additional tools waiting in the wings also include the BOJ shifting purchases to REITs and mortgage-backed securities to help bolster broader asset values.
Macro Shifts in Portfolio Preferences
Japanese insurance companies and the country's largest pension, Government Pension Investment Fund (GPIF) have signaled their intention to shift investment assets out of Japanese government bonds and into equities and other investments.
This will free up some new capacity to meet the bond buying appetite of the BOJ in the months ahead. But it also marks an expected shift to increased exposure to and demand for non-Yen based asset classes. The shift from Yen denominated assets parallels a similar shift evident in global investor portfolios and global reserve managers' preferences to shift away from Euro denominated risks. Neither trend looks set to reverse anytime soon. In fact, they may accelerate some over the next few months. All of which puts the US dollar in a unique and well supported position and make it a very difficult path for commodities.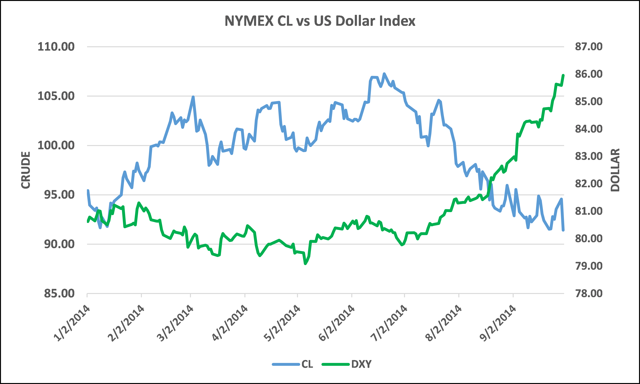 Source:
The information in this report is purely the opinion of the author, as of the date of this report, and does not represent a recommendation to buy or sell by the author or by Mobius Risk Group, LLC. Information and data have been obtained from sources considered reliable; however, Mobius Risk Group LLC does not guarantee that the information is accurate or complete.
Disclosure: The author has no positions in any stocks mentioned, and no plans to initiate any positions within the next 72 hours.
The author wrote this article themselves, and it expresses their own opinions. The author is not receiving compensation for it. The author has no business relationship with any company whose stock is mentioned in this article.