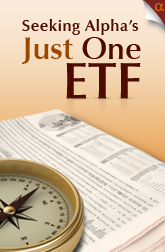 Several times a week, Seeking Alpha's Jason Aycock asks money managers about their single highest-conviction position - what they would own (or short) if they could choose just one stock or ETF.
---
Greg Ho is president and COO of Spring Mountain Capital, a New York-based investment management firm focused on alternative asset investing. Previously, he spent 16 years with McKinsey & Co., during which time he led tax and financial planning for the firm and its worldwide partner group.
Which single asset class are you most bullish/bearish about in the coming year? What ETF position would you choose to best capture that?
The single asset class that I am most bullish about is commodities, particularly precious metals, and specifically silver. The ETF that I have chosen to express this view is the iShares Silver Trust ETF (NYSEARCA:SLV).
The conventional argument for investing in commodities is based on inflationary expectations, and the conventional argument against investing in commodities is that inflation eventually leads to high real interest rates, which is very negative for commodities. I think the cycle we are currently in is a bit different. While inflation will be generated by the Fed's quantitative easing programs, I expect the market's perception will be that price level increases will be one-time adjustments.
Typically, the mechanism that propagates one-time price level increases into a more general and sustained inflationary cycle is higher wages. However, given the slack in the labor markets and the ability of U.S. companies to replace U.S. labor with foreign labor, I believe that wages will respond weakly to higher price levels, and real wages will erode. Therefore, I expect inflationary expectations to remain somewhat muted and I do not expect a large spike in interest rates. This is the perfect environment for commodities: meaningful inflation with low real rates.
How does SLV fit into your overall investment approach? Tell us a bit about your strategy and goals.
I am generally focused on emerging-market opportunities and I benchmark my performance to the MSCI Emerging Markets Index. My objective is to outperform the index over a market cycle and to do so with less volatility than that of the index. I am attempting to accomplish this objective primarily through a top-down process involving the evaluation of macroeconomic, geopolitical risk, and technical factors. I try to concentrate on extremely liquid securities and therefore generally avoid ETFs and other securities that trade in low volume, or with a bid/ask spread of more than a few pennies.
Essentially, I am attempting to generate alpha through (a) market timing (by anticipating and modulating my exposure to emerging markets in down periods and, conversely, increasing my exposures in up periods), (b) underweighting or overweighting individual country positions based on the aforementioned macroeconomic, geopolitical risk, and technical factors, and (c) short-term trading opportunities in recurring crisis/flight-to-safety/recovery scenarios. I am hypothesizing that a potentially significant amount of alpha in emerging markets may be generated through market timing - or what I, and my colleagues at Spring Mountain Capital, have begun to call "active beta management."
I might add that, given the safe haven aspects of precious metals, my silver investment also acts as a convenient hedge to my long positions.
Tell us a little about silver's environment. What makes you favor precious metals?
Our case for silver in the current environment is similar to the same case for gold. It's not exactly the same, as gold is the standard and silver is the poor person's way of playing it.
The case for gold has been explained many times over the past few years, so I'll simply enumerate the main factors and spare you the details. Gold historically outperforms in negative real rate environments and periods of increasing inflation. It is an alternative to the U.S. dollar and the only holding that might be considered a substitute reserve currency (a significant fact given the recent actions taken by many countries, intended or otherwise, that debase their currencies). Finally, gold is a safe-haven holding. In times of duress and flights to safety, the price of gold generally rises.
You might say: That's all very interesting - but the price of silver has almost doubled in the past year. Why do I still like it?
In concept, a 2x move is not a signal that the trade is done. Many of the very successful macro trades of the past decade have returned 5x or more, and if one exited those trades after a 2x move, they would have missed the bulk of the move.
So silver's got a ways to go?
My reasons for thinking that silver has a lot more upside, and that the 2x move is more a validation of my thesis than a signal that it is time to move on, are as follows:
First, given a choice between policies that might result in high inflation versus deflation, the world's central banks have chosen the former in the belief that they can manage inflation much more capably than they can manage deflation. Because of this belief, they have engaged in stimulus programs and quantitative easing at unprecedented levels and are inclined to continue doing so until they are absolutely convinced that the possibility of deflation is nil.
While they might be "almost there" - I believe that the ensuing inflation caused by their actions will be manageable - I also see a high probability of an inflationary spike, which would be favorable to silver prices.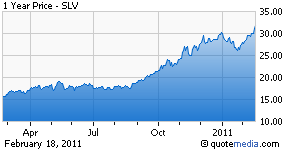 Second, the supply/demand curve for silver is set up to experience a major and extended dislocation. One potential source of demand-driven dislocation is the Chinese middle class, which is growing rapidly in numbers and in wealth. By some estimates, the Chinese tend to save around 40% of their income. Culturally and historically, they have never trusted paper investments. While this is beginning to change, I believe there is a good chance that they will turn to gold and silver as a store of value, especially in a high inflation environment.
They have already begun to do this. Over the past five years, China has moved from being a significant exporter of silver to a significant importer of the metal. After the successful launch of the Industrial and Commercial Bank of China's Gold Accumulation Plan, it would seem to make sense for a similar silver plan to be made available to Chinese buyers. If this were to occur, there would be an unprecedented increase in silver demand.
Third, it is possible that China might consider monetizing silver (e.g., by issuing silver coins) to "sop up" the excess liquidity in their system. Normally when governments attempt to do this, they do so by selling government securities. However, the issuance of silver coins might be a more efficient means of accomplishing the same objective. While this is a somewhat speculative conjecture, it seems to make a fair amount of sense, and any movement by China or another major emerging-market country on this front would, of course, have a significant impact on the price of silver. Coincidentally, it is interesting to note the significant rise in silver coin sales both in the United States and other countries.
Are there alternative ETFs that could be used to capture the same theme? What makes SLV your first choice?
We are currently evaluating other silver bullion ETFs, as well as ETFs composed of silver mining equities. However, none satisfy our parameters in terms of size, institutional quality, and liquidity.
SLV has a current market capitalization of $10.9 billion and over the last year has traded an average of 16 million shares a day. The ETF is managed by BlackRock (NYSE:BLK), one of the world's largest investment management firms, which manages over $3.5 trillion for institutional and individual investors.
Of course, many of my reasons for investing in silver and SLV apply to gold and therefore GLD.
Your point about the Chinese middle class raises an interesting topic. With all the press about JPMorgan and HSBC (HBC) and their role in the silver market - and questions about the actual physical inventory of silver - how would you respond to those Americans who say "don't trust paper," that physical silver is far preferable to SLV?
Owning bullion always sounds attractive. However, it is not as simple a proposition as you might wish. Among other things (such as insurance), you will probably have to rely on a third party to assay your holdings and you will probably want to store your bullion with a reputable custodian. In addition, your holdings will not be as liquid as a listed ETF. Thus, unless one is dealing with a significant amount of bullion, an ETF managed by a reputable firm is a reasonably prudent way to invest in silver.
Does your view differ from the consensus sentiment here?
The current sentiment is mixed as a result of three factors: (a) the belief that high inflation is not imminent, (b) geopolitical risks, despite the recent developments in the Mideast, are benign, (c) the recent run-up in the prices of gold and silver, and (d) the crowded nature of this trade.
I think our outlook is in the slight majority, but I don't think there is a consensus in this area.
What catalysts, near-term or long-term, could move this asset class significantly?
In the near term, a geopolitical event, the above-described monetization of silver by a major emerging market country, or the launch of a mass-marketed silver accumulation plan in China or India.
In the long term, an extended geopolitical event or a persistent high-inflation environment.
Currency debasement and inflation are key factors in the SLV trade, but what about industrial usage, particularly as it compares with gold? Could that be a significant price support even if some speculative fervor dies down?
Silver has an interestingly wide range of industrial uses - from its use as an antibacterial agent to its use in photovoltaic panels, among other things. However, silver's current price level is, I believe, the result of unprecedented investor demand, and if that demand were suddenly to disappear, I would not be surprised to see the price of silver return to the mid- to high-teens. Thus, a serious investor in SLV should constantly monitor, and attempt to anticipate, global demand for silver.
What could go wrong with your pick?
A significant rise in global interest rates or a structural failure in the ETF would affect this market. If this happens, it would accentuate the cost of carrying silver, which pays no interest or dividends. Since the trade is already "crowded," a massive exit may cause a rapid and sustained declined in the price of silver.
SLV is an ETF. While it is organized by a recognized group and has great liquidity, it is not the same as owning silver directly.
Among other things, the rights of an investor in SLV are limited by the custodial agreement (with JPMorgan Chase (NYSE:JPM)), which limits the custodian's liability for loss and which makes no assurances to the purity of the silver it holds.
Thanks, Greg, for sharing your ideas with us.
Disclaimer: The views expressed herein are solely those of the interviewee and not of Spring Mountain Capital, L.P. ("SMC"), and may not reflect the criteria employed by SMC to evaluate investments or investment strategies.
Disclosure: Greg Ho and Spring Mountain Capital hold long positions in SLV.
Read more Just One ETF interviews »
If you are a fund manager and interested in doing an interview with us on just one stock or ETF position you'd hold, please email us at Just One Stock.