"Have no fear of perfection.. you will never reach it." -Salvador Dalí
At the end of the third quarter, stocks performed poorly, pushing domestic small-caps into near-correction territory while giving rise to the viral message that stocks in general are due for a 10% or greater decline from the recent bull-market highs.
Using the Vanguard S&P 600 Small-Cap ETF (NYSEARCA:VIOO) as a proxy, the Q3 closing value of the ETF ($94.67) was off the July 2014 high of $103.26, which accounts for an off-high decline of 8.32%.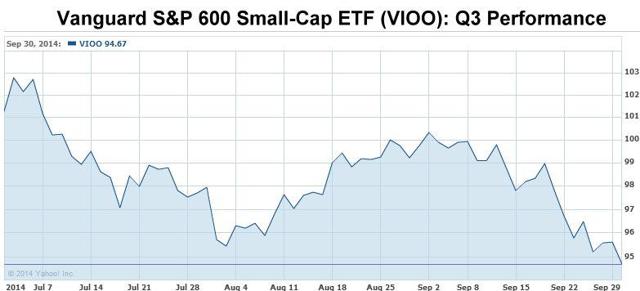 By contrast, the Russell 2000, a larger index of small-cap companies versus the S&P 600, closed down 9.61% off the peak, as measured by the iShares Russell 2000 Index ETF (NYSEARCA:IWM). With a 10% or greater decline considered a "correction," stock-market journalists and commentators alike are honing in on this number like a drowning man gasping for air.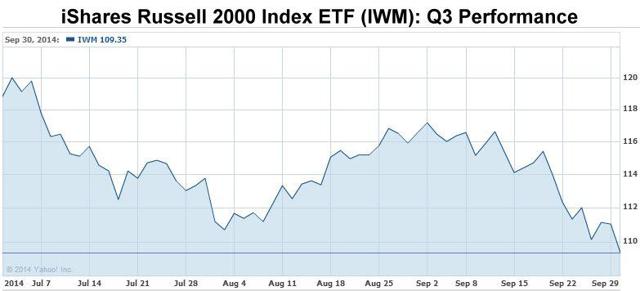 The Large-Caps Shrug Correction Fears
During the third quarter of 2014, the S&P 500 closing values ranged from 1909.27 to 2011.36 and closed at 1972.29. This shows a moderate gain for the quarter (+0.62%) and a 1.94% drop from the peak closing value.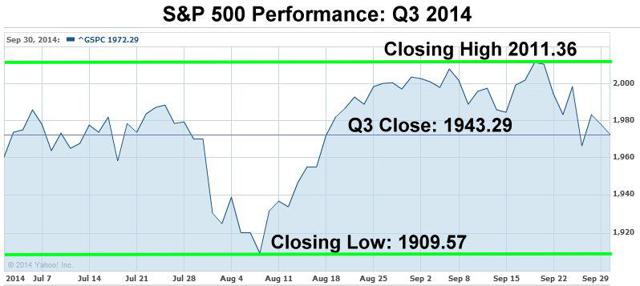 While the market did experience a quick and sharp decline during the end of July and the beginning of August, these minor losses were erased just as quickly as they were lost as the market once-again stampeded to higher-highs.
As measured by the vix, the S&P 500 volatility was still nowhere in sight, at least not compared to recent historic peak-levels.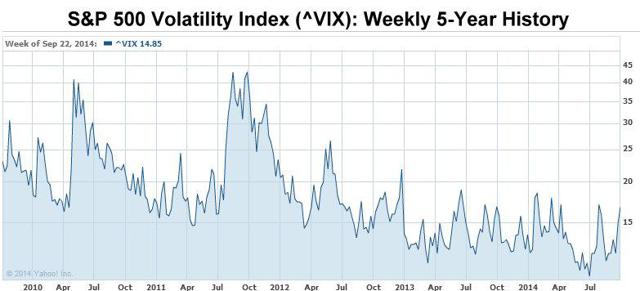 Playing The Market Fears: Putting "Scared Money" To Work
By looking at the low current volatility and the S&P 500 Q3 gain in contrast to the aggregate small-cap quarterly loss, investors can note that the market did not "sell off" as large-cap stocks have held their ground.
Investors can profit here from a turn-up in aggregate asset prices once the market discovers that a correction is not in-play and that the domestic economy is indeed quite healthy.
While a long small-cap play, such as buying the VIOO or IWM, is an option, both traders and long-term income investors have several additional options as Fed-speak, specifically the anticipation of interest-rate hikes in 2015, has dampened many income-related investments.
The "On-Sale" Q4 2014 Income Investments
There are several parts of the income-investor portfolio that have been put in an end-of-quarter tailspin alongside the negative catalysts of Fed-speak, small-cap dispensability and the general "scared money" investors that fear a correction.
By putting money to work now, income-investors can find exceptional deals that will generate immediate cash flow in terms of dividends while providing lower than normal entry prices. In other words, several income-stocks and funds are trading at prices that investors with sideline-cash can immediately benefit from owning.
1) Prospect Captial Corporation (NASDAQ:PSEC)
Prospect Capital is a business development company, or BDC. In a nutshell, this company rises and falls in a small range while providing monthly dividends that currently total ~13.4% annually on the Q3 closing price of $9.92/share.
To understand a BDC is no small-feat, as the business model is complicated and the information out there is tough to digest. Over the past year, the stock has traded between $9.17 and $11.53. According to the company, the net asset value of the shares were $10.56 as of June 30, 2014. As such, the Q3 closing share price showcased a discount of 9.4% to NAV.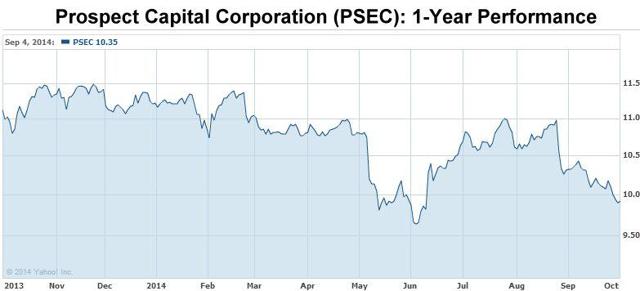 The major downside of PSEC is that they are using past earnings, also known as undistributed net income, or UNI, to inflate the monthly payouts to investors. In other words, they do not earn enough currently to maintain the current payout. In my opinion, the company should have created a special year-end dividend to address this income, rather than push-forward as if corporate earnings will magically rise fast enough to maintain such a payout. Even if earnings do, this fear is keeping the stock in check. Also, the stock trades below $10, which is a no-no for many investors.
On the upside, the corporate structure is lead by a very media-friendly CEO, who generates frequent Q&A sessions on Seeking Alpha with various writers. Also, PSEC is much larger than the majority of BDCs, which is attractive for lower funding costs, a higher retention of top-talent and a larger scope in both quantity and size of portfolio investments.
2) Realty Income Corporation (O)
Realty Income is a leader in net-lease retail property ownership and as a landlord, the company is structured and taxed as a real estate investment trust, or REIT. This REIT is an excellent long-term income investment and is currently offered at discount worth noting.
The shares traded down to close at $40.79, which appears to be a steal-of-a-deal.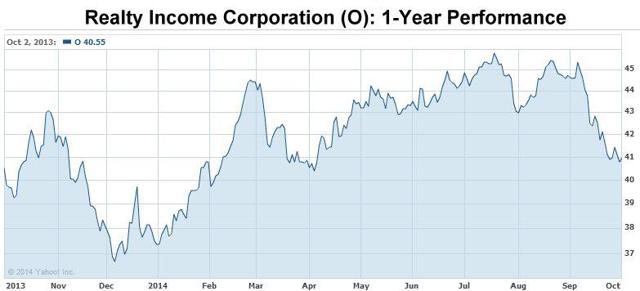 As noted by the recent sell-off in shares, the company has been seen as a bad investment only due to external factors, which is likely a REIT-wide sell-off deemed appropriate due to Fed-speak, or interest rate hike fears, which affected this entire spectrum of investments.
When viewed versus the aggregate-domestic REIT market, as measured by the Vanguard REIT Index ETF (NYSEARCA:VNQ), Realty Income has simply followed the trend to the downside since the recent FOMC meeting of "scary Fed-speak."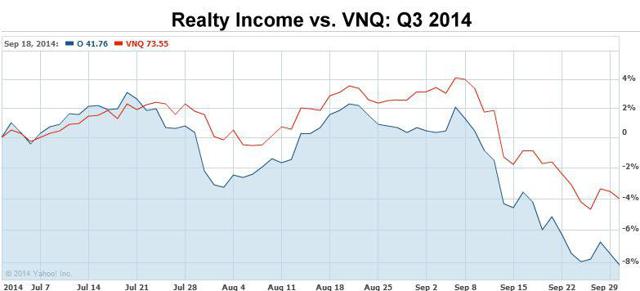 At the Q3 closing value of $40.79 per share, Realty Income offers investors an enticing yield of 4.9%, which is distributed in the form of monthly dividends. In contrast, the yield of the 10-year Treasury note closed the quarter at 2.51%, a difference of 239 basis points.
3) American Realty Capital Properties (ARCP)
Perhaps one of the best "on-sale" deals today is ARCP, a net-lease peer to Realty Income Corporation that has traded lower on the same anti-REIT premise that is spooking the REIT market today.
The yield on ARCP is higher than O, also the company is larger than O, however due to the short-term history of the company as well as higher debt-ratios and higher dividend payout ratio, the company is valued at a lower FFO yield than O.
On the upside, this gives investors who believe in the company a lower entry-price and higher income. Also, investors have been given unparalleled low-entry points into the stock when the REIT market gets a chill. During the third quarter, ARCP closed at $12.06, which put the dividend yield at 8.29%.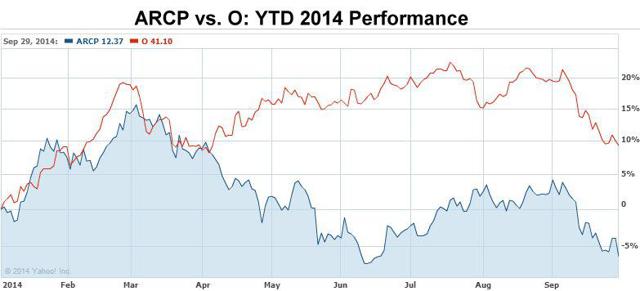 4) Several PIMCO Closed-End Funds
With Bill Gross leaving PIMCO on Friday, September 26, 2014, many PIMCO closed-end funds, or CEFs, sold off over the next 2-3 trading days. This left many funds at a loss for the quarter. Also, since CEFs trade a fixed-number of shares, values often trade at a premium or discount to each particular fund's net asset value, or NAV.
While PIMCO has been in the news a lot recently due to the Gross departure, the fact remains that the firm has top talent in place to replace him as Morningstar Fixed-Income Manager of the Year Dan Ivascyn has already been named as the new CIO. Also, PIMCO remains the leader in fixed-income and now has lower risks, as Gross cannot once-again leave and now the company is not dependent on one figure-head for investments.
There are several deals out there in PIMCO CEF-land, with funds trading at above-normal discounts. In my opinion, the following recommended shares should normally trade at a premium range of 5% to 8%. Below are my top two recommendations in this area, with the current discounts noted next to each fund.
A) PIMCO Dynamic Income Fund (NYSE:PDI), -5.17%
While trading at a discount of over 5%, the fund offers an entry-yield of 7.26% at the Q3 closing price of $31.56. Shares have recently traded as high as $34.11. In addition to a high-yield here, investors may anticipate a year-end payout on top of the monthly dividend of $0.191/share.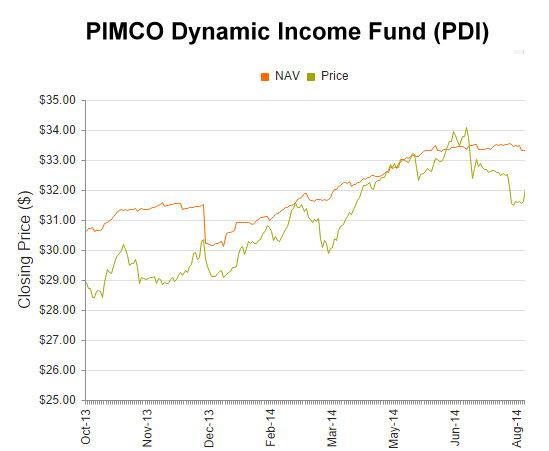 B) PIMCO Dynamic Credit Income Fund (NYSE:PCI), -7.98%
In simple terms, the PIMCO closed-end funds such as PDI and PCI should not be trading at such steep discounts. Regarding PCI, the fund is yielding 8.35% at the Q3 closing value of $22.47 per share.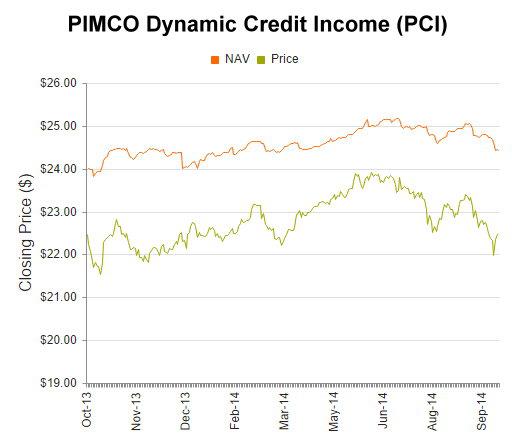 Conclusion
While many stocks and funds are in a funk alongside the small-caps, the arrival of Q4 2014 may provide some reasonable bargains out there for both traders and income-investors.
The recommended stocks are shown here as ideas for further reading, however they are also selected as potential long-term holdings for the income investor.
Chart sources: YAHOO! Finance, CEFconnect.com
Disclosure: The author has no positions in any stocks mentioned, and no plans to initiate any positions within the next 72 hours.
The author wrote this article themselves, and it expresses their own opinions. The author is not receiving compensation for it (other than from Seeking Alpha). The author has no business relationship with any company whose stock is mentioned in this article.