By Amine Bouchentouf
U.S. oil boom has changed the oil market.
Oil prices have seen sharp drops over the last few weeks, with no visibility as far as how low they will go. In this week's column, The Commodity Investor examines the demand/supply dynamic to determine where prices are heading in the fourth quarter and beyond.
A Tale of Two Crudes
While the crude oil market is a global market, prices are determined on a regional basis. Specifically, West Texas Intermediate (WTI) is used to price crude products in North America while Brent is used mainly for Europe as well as other parts of the world (such as the Middle East and Asia).
Brent prices have been in a downward spiral since the summer months of June and July, when benchmark prices reached a high of $115 per barrel. Since then, prices have dropped to $95 per barrel, representing one of the sharpest declines in the last three years. Earlier this year, Brent prices were trading within a tight range of $105 to $110 per barrel price band.
Brent Crude Oil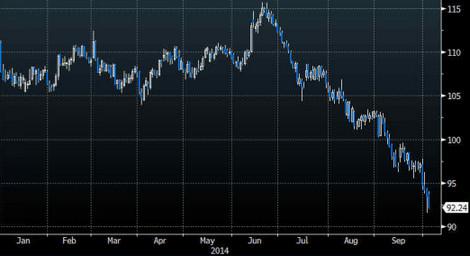 To be sure, August is always a weak month of economic activity worldwide, as many factories and service providers are on holiday. But September is usually a month of strong economic activity, and any weakness seen in August is usually compensated for in September. What's different this time is that prices kept dropping through the month of September and now into the month of October as well.
What gives? There are several key factors that are responsible for this price weakness the Brent market is going through. First, one of the biggest contributing factors to the Brent pricing mechanism is economic activity and demand from Asian countries and customers, who represent one of the biggest consumer blocks in the world.
Saudis Drop Price
Indeed, factory orders from China, one of the biggest oil consumers out there, unexpectedly dropped, thus indicating sustained weakness in Chinese and Asian economic activity, so much so that the Saudis lowered their official asking price for crude by $1 for the month of November.
This leads us to the supply-side of the equation: Supply from OPEC as a bloc has been increasing. Saudi Arabia is running at close to 10 million barrels per day, which is putting a big strain on prices. In addition, countries such as Libya that once produced 200,000 barrels per day have now increased their production to close to 800,000 barrels per day.
Saudi Arabia Oil Production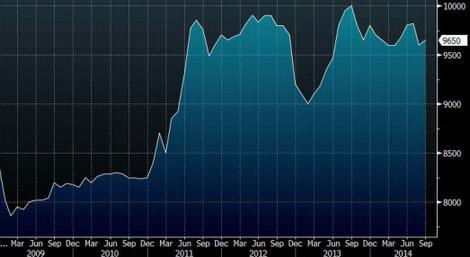 Libya Oil Production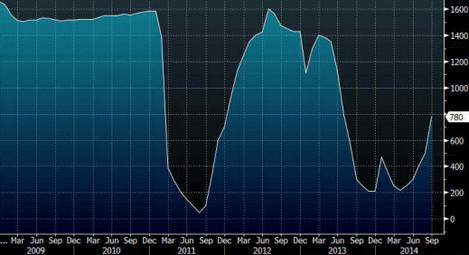 While that is nowhere near the pre-war peak levels of 1.6 million barrels per day, the increase has been steady and signals that Libya is coming back online as an important supplier of crude to European and to some extent Asian markets.
The American Oil Story
As far as WTI is concerned, it really is a North American and American domestic story. The US has pretty much become self-sufficient in terms of oil—that dream of energy independence has never been as reachable as it is right now. Consider the following: In 2004, the United States imported close to 60 percent of its oil needs; today it imports less than 3 percent of its oil.
The shale oil revolution has really transformed the landscape in the United States. However, unlike its Brent counterpart, WTI seems to have stabilized within a $90 to $95 price range. Historically, WTI has always traded at a discount to Brent, and the situation is no different now. I expect WTI will keep trading at a discount to Brent for the foreseeable future.
WTI Crude Oil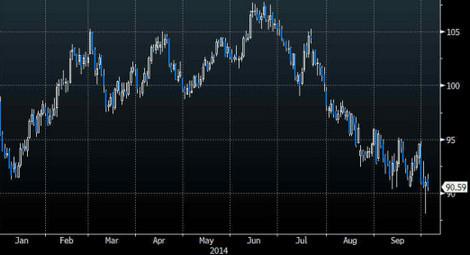 What's An Investor To Do?
The crude oil markets have been experiencing some volatility of late. Economic weakness in Asia, oversupply from OPEC and the shale revolution in the United States all have added extra layers of uncertainty into the global oil price discovery mechanism.
It's tough to determine where prices are headed right now, but it's important for investors to keep their eye on key economic figures such as Chinese factory orders, European consumer sentiment and other indicators which will help determine where oil prices go in the next three to six months.
The jury is still out, but as soon as a pattern is established, investors will have the answer about the future direction of oil prices.