I was on the phone the other day with Eaton Vance, frustrated and venting over their option-income funds and how they can't seem to catch a bid, even as the markets continue to track higher. I asked him in no uncertain terms-- though I'm sure probably sounding more like an attempt at reassurance-- "What am I missing here? The dividend cuts in December just got your funds in line with most other funds that have already cut once or twice over the past couple year, so what's the big negative? Is there a problem I don't see?"
Just to get readers up to date, Eaton Vance's option-income funds have been under selling pressure since December, when they announced dividend cuts for all of their option-income funds. The decision came about to better balance income and distributions for a few of their funds that were severely lagging in performance (ETJ, EXG and ETY), but the primarily reason was to capture more market upside for all of their funds in 2011. Though in the long run, this decision will strongly benefit shareholders and will essentially eliminate the need for any further dividend cuts in these funds for the next few years in my opinion, the funds market prices continue to struggle and churn with some now at 10% market price discounts, as their Net Asset Values (NAVs) are already showing strong improvements year-to-date (See CEF Valuation Table below).

Compare that to most other option-income funds from BlackRock, ING and Nuveen that have similar-- if not worse -- NAV performances and yet some are trading at premiums to their NAVs and the valuation discrepancy has gotten to the extreme stage. In case investors think that these other fund sponsors have some secret formula that Eaton Vance is missing…they don't. Virtually all of the BlackRock, ING and Nuveen option-income funds have also cut their dividends once, twice or even three times over the past few years. The reason being is that option-income funds are more defensive in strategy and don't perform as well during up market cycles like we have seen in the last two years, hence the need to better balance incomes and distributions. This does not mean the strategy doesn't work or that the funds NAVs are losing value, it just means that their income strategy is not optimized in the current market environment. Conversely, option-income funds NAVs will hold up far better than the broader market should the markets start to correct or become more volatile.
Getting back to my phone conversation, after hearing my "What's the problem?" plea, my contact at Eaton Vance said in a cool, calm and collected voice, "If there was a problem, you would see it in the NAV."

Herein lies the fundamental reminder of what is important in CEF investing, and something I have said often but sometimes forget myself. Follow the Net Asset Value (NAV) of a fund and you will eventually follow the market price direction. You would be surprised how many investors in these funds don't perform this simple observation, and how many do not even know the difference between an ETF or a CEF, or that a CEF has any other valuation metric other than its open market price. In the short run, CEFs can do some pretty crazy things and get to some illogical valuations, but in the long run, the market price of a CEF will follow the fund's NAV as certain as day follows night.
The NAV is the fund's true net worth. It represents all the assets minus all the liabilities and is available from each fund sponsor every business day after 6PM east coast time, just like a mutual fund. It's a daily corporate balance sheet if you will, giving you the absolute net worth of the fund. How many investors pay no attention to this and invest purely by yield and market price action is hard to say, but it gives those investors who are more sophisticated in their analysis a significant advantage over time. I should know. I have been investing in only equity based Closed-End Funds since the summer of 2006 and my net performance over the S&P 500 is over 100% since that time.*

Why is the NAV so important? Besides the fact that the dividend is derived from the NAV, and that it will often alert you to a dividend cut or dividend raise before it happens (See note on ETO below), an investor's true financial interest in a fund is represented only by the NAV, not the market price. If a fund sponsor announced it was going to terminate the fund and liquidate its holdings for whatever reason (this has happened before), an investor would only get the NAV of the fund, not the market price. If a fund merged with another fund, the merger would be based on the NAV of the funds, not the market price. If a fund matured in the future, the fund would only give back to an investor the NAV per share at maturity, which is exactly where the market price will end up. A couple years ago, a CEF from IQ Investment Advisors rose to a 30% premium over its NAV even though the fund was due to mature in a year! This was the easiest money making short I had ever seen, and yet you'd be surprised how many investors had no idea the fund had a maturity date.
When investors buy CEFs at premiums, they are essentially buying every one of the fund's assets and securities at a similar mark-up. There is no other way to look at it. Yes, there can be some offsetting factors that might give a fund a reason to trade at a large premium or discount -- such as mispriced assets in their portfolios or securities that might have certain exercisable rights, but these are not the norm. If all of the fund's assets are priced at fair market valuations, an investor's only claim if something went wrong is the NAV of the fund, no more. How investors can hold onto CEFs with lofty premiums with that potential immediate downside risk is beyond me. Some CEFs are closely held and are kept aloft by controlling interests that shed shares to unsuspecting investors. Some CEFs seem to benefit from a fund sponsors popular name to keep them at a premium.

The highest premium CEF currently is PIMCO's Global Stock Plus and Income fund (NYSE:PGP) at a 47% premium to Net Asset Value. What's interesting is that this 47% premium might actually be arguable, considering the fund gets income from its fixed-income portfolio and turns around and buys S&P 500 index option futures. This strategy has worked incredibly well over the past two years since the fund is essentially a high yielding long option play on the market. The premium also reflects the resources of PIMCO and the abilities of their portfolio managers that would be difficult to replicate by other firms. Again though, this is a unique situation and the fund's highly leveraged portfolio with long options can make it extremely volatile and risky.

As you might expect, I place a high value on funds that trade at discounts to their NAVs and have good relative total return performance. The accompanying table of equity-based high-yielding Closed-end funds use my valuation system to rate funds that are on my watch list for long and short positions. The valuation system uses mostly the total returns of these funds as well as the discount /premium levels but can also include the dividend yield, dividend cycle, income strategy and historic discount and premium levels of each fund. Interest rates and interest rate trends can also influence valuations. From this valuation system, I rate CEFs as Strong Buys, Buys, Holds and Sells. I have also listed a few equity CEFs below I consider buys currently, as well as two funds I rate a sell.

High Yielding Closed-End Funds Valuation Table

Rating System

> 1.5 Strong Buy
1.0 - 1.5 Buy
0.0 - 1.0 Hold
< 0.0 Sell
Buys

Eaton Vance Tax-Managed Global Buy-Write Opportunities Fund (NYSE:ETW) and Eaton Vance Tax-Managed Buy-Write Opportunities Fund (NYSE:ETV) –

These two funds are the next of the quarterly pay Eaton Vance option-income funds to go ex-dividend around the third week of March. Both of these funds have very little downside in my opinion and probably didn't need to cut their dividends in the first place. Both funds are at close to 10% discounts and 10% yields. This is the best opportunity to buy these funds at this large a discount with improving fundamentals since the spring of 2009. NAV performance has been solid, if not spectacular, but considering the very defensive option strategy these funds employ selling virtually 100% option coverage on their portfolios, they are obviously doing something right -- even if theirPremium / Discount graphs don't reflect it yet.

ETW 1-Year Premium/Discount Graph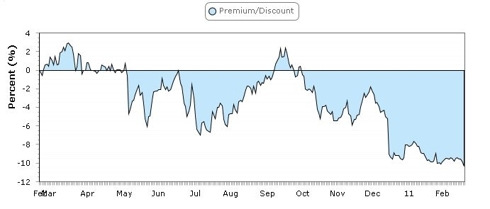 ETV 1-Year Market Price/NAV Graph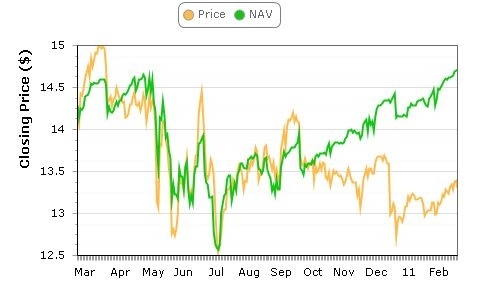 Enhanced Dow 30 Premium & Dividend Income fund (DPO) - Owns a leveraged portfolio of the Dow Jones Industrial 30 stocks, so it goes up even more than the DJIA even while paying a 9.2% quarterly dividend. DPO sells roughly 50% option coverage on its portfolio giving investors some downside protection for a leveraged portfolio. Still, DPO's NAV will depreciate faster than the DJIA in a down market. Goes ex-dividend Friday, March 11.

ING Infrastructure, Industrials and Materials Fund (NYSE:IDE) - By far the best performing of all the ING Closed-End Funds, and yet IDE trades at an 11% discount to its NAV while many of the other ING funds are at premiums! Because the fund went public about a year ago at $20 per share, that inception market price has acted as a resistance level even as the fund's NAV continues its climb to $23. Will probably be the first ING option-income CEF to raise its dividend even while some of the other ING funds are not out of the woods yet for a possible dividend cut. Has a very low option-coverage of 30%, which has allowed much of its global stock portfolio to appreciate along with the market. Will be more vulnerable to a market pullback, however, because of its low option coverage and narrow sector representation.

Eaton Vance Tax-Advantaged Global Dividend Income fund (NYSE:ETG) and Eaton Vance Tax-Advantaged Global Dividend Opportunities Fund (NYSE:ETO) - Two leveraged funds from Eaton Vance that have had some of the best market price and NAV performance of all CEFs I follow, far outperforming the S&P 500 over the last two years even without including dividends (see graph below). Their leveraged portfolios of global stocks and roughly one-quarter fixed-income securities have allowed these funds to grow their NAVs well in excess of their benchmark averages. These funds are more dependent on an up market and do have interest rate risk, but leveraged funds fit very well into the current up trend of the global equity markets.

ETO Market Price Graph vs. S&P 500 from Market Lows March 9, 2009





Sells

ING Risk Managed Natural Resources Fund (NYSE:IRR) - What else can I say? I wrote an article on IRR and how its NAV won't go up much even if every integrated oil & gas, oil service, gold, metal, commodity or natural resource stocks goes to the moon. The collar option strategy won't allow the NAV to appreciate much as long as the fund continues to sell calls and buy put options on 100% of its portfolio value. In fact, the NAV is actually lower today than it was at the market lows in March 2009, not including dividends. Think about that for a second. What stock or ETF would be rewarded with a 7% premium market price to its net worth with those kind of fundamentals? Clearly an overvalued fund, and yet it seems investors think they're getting upside exposure to natural resource stocks. Maybe a dividend cut will finally get them to notice something is wrong and that this fund does relatively better in a down market than an up market.

IRR's NAV (XIRRX blue) vs. Energy Sector SPDR (XLE green) and Materials Sector SPDR (XLB red) Note: graphs do not include dividends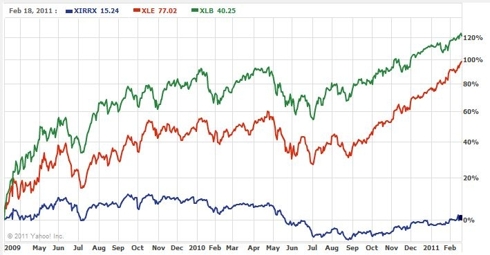 Alpine Global Dynamic Dividend Fund (NYSE:AGD) - I have yet to be convinced that the Alpine dividend-capture funds are anything but amortizing CEFs that will continue to offer large amounts of tax qualified dividends to unsophisticated investors while their NAVs continue to deteriorate. Yes, AGD's NAV has done better since a 45% dividend cut last June, but frankly, the dividend-capture fund NAVs should be significantly outperforming the option-income strategy fund NAVs in a ramp-up market like we've had, and they are not. AGD's NAV YTD is the worst of all the equity CEFs I follow. If this continues, I don't see how the Alpine dividend-capture funds are going to be able to continue to pay even their current level of tax-qualified dividends over an extended period, especially if the markets go into a more difficult cycle. AGD has no justification for being at a 12.4% premium with that risk profile.

Final note: Please...if you are going to bring up the subject of Return of Capital (ROC) for the option-income funds, first read my articles on this subject. If you would still like to give me your negative thesis on this subject, I would be happy to listen to your argument.

* Past performance should not be construed as a guarantee of future results.

Disclosure: I am long ETW, ETV, ETO, ETG, DPO, ETY. Short IRR.