In part one of this series of analysis, I reviewed the overall financials of Tata Motors and compared its valuation to those of its peers and the industry.
Known for its commercial vehicles, Tata Motors (NYSE:TTM) entered into the passenger vehicle segment in 1991. Its most notable creation was the Nano, widely recognized as the world's cheapest car at the time of launch. Nonetheless, recent years have been tough as the economy swung into recession. Coupled with a slew of quality issues and lack of modern innovations, Tata's India brand took a substantial fall.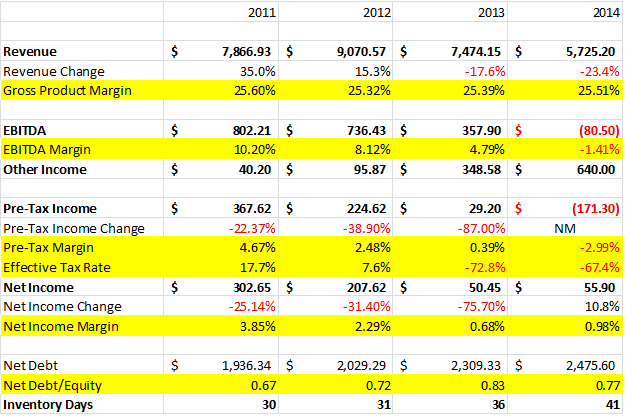 (Currency in USD Millions, adjusted accordingly and based upon Tata Motors INR financials)
Source: Tata Motors
Currently generating 15% of consolidated revenue, TTM India has suffered financially with its top-line down double-digits the past two FY. EBITDA and pre-tax income margins have dropped into the negative in FY 14. If not for the source of external income from JLR dividends and other subsidiaries, the standalone figures would have shown even worse losses. On top of that, net debt and inventory days have increased slightly every year. More debt plus longer selling time is never a promising sign. With such underwhelming results, investors have every reason to be bearish.
The good news is, improvement in the economy as of late has alleviated the disappointment and raised the outlook. The new Indian government that took power is expected to help businesses recover, support highway/road constructions, and strategically decrease inflation rates through monetary policy. GDP is set to rise at a sustainable rate for the next decade. With that said, let us examine the company's vehicle divisions and their performance over the years.
Commercial Vehicle
Source: Tata Motors
Considered the backbone of the India business, the CV division consists of two sub-segments: Medium/Heavy CV and Light CV. Overall, Tata retains dominance with its market share of the Indian CV industry above 50%; Tata's sub-segment of M/H CV also has a market share above 50%. The Light CV segment, however, has experienced sharper drop. In the latest Q1'15 results, deceleration in Light CV sales continues for the fifth consecutive quarter with a decline of 37% over Q1'14.
Why is there room for optimism?
The decline in volumes is a direct effect of the slumping Indian economy the past two years. The CV industry was collectively one of the most impacted due to financial pullbacks and high inflation rates, which slashed demand across the board (particularly Light CV). In spite of the tough conditions, the CV division has displayed resiliency in sustaining market share. This has put it well ahead of second place automaker Ashok Leyland (25% market share). Moreover, Tata's fellow competitor did not show the same resiliency, with its FY 14 volumes half of what it was two years prior. The disparity hints at Tata's outstanding CV recognition and effective marketing at maintaining demand in a shrinking sector. As industry sentiments improve, with a recent government order for over 2,700 buses, Tata will look to increase its dominant position.
Passenger Vehicle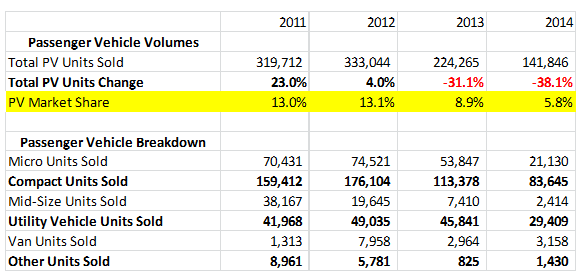 Source: Tata Motors
Cheap, unreliable, and "uncool", three of the most frequent words used when describing Tata's passenger vehicles. The Tata Nano, which advertised itself as the world's cheapest car, started out as a hot sell. Nevertheless, volumes continuously declined as popularity sank, and quality problems arose. As seen in the table above, the Nano (under micro units) is a shell of its former self with volumes down over 70% since its peak in FY 12. Passenger vehicles as a whole have fallen by over 30% each of the past two years with the current market share at 6%. This also marked the first time Tata has dropped out of the top five in market share since entering two decades ago. Due to the struggles, many analysts have suggested the automaker should drop its PV business to improve profitability. Although the economy accelerated the decline, the main catalyst was Tata's underperformance. For four years, TTM's PV division did not create new models/innovations that could excite or attract potential customers. Meanwhile, rivaling brands campaigned and expanded aggressively. Aside from being outcompeted, Tata cars are commonly used as taxicabs, further tarnishing the brand image.
Why is there room for optimism?
The road back to relevance will be difficult as Tata looks to grab back its lost shares in the PV industry. Recent news supporting a positive resurgence comes in the form of a car named the Tata Zest. What is the Zest? It is an economic sub 4-meter compact sedan Tata launched this August to revive sales. The Zest is set to compete with compacts of other brands such as Maruti Suzuki, Honda, and Hyundai. To make it appeal to buyers, Tata has priced it competitively for both the petrol and diesel models along with class-leading torque in either variant.

(Price is in $100,000 Indian Rupee, 5.50 lakhs = $550,000 INR)
Source: MotorBeam
The Zest boasts of the many "first in class" features available. Key features include an automated manual transmission for the diesel, a turbo petrol engine, configurable driving modes (city, eco, sport), and voice command. So, what is the significance behind the Zest? Compact units generate roughly 60% of PV volumes. If Tata were to mount a comeback, the company would have to improve in the segment with the most sales. As the economy begins to recover, the market is set to grow after two years of shrinking. Latest auto reports show a rise in sales for a fourth straight months including this past August. Having a growing demand for cars reduces the need for Tata to wrestle away existing customers of competing brands. Instead, the division can focus on drawing in first-time buyers, a less daunting task than the former. Also, since its recent debut, the Zest has garnered many favorable reviews from car critics and analyst alike. Both groups raved about the modern styling and innovations. The general sentiment: The Zest is notches above previous Tata cars and poses a serious threat to other competing brands.
Besides promoting the Zest, Tata is investing in its network of dealerships to raise brand appeal by enhancing customer experience. As part of the plan, Tata recruited roughly 3,000 new sales staff and trained them to be fully informative about the Zest and other models. New technology such as wall televisions and tablets were also implemented to aid the overall atmosphere and provide customers with in-depth knowledge. Reviews from several journalists validated the improvement as they noted the refreshed experience, professionalism, and hospitality in the dealerships and their staff.
More of the latest results support Tata's strategy. According to management, the Zest has received over 10,000 booking orders in 3 weeks since its launch and the numbers are expected to accelerate through the festive seasons. This offers a much-needed piece of good news for a struggling brand, as the numbers indicate a degree of success in the company's recent efforts to rebuild the brand's image.
Exports

Source: Tata Motors
Currently making up 9% of total volume, the export business looks to become a growth driver going forward as the automaker expands globally. Having experienced first-hand how the economic downturn crippled domestic sales, Tata has entered into several outside markets notably Indonesia, Philippines, South Africa, and Bangladesh. The aim is to create outside revenue streams but more importantly, reduce regional economic impacts by diversification. As of FY 14, CVs make up most of the exports. Tata Motors announced during a May statement it aims to triple the export of CVs in the upcoming three-four years. If the expectation holds true, exports could generate as much as 20% of total volume and provide rapid growth to offset weaknesses in Indian sales. To that end, Tata acquired South Korean truck maker Daewoo back in 2004 to spur international opportunities. Since the acquisition, Daewoo has displayed solid results with current annual volumes of 10,600 and a standalone revenue over $800 million USD (based on currency conversion).
Tata Motors India Business Verdict
Q1'15 continues the downward trend as gross product margin dropped to 18% and EBITDA remains negative with an overall volume decline of 28%. Such results should not be surprising as a turnaround will be a (NASDAQ:LONG) work in progress. Tata stated its intent to launch two new/updated models every year until 2020 to drive sales in the PV segment. Factor in the aforementioned divisions' potentials, I believe TTM India will rebound back to profitability as momentum from the strategic efforts and a resurgent economy picks up. In the next article, we will discuss Jaguar Land Rover, Tata's British luxury car company.