Bromine is a halogen chemical element that most have never heard of other than in the periodic table of elements. Although it is quite unfamiliar, it has quite a variety of recognizable uses. Bromine worldwide production has risen sixfold since the 1960s and its price has doubled from 2009 to 2011.
The following products all contain bromine:
Flame retardants
In the production of epoxy for circuit boards
Gasoline additives
Pesticides
In the process of water purification
In the drilling fluid and other chemicals used for oil and gas exploration
Many pharmaceutical and medical purposes
The three major bromine producing areas are the United States, the Dead Sea and China, which account for roughly 96% of the world's total bromine production.
Bromine production per area: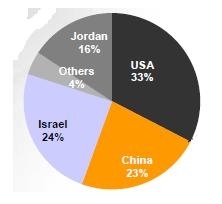 The largest publicly listed bromine and chemical producing companies include:
Name (Ticker)
P/E
Market Cap
Company Description
ICL Israel Chemicals Ltd (OTCPK:ISCHY)
22.88
$21.25B
Largest bromine producer in the world, produces 40% of the worldwide demand.
Albermarle Corp. (NYSE:ALB)
18.10
$5.5B
Second largest bromine producer with 24% of worldwide production.
DOW Chemical Company (NYSE:DOW)
22.20
$44.5B
Second largest chemical company in the world.
BASF SE (OTCQX:BASFY)
14.70
$78B
Largest chemical company in the world.
Chemtura (NYSE:CHMT)
-0.2
$1.64B
Large bromine and chemical producer.
Gulf Resources Inc. (GFRE)
6.30
$308.7M
Largest bromine producer in China. Its subsidiary Shouguang City Hao Yuan Chemical Industry Co. produces over 40% of the bromine production in the Shouguang City, the largest bromine producing city in China.
(as per Shouguang Bromide Profession Association)
As previously mentioned, the demand for bromine has risen drastically over the past years and this surge in demand is anticipated to continue in the coming years due to its variety of uses. A recent report suggests that the U.S bromine market is expected to reach 323.5 metric tons by the year 2015.
This increase in demand can be seen by both ICL's (.pdf) and Albermarle's increase in bromine prices which should consequently help push bromine producers' profits higher.
China is also experiencing a drastic increase in consumption which has lead to a drastic increase in bromine prices.
The following table depicts the rise in consumption, production and prices in China. The decrease in price in 2009 reflects the impact of the economic financial crisis, yet as we see, prices have risen from $1850/MT in 2009 to over $3400/MT in 2010. Currently, bromine prices have continued to rise and are hitting $4705.88/MT, or a cost and freight price of $3800.00/MT (as per a recent China Chemicals Market International press release).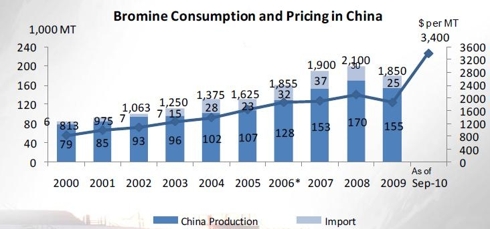 How to Take Advantage of the Bromine Market?
By investing in companies such as Albermarle, ICL, Chemtura or Gulf Resources, investors can take advantage of the bromine market. Let's analyze the metrics of Albermarle, Chemtura, DOW Chemical, and Gulf Resources as potential investments since all of these companies are traded on the American Stock Exchange.

Financial Analysis: Gulf Resources a Strong Contender
Based on the above financial data, there appears to be a compelling opportunity to invest in Gulf Resources as an undervalued bromine and chemical company. The company is undervalued based on its P/E multiple, as well as its P/CF ratio which are both lower than almost every company.
Gulf Resources has no debt, and a high quick ratio representing that it has a strong balance sheet, the ability to easily meet short term liabilities, as well as no risk of defaulting or having to pay interest payments to any debt holders. Its high quick ratio can be mainly attributed to its high cash levels in relative comparison to ALB, CHMT and DOW. Gulf Resources' cash per share represents over 23.6% of its share price.
The second highest cash per share in proportion of price per share is DOW Chemical, with over 15.5%. Although the smallest company, Gulf Resources commands a strong lead for all margin ratios, and both ROA and ROE. Most of these higher returns could be attributed to its smaller size, and as seen above, the ability to grow revenue more easily than the other large companies mentioned. The higher margins may also be attributed to the lower labor costs, shipping costs, as well as other associated expenses that Gulf Resources saves on by being uniquely a local producer and provider in China.
Let's dig deeper into this mostly unknown Chinese bromine and chemical company that appears to be an ideal investment:
Potential Risks Associated to Gulf Resources:
Its Chinese Small Cap status may hinder its performance and legitimacy with investors. This status has also been recently criticized and consistently hit with bear raids, short attacks and allegations. This may explain its recent underperformance in comparison to ALB, CHMT, DOW and the overall market. (click here to view a six month chart comparison).
Gulf Resources is sensitive to the price risk of Bromine. Additionally, substitution risk of Bromine with a new less toxic element could force down price and demand.
Chinese economical, political and legal risks.
Seasonal and climate risk. Bromine production is often seasonal and certain conditions such as excessive rain or floods may hamper production.
Potential Benefits and Future Catalysts:
The high entry barriers in the Bromine market provide safety for current producers. Gulf Resources has an even stronger position in the Chinese market as it holds one of only six licenses given out by the Chinese government to produce bromine and currently is a trusted market leader.
Demand is not a constraint. China's demand for Bromine is higher than its current market supply, therefore, Gulf Resources saves on shipping cost, tariffs and foreign exchange costs by being able to supply solely to its home market. This evidently makes Gulf Resources immune to many international factors.
It is a class one supplier to larger known companies such as China National Petroleum Corporation (CNPC) and SINOPEC (NYSE:SHI).
Gulf Resources has a consistent history of acquisitions which has helped it grow consistently and rapidly. It is continuously acquiring land from smaller unlicensed bromine producers to further expand production. A recent acquisition demonstrates the Chinese government's willingness to let Gulf Resources acquire 568 acres of land and sign a 30 year land lease from a state owned company. The recent acquisition will add $2.8M of revenue per year.
Gulf Resources is trying to differentiate itself from many other Chinese stocks by hiring Deloitte for an internal control assessment. The results of this assessment should be released in the next month which should help boost Gulf Resources reputability.
The recent surge in Bromine prices should help the company obtain even higher profit margins.
The company has very strong financial health and growth.
Gulf Resources is also diversified and creates synergies through its product lines, as it is not solely a bromine company. Its subsidiary Shouguang City Haoyuan Chemical Co. Ltd produces primarily bromine and crude salt. Its other subsidiary, Shouguang Yuxin Chemical Industry, focuses on manufacturing and selling chemicals. Gulf Resources has also been staying up to date with trends by having an environment-friendly chemical additive. It also recently begun the production of a waste water treatment chemical product line.
Company earnings are to be announced in the next month. The analyst average estimates are $0.37 in comparison with last year's $0.21 of EPS. The year ahead earnings are expected to be EPS of $1.50 or more. If Gulf Resources was valued even only at a conservative P/E of 10 the stock would be trading at $15.00, which demonstrates a clear opportunity.
Concluding Remarks:
It appears that Gulf Resources represents a tremendous opportunity for investors in the chemical and bromine market. The stock is dramatically undervalued and has stunning fundamentals. It is also an ideal Warren Buffett pick as he always wanted to be successful investing in companies or sectors with high barriers of entry. Once the true fundamentals catch the eye of individual investors, Gulf Resources will provide a compelling return on investment for those in at the bottom floor.
Disclosure: I am long GFRE.