What is it?
Sprint (NYSE:S) announced that it will extend its double data promotion to October 31, match AT&T's doubled data tier promotional pricing at specific levels, and opened up one new data tier for consumers.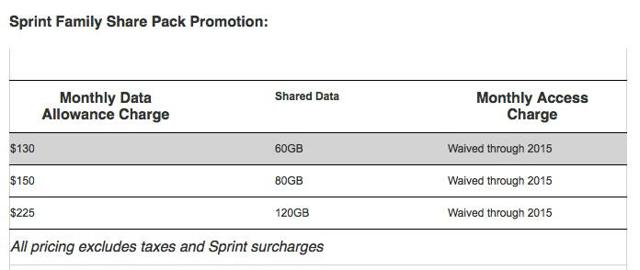 Additionally, Sprint enhanced its Business Share plan for the month in terms of pricing, more data, and any device access charges for a year.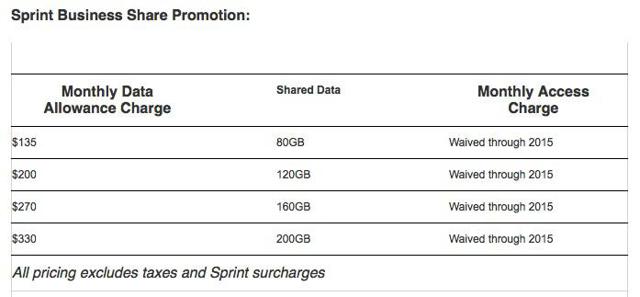 Verizon (NYSE: VZ) Wireless also announced a limited time double data promotion, matching price point and data levels of AT&T announced two days earlier. Similar to competitors, the promotion ends on October 31st.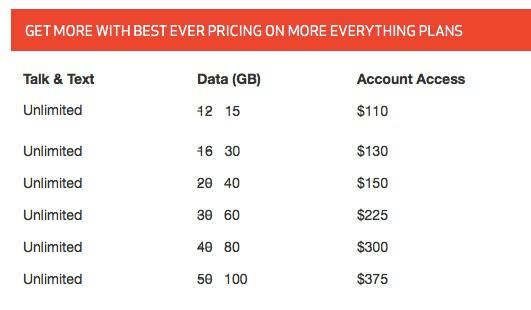 ANALYSIS
Sprint
Sprint CEO Claure has stated that it provides the best value in wireless and by reacting aggressively and quickly (2 days), he is backing up this very public claim.
The Sprint response seeks to protect and upsell existing high value and data hungry customers. This demographic may be very small in the near term, but over time as subscribers see lower priced higher data bucket options, their data consumption will invariably increase further.
Unlike its September Family Pack promotion in which only new customers could take advantage of the offer, current customers are able to participate. Clearly, Sprint learned a lesson to not alienate existing subscribers. Similar to AT&T's Mobile Share Value promotion, current customers need to proactively engage Sprint representatives to take advantage of the promotion.
On the business side, Sprint's Business Share plans take a clearly offensive tone. They are extremely aggressive on multiple levels.
o No promotion expiration unlike that of the consumer Family Share promotional levels. It rewards business accounts with cheaper pricing than the consumer plan at >80GB thresholds.

o Lower than rival pricing and a new and healthy 200GB data level.
Verizon Wireless
Verizon needed to quickly blunt specifically AT&T's promotion. As its chief competitor, any price and value gap could not have been left without a competitive response.
In addition to the high data tiers that draw the most attention, Verizon corrected and enhanced its $110 price point - moving from 12 to 15 GB. This was specifically a move against AT&T to draw the mid-tier customer who did not want either to opt for $130 30 GB promo or needed that much data. At the same price point, AT&T on a non-promotional basis kept the same $130/15 GB level. Therefore, anyone contemplating switching and comparing the same 15 GB level between AT&T and Verizon Wireless would see Verizon at the lower price point.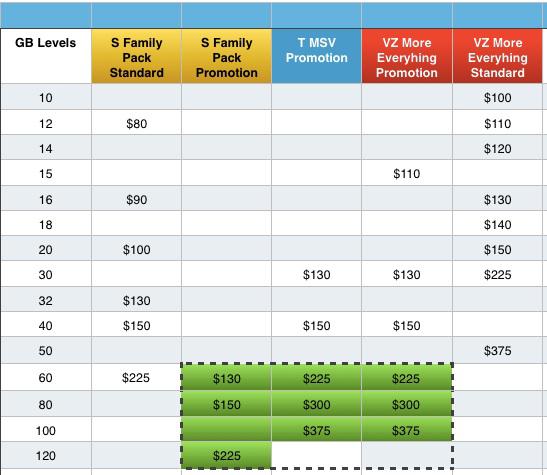 More interesting is the battleground at the high data tiers (see the chart above). AT&T and Verizon Wireless are again at price parity while Sprint definitely shows a price and value gap against larger competitors. The challenge for Sprint is to find those customers who are data hungry and see price value. Whether these are upselling or switchers is unclear.
Competitive Impact
Carriers want their cake and eat it too. By doing limited time promotions, there is a call to action and can in essence help lock customers in the very competitive fourth quarter. Any customer retained with the stickiness of more data is obviously a minimal churn risk. Moreover, it can retain its plan structure without modification. In essence, it serves as a reference bar to show the value of the promotion and should help close sales.
On paper, Sprint's Business Share plan is an impressive offering as it provides a compelling package for businesses to switch from AT&T and Verizon Wireless. Throw in free devices on top of free switching and anyone looking at controlling expenses will give the offer a look. However, both the bigger rivals will of course play the network card to counter. Sprint's challenge is to make buyers believe that the network is getting better daily and back that up.
Given that it seems easy to run promotions, the stage is set for more promotion wars after October 31, especially when each carrier launches its entire holiday device portfolio, some of which could be wearables and tablets.
Disclosure: The author is long VZ.
The author wrote this article themselves, and it expresses their own opinions. The author is not receiving compensation for it (other than from Seeking Alpha). The author has no business relationship with any company whose stock is mentioned in this article.
Additional disclosure: The author has a small long position in VZ