As a long-term investor, I tend to make few stock moves. However, now's the time for me to enact one: I'm selling General Mills, Inc. (NYSE: GIS) shares for a new position in The Procter & Gamble Company (NYSE: PG).
Over-Arching Investment Thesis
My portfolio contains not more than 15-18 core positions. For diversification, I retain shares across the various S&P 500 sectors, though in highly disproportionate quantities. Over the last 2 years, my lone Consumer Staples stock has been General Mills. After the most recent earnings report, I sought a replacement within the same sector. That stock is Procter & Gamble.
General Mills' QvQ worldwide revenues have fallen for 3 quarters; U.S. retail sales have been down for 4 consecutive quarters. I believe the U.S. cereal market is mired in long-term, secular decline. Unquestionably, General Mills is a very well-managed company. Senior leadership is combating sales declines by emphasizing international business, leveraging premier supply chain management capabilities, and offering new products; particularly in the natural / organic category. However, I view the company's efforts as a fight to keep its head above water. The problem is decline in its core market: American ready-to-eat, processed breakfast food.
Likewise, Procter & Gamble is also a corporation in transition. PG is wrestling with generic brands cutting into its markets. As part of a response, a new (or should we say newly-returned) CEO is slimming down the product slate. P&G plans to discontinue up to 100 different products in order to concentrate upon ~80 existing brands that generate 90% of sales and 95% of profits. Procter & Gamble has a superior balance sheet, indisputable franchise strength, and strong management. The shares are a long-time holding of Warren Buffett and Berkshire Hathaway.
Let's break down these 2 stalwarts.
The Balance Sheet
Procter & Gamble has an unassailable balance sheet, clearly superior to General Mills. Notably, debt levels are far lower. Compounding matters, General Mills will experience additional debt in conjunction with the anticipated Annie's, Inc. (NYSE:BNNY) acquisition.
Taking a page from Benjamin Graham's playbook, I checked the Equity/Asset ratio. A result greater than 0.50 indicates an outstanding balance sheet. PG registers 0.48, while GIS has a 0.28 ratio.
The following table compares multiple balance sheet metrics:

Over the past 10 years, both PG and GIS have sound, comparable records building shareholder equity. Procter & Gamble has a premier AA- credit rating. General Mills trails with a BBB+ rating.
Margins
While the 2 companies operate in differing industries (though the same stock sector), margin analysis is helpful since both businesses rely upon strong supply chain management, SG&A control, and volume. Through YE fiscal 2014, P&G has better margins, though both outfits boast strong results.

Over the past 10 years, P&G and General Mills have effectively maintained these margins; roughly the same whereas they stand today. However, going forward I see considerably more margin pressure on GIS, while PG has a better line-of-sight for improvement. It's easier to reduce excess product lines and focus upon higher-returning brands versus overcome secular decline in core products within one's biggest market.
Returns
Both companies have strong historical returns. Looking back, General Mills has demonstrated somewhat better numbers. For each businesses' most recent fiscal year, GIS logged 22% return-on-equity versus PG's 16% mark. For perspective, please find 2 F.A.S.T. graphs below for each company, outlining 5-year return-on-equity and return-on-assets figures.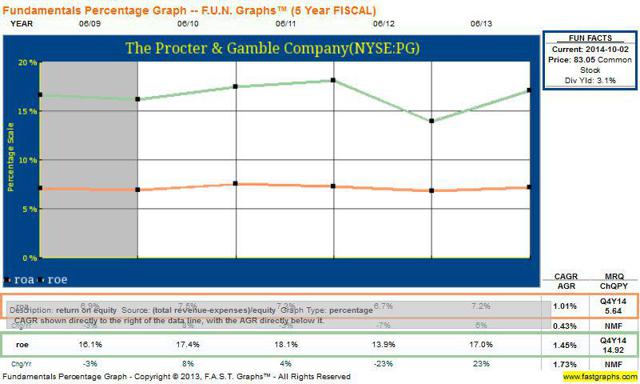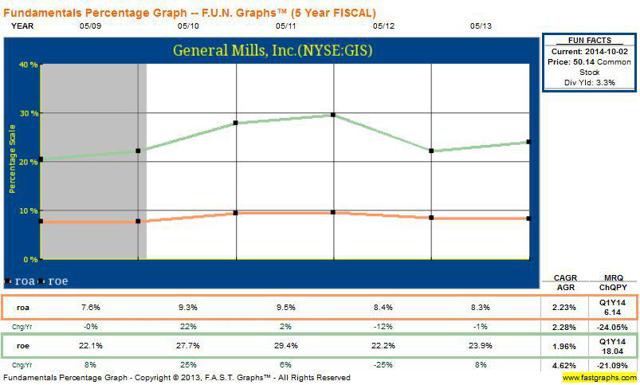 Generally, I find RoE > 15% acceptable.
Cash and Dividends
General Mills and Procter & Gamble are cash machines. I seek stocks of companies that generally earn profits in cash. This may be measured by calculating a cash conversion rate, or the ratio of operating cash flow divided by earnings. A ratio greater than 1.0 means that the business creates more cash than earnings; certainly a good thing!
Over the past fiscal year, GIS had a CCR of 1.43x, while PG registered a 1.23x marker. Both results are outstanding.
Free cash flow (operating cash less ongoing capital requirements) is another excellent gauge by which to measure performance. A 3-year table for each company is found below:

P&G's fiscal year ended June 30, 2014, so the figures above are most current. The table above contains data for General Mills' fiscal year ended May 31, 2014.
Since each companies' fiscal year close, GIS has reported 2015 first quarter results. Underlining recent challenges, quarter-versus-quarter free cash flow fell from $0.39 to $0.29 per share, or a 26% drop on the heels of the 15% year-over-year decline FY 2014.
On the dividend front, investors cannot ask for better more than either General Mills or Procter & Gamble provide. GIS has rewarded shareholders with uninterrupted dividends for 115 years; the stock currently yields 3.3%. PG is a Dividend Aristocrat, having raised the cash dividend for 58 consecutive years. The shares now yield 3.1%.
Valuation
On routine multiples, Procter & Gamble and General Mills are trading about fair value.
Price-to-Earnings
On a P/E basis, both stocks are aligned with historic norms. Since "a picture can tell a thousand words," please find below a 15-year F.A.S.T. graph for each company illustrating price, P/E, and operating earnings per share: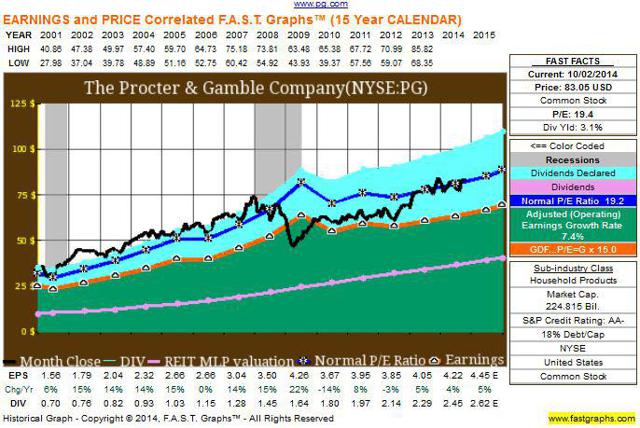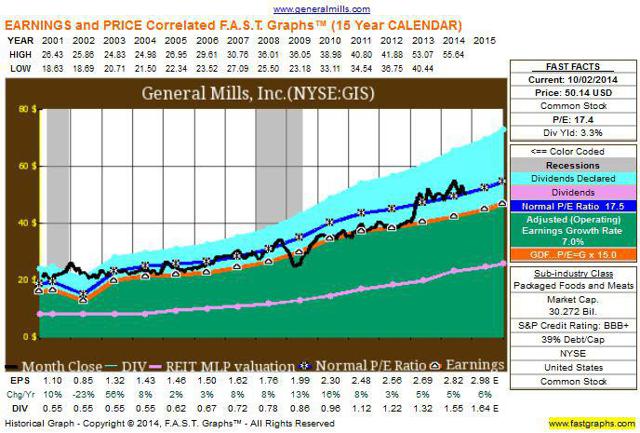 PG and GIS have remarkably similar charts. P&G has commanded a higher historic earnings multiple. During the recent market downdraft, General Mills share prices fell back hard on a poor earnings report, re-aligning it with long-term valuation.
Price-to-Cash
Shares of both companies trade near fair value on historic, price-to-cash flow multiples, too. Another set of F.A.S.T. graphs depict this: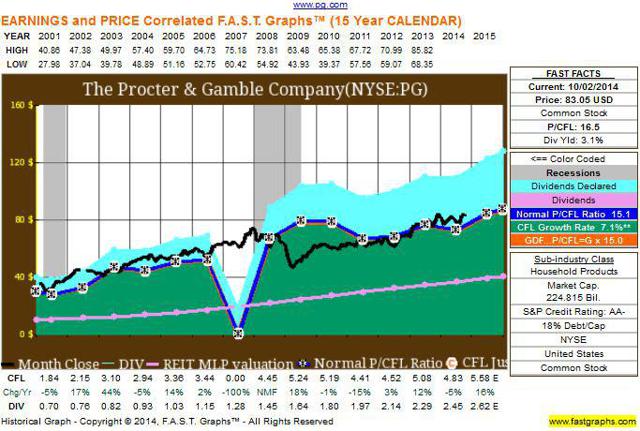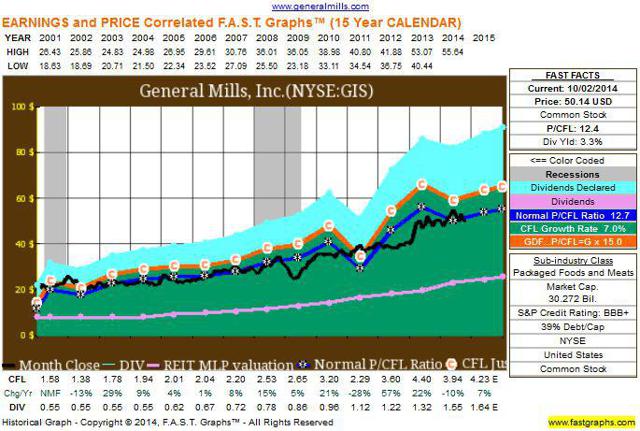 Price-to-Book
I see a degree of separation here; notably concern about the rapid rise in GIS' price-to-book ratio; of late, it's blown out. Historically, the P/B has stayed below 4.0x. The following 10-year graph shows that level has been breached. As of the most recent quarter, General Mills reported a 4.9x P/B ratio.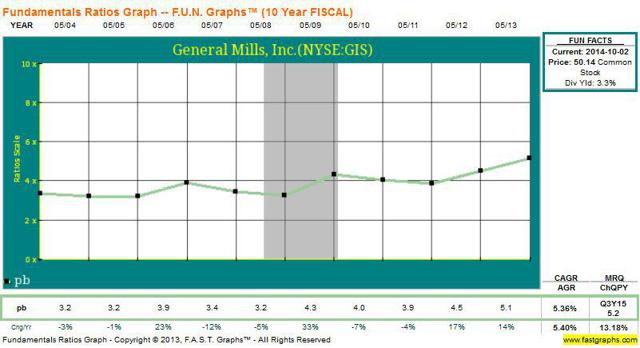 On the other hand, Procter & Gamble stock has a 3.3x P/Book ratio, well within these shares' historic norm.
Earnings Prospects
Good valuation analysis is contingent upon reasonably accurate forward earnings estimates. Here, Consumer Staples sector stocks often have an advantage, since earnings tend to be somewhat ratable. F.A.S.T. graphs provide a pictorial snapshot for current expectations: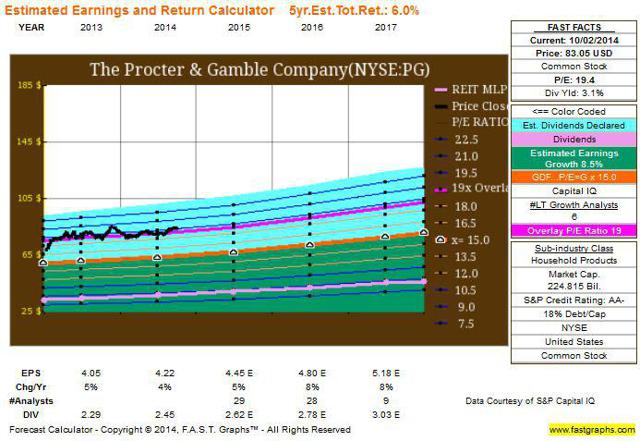 Here we see consensus forecasts indicate Procter & Gamble is expected to experience 5% EPS growth in the current FY, and 8% in the following. I generally focus upon a year or 2 out only. Assuming the consensus is accurate, such forward growth would be slightly greater than the actual EPS growth rate over the preceding 15 years. That's a good thing.
The pink line represents a 19x P/E multiple, in-line with historic. Therefore, if P&G earned $4.80 in FY 2016, a reasonable target valuation is $91. Adding in a 3% annual dividend yield, a total 18-month return of ~14% may be expected. That's what I seek from a staid, Consumer Staples stock.
Next, General Mills: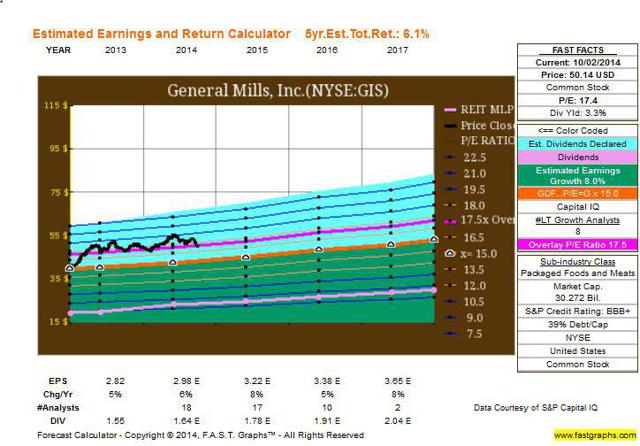 The pink line represents an earnings multiple of 17.5x; General Mills' long-term average normalized P/E ratio.
Currently, the Street sees GIS earnings growing at approximately the same rates at P&G. I am less sanguine. Under my investment thesis that General Mills will continue to experience challenges due to a secular decline in its core U.S. cereal business, I believe future earnings could be under pressure. Am I sure about this? No.
However, investing is about probabilities. I submit the probability of Proctor & Gamble's ability to successfully re-focus the business upon internationally-recognized core brands to be greater than General Mills fighting its way out of manifest declines in revenue and profit.
Conclusion
While no slam-dunk call, I envision Procter & Gamble to have better forward-looking, long-term investment prospects than General Mills. Both companies are well-managed, hold strong franchises, generate real cash, and have premier dividend payouts. Nonetheless, I contend that P&G has a cleaner and easier set of executable growth strategies than General Mills.
In addition, a superior balance sheet, considerably greater international span, and more market heft give P&G another decided edge.
Disclosure: The author is long GIS, PG.
The author wrote this article themselves, and it expresses their own opinions. The author is not receiving compensation for it (other than from Seeking Alpha). The author has no business relationship with any company whose stock is mentioned in this article.