Caterpillar, Inc. (NYSE:CAT) came out with an outstanding sales report for the quarter ending January 31, 2011 (see earnings call transcript here). Sales are through the roof: up 48%. This caps off nine straight rolling three-month periods of growth. Per region sales were:
Asia-Pacific: January +38%, December + 47%, November +51%.
North America: January 58%+, December +48%, November +53%.
Europe, Africa and the Middle East: January +46%, December +37%, November +43%.
This is an outstanding report. Caterpillar is the biggest manufacturer of heavy equipment in the world.
But why? Are all these economies booming while we aren't? China has been experiencing a boom for years based on its turn to capitalism in 1979. But, the current reason is that the People's Bank of China has been flooding its economy with fiat money creating another false housing boom. Now some of China's growth is real, but it is difficult to tell since their data is not transparent nor does it account for dictates from Beijing to banks to lend specific sums for a given period. But, they buy a lot of heavy equipment with those dollars they have accumulated.
The rest of the world, including the U.S., is engaging in monetary and fiscal stimulus as well. It is difficult to assess real versus fiat money based growth, but flood an economy with enough cash and credit and it will be spent.
Which gets back to the dollar. I made this chart comparing the price of Caterpillar's stock to the rise and fall of the dollar. For the most part, they have been the beneficiary of a declining dollar, courtesy of the Fed. That is, concerns by holders of dollars about the level of our deficit and the willing of the Fed to monetize it, have depreciated the value of the dollar relative to other currencies. A cheap dollar is good for exporters and bad for US consumers. One of the reasons we are seeing price increases here is due to the decline of the dollar which makes imported goods more expensive. This is a complicated story because the Chinese yuan (RNB) is tied to the dollar, so there is some parity there.
So what is bad for consumers is good for multinationals like Caterpillar. Which are you? Consumer or Caterpillar employee or shareholder?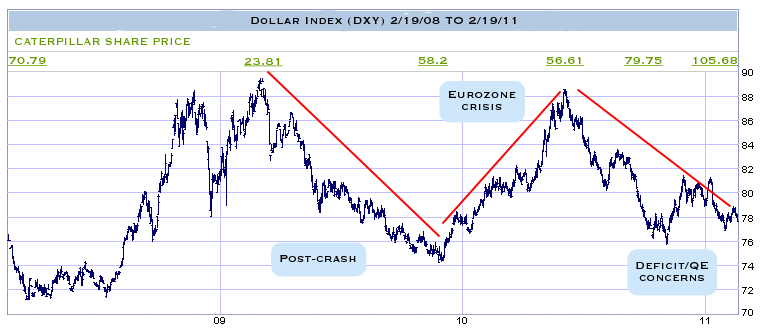 Nota bene (note well). The reason Cat didn't decline in price during the eurozone crises, which saw a flow of capital into the dollar, is that world economies other than the eurozone were seen by investors as improving and that Cat's future would be rosy.
Disclosure: I have no positions in any stocks mentioned, and no plans to initiate any positions within the next 72 hours.