NOTE: This is part 2 in a series. Part 1 is here.
Asia Entertainment & Resources (Nasdaq:AERL)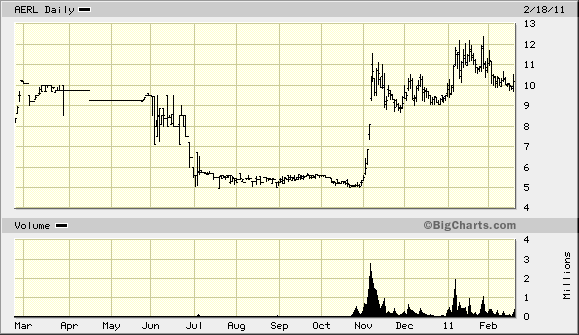 Asia Entertainment & Resources is a play on Macau gambling. AERL runs VIP gaming rooms in the MGM Grand Macau Casino, the Star World Hotel & Casino in downtown Macau, which is operated by Galaxy Casino, S.A, and the Venetian Macao-Resort-Hotel on the Cotai Strip. Outlook: consolidating after a big move up last fall, AERL still looks good technically. I'm in the process of modeling earnings based on rolling chip count and other metrics that AERL reports monthly.
Changda International (OTC:CIHD)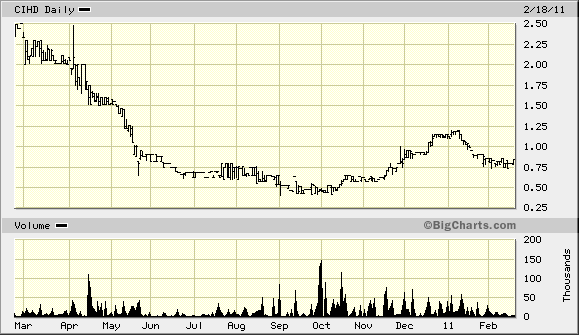 Chinese microcap fertilizer and chemical manufacturer Changda International looks good on paper. But something is amiss — this company which Yahoo! lists as having over $9M in cash has had problems resolving less than $1M of convertible debt that came due this year. Investors don't know if the cash is missing, management is being dodgy, or capital restrictions have upheld the payments. But we do know that a long pan bottom was put in over the last 9 months. Outlook: I recently bought shares, and expect Changda stock to take out January highs once the debt is converted or repaid (hopefully within 2 months). Changda will not see a lot of patience from me if it delays resolving this minor issue.
China Redstone Group (OTC:CGPI)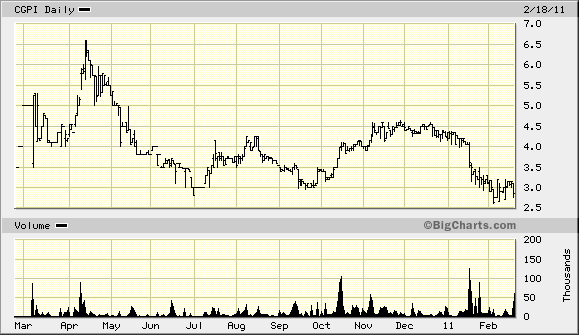 China Redstone Group is my biggest loser, dropping hard on accusations of fraud, despite earnings that exceeded expectations, and a considerable attempt by management to transparently address the questions critics have raised. Outlook: I still think CGPI has a bright future and look for a strong rebound over the next several months.
China Intelligent Lighting (Amex:CIL)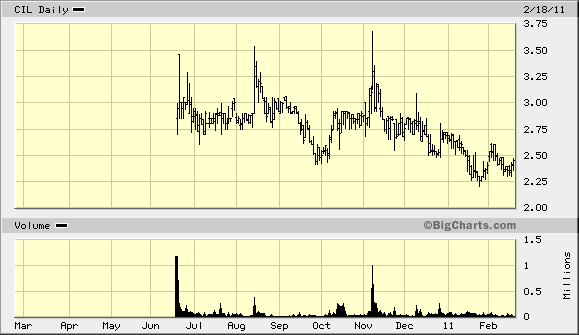 After a disappointing dip, China Intelligent Lighting appears to have found a bottom. Earnings have retreated from last year's torrent pace but CIL should still earn well over $.50 in FY 2010 and has potential to explode as conventional lightbulbs are phased out in many western markets (Europe, California, etc.). Outlook: will continue to hold CIL but if support at 2.25 doesn't stick, I'll bail.
China Mass Media (Amex:CMM)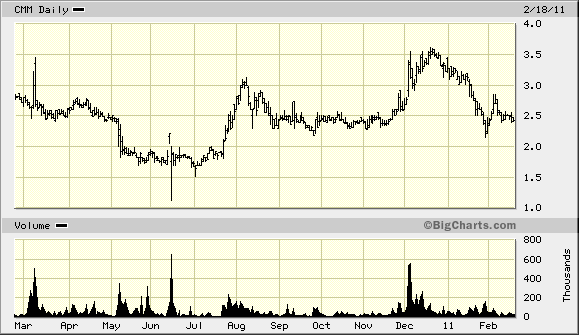 China Mass Media makes money, is audited by a big four auditor (PriceWaterhouseCoopers), and has far more cash on its balance sheet than its current market capitalization. What gives? Well, revenues are down and the company is in transition. Outlook: with CMM's solid balance sheet and shares back at support, I'll be patient with my long position.
ChinaNet Online Holdings (Nasdaq:CNET)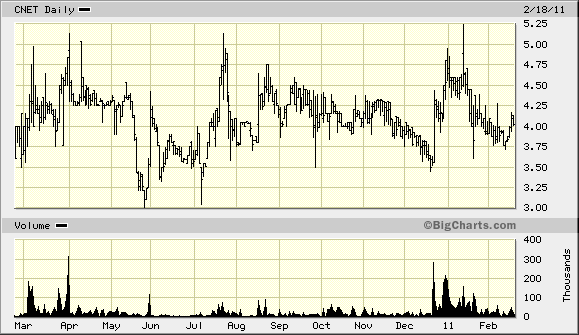 ChinaNet Online is a growing provider of online advertising, media and internet development services for small and medium businesses in China. CNET shares are backed by over $1 per share in cash, and the company trades at a modest 3.42 Enterprise Value/EBITDA ratio (source:Yahoo! Finance). Technically I want to be (and recently was) a buyer near the bottom of ChinaNet's $3.50-$5.00 trading range, and a seller near the top. Outlook: long and holding.
Disclosure: Long AERL, CIHD.OB, CMM, CIL, CNET, CGPI.OB