The past few weeks (and past few sessions in particular) have seen precious metals sustain a voracious rally. Last week, silver gained 7.7%, platinum gained 1.64%, palladium gained 5.28%, and gold gained 2.07%. While we are bullish on all precious metals going forward because of loose monetary policy around the developed economies, picking which metal to invest in over others is a frequent topic of debate among readers.
While we had very few direct positions in platinum and palladium, gold and silver were largely responsible for our 67% gain in 2010, and continue to power us into 2011. However, we understand that most investors lack the resources to directly invest in all of the precious metals, so they must pick one.
In the short term, we believe gold offers the best risk/reward opportunity.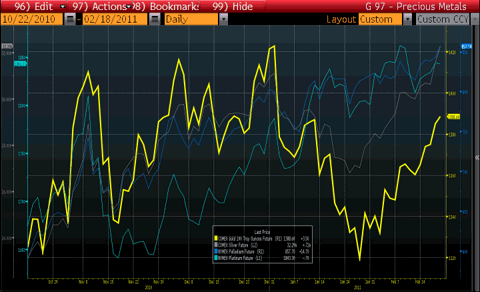 The above chart shows gold, silver, platinum and palladium from October 22 until close of trading on February 18. As can be seen, gold has significantly trailed the other precious metals since they all made a short term bottom on January 28th. Similar to a "buy the laggards" theory that is usually applied to the Dow, we believe that gold presents a very good risk / reward opportunity as it will inevitably catch up to the other metals.

Fundamentals: US Manufacturing

The reasons for gold's underperformance vs the other metals is most likely that gold's lack of industrial use causes it to not participate in rallies based on US manufacturing / industrial strength. Taking a look at recently released economic numbers sheds light on this subject.

The ISM Manufacturing Index for January came in at 60.8 vs. an economists' survey of 58.0, while the ISM Prices Paid Index came in at 81.5 vs. an expected 73.5 (more than 10% higher than expected). These numbers show that US manufacturing is recovering very quickly, and at an unforeseen pace.

The employment numbers from January also tell a similar story. While the overall Nonfarm Payrolls number disappointed greatly, coming in at a 36k job addition when 146k jobs were expected, the Change in Manufacturing Payrolls number was spectacular. In January, the US added 49k manufacturing jobs even though economists only expected us to add 10k.

All of this positive manufacturing data is signaling that US currency debasement is having the intended effect, to stimulate our country's export and manufacturing sectors. As we discussed in a previous article, while the US dollar index has not shown widespread dollar weakness, comparing the US dollar to pretty much any resource or emerging market economy shows that the US dollar has gotten decimated.

The loss in purchasing power of the US dollar against almost every economy except the developed markets (UK, Eurozone, and Japan) means that US exports look much more attractive to foreign buyers than they did a few years ago. While Bernanke and Geithner speak publicly about defending the US dollar, they are not fools. They know that their policies are massively currency debasing, but the beauty is that they do not care. The surge in manufacturing was their goal, and why undertook these inflationary policies-- and that is exactly the effect we are feeling now.

Because recent economic data has favored increased industrial output instead of reflecting inflationary pressures, gold has underperformed the rest of the precious metals (even while witnessing a not too shabby rally of its own). However, going forward, gold will continue to regain luster.

Inflationary Pressures

The largest catalyst going forward for precious metals is that even though "real" inflation is already being felt on the streets, none has been reflected in the CPI, and no recovery has been felt in the two most important areas-- jobs and housing. While we can argue that jobs and housing are in structural bear markets that will take a lot more than just loose monetary policy to reverse, it is not a point worth making, because policy makers have already deemed this the best course. And one thing you will always know about policy makers is that they will never admit they were wrong.

All this means that Bernanke and Co. have free license to print as much money as they want. While quantitative easing inflates assets such as gold and silver, it also inflates the stock market, which makes many Americans happy due to the appreciation of their retirement portfolios. The Fed will not tighten until they see a sustainable upward trend in employment and housing, a phenomenon which could be a year or two away in the case of housing, and may never come for employment.

Trade Recommendation

These long-term inflationary pressures mean that gold will be a great performer, along with silver, platinum, and palladium. In the short term, we favor gold due to its recent underperformance against the other precious metals, but we would like to be long all four for the long-term.

We recommend purchase of gold outright and gold mining stocks to profit from the current rally. We continue to be long gold and silver futures, short gold and silver put options, and long GDX, GDXJ, SWC, and SLW. We will look to add to positions on any pullback.

Disclosure: I am long SLW, GDXJ, GDX.

Additional disclosure: long silver futures, long gold futures