North America is awash in new oil production as a result of technological innovations related to hydraulic fracking. The continent is lacking the necessary midstream pipeline infrastructure to move supply to areas of demand, such as refinery's and export facilities. Crude by Rail, the process of loading oil into rail cars and transporting to a virtual set of demand locations, has been expanding 27% year over year as illustrated below.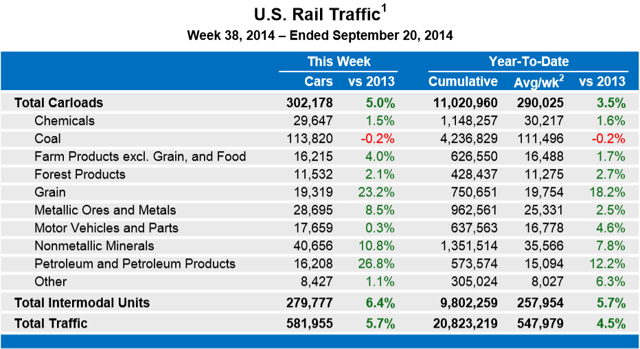 Source: Association of American Railroads
Future growth is expected as pipelines continued to get delayed by local opposition, and production continues to expand. Ironically, such pipelines are meant to be a safer alternative to that of rail or truck, but such perspective is lost when the debate is local and NIMBY. Crude by Rail also has opposition due to the tragedy in Quebec, but the industry is focused on improving their safety procedures with an outright ban unlikely due to current railroad regulations.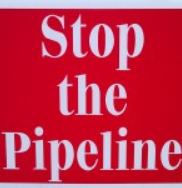 The Opportunity
USD Partners (Pending: USDP), a new Master Limited Partnership expected to price 8,850,000 public units on October 6th with a target yield of 5.75%, has developed a unique set of rail terminal assets in the Hardisty region of Alberta, which is Canada's equivalent to Cushing, OK. Oil Sands are produced in western Alberta and production is aggregated in Hardisty, a key logistics transit point to the US east coast and gulf refiners.
Over 6MMbbls of local crude storage will be available by 2015 with current takeaway pipelines operating at full capacity. Regional production is expected to increase annually by 10%. USD has developed a pipeline linking the storage facilities to their rail terminal and inked an agreement with Gibson, the storage owner, for exclusive rail terminal access to their storage.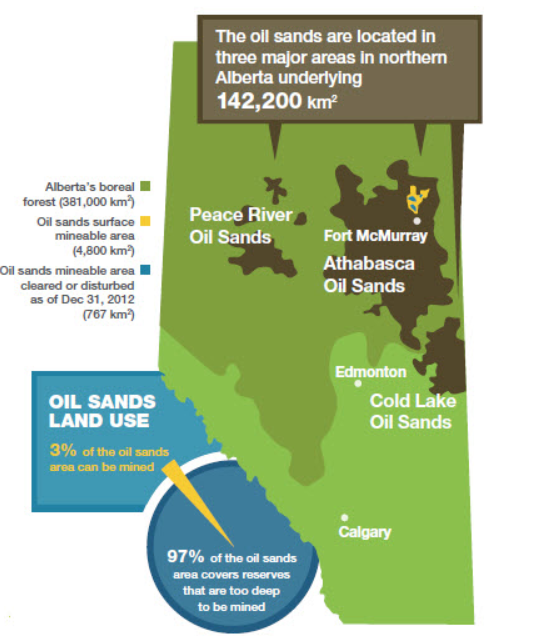 Source: Alberta Energy
Keystone XL, if developed (Hardisty to Steele City leg), would add pipeline capacity to the south, and likely reduce the demand for rail to the gulf, but would not impact east coast distribution. Enbridge (NYSE:ENB) is also spending $1.8B to expand their Hardisty to Edmonton mainline system, to 570,000bpd, by early 2015, which should not impact rail demand to the south and east, but redirect supply for export.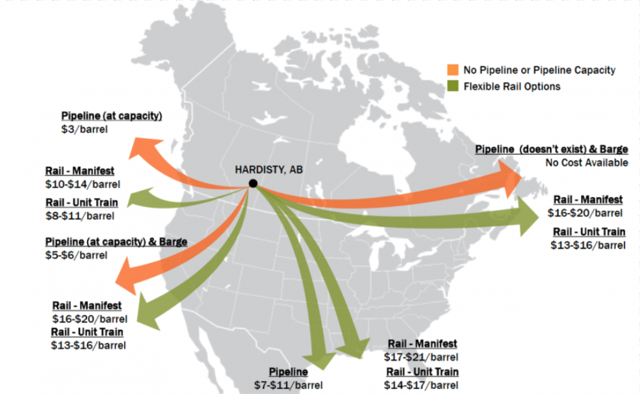 Source: Company presentation
USD has an extensive background in developing rail terminals with an impeccable safety record. They are leveraging their experience to form this new MLP and have partnered with Energy Capital Partners, a $13B PE fund and Goldman Sachs (NYSE:GS). The MLP with have three assets:
Hardisty Rail Terminal - commenced operations in June 2014 to provide terminaling loading services on a fixed take or pay contract basis. The facility can load up to two 120 unit train per day. 100% of the revenue is fully contracted, 83% to investment grade entities. This asset is expected to generate 85% of the Adjusted EBITDA.
Ethanol Terminals - located in Texas and California, two destination capable unit train ethanol terminals with a combined capacity of 33,000bpd. The San Antonio facility has one exclusive customer with a contractual expiration in 2015 that provides successive three-year rollover options. The Colton facility also has one exclusive customer since 2009 for which the contract can be terminated at any time. Ethanol is at a two-year low due to higher corn production and lower gasoline demand. Due to the ethanol discount ($1.00) to gasoline, blenders are using the maximum rate of ethanol, which should increase demand. These assets are expected to generate 6% of adjusted EBITDA.
Rail Car Fleet - 3799 leased rail cars, which are contracted out on a long-term basis. 65% of the rail cars are dedicated to USD terminals, and the remaining are dedicated to facilities previously owned by a USD subsidiary. 65% of these cars were constructed in 2013 and 2014, have a 50-year expected life and are equipped with the most recent safety enhancements. These assets are expected to generate 9% of adjusted EBITDA.
Distribution Growth
The opportunity for growth is primarily related to the Hardisty location, as the company has plans for two additional phases, which if completed, would increase EBITDA by 270%.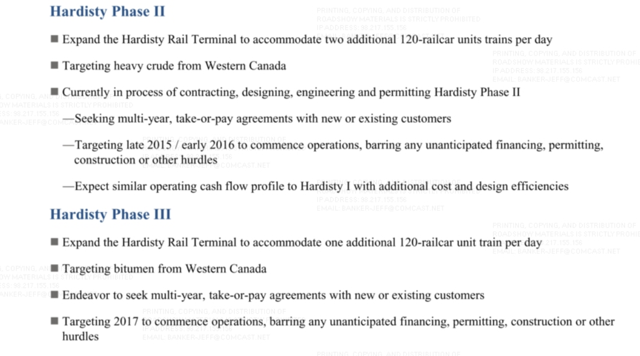 Source: Company presentation
If Hardisty II is completed using 30% equity and the prevailing 1.1x coverage, we forecast Q1 2016 DCF to be $13MM, or a $.5255 quarterly distribution, which would be 82% higher than the minimum quarterly distribution of $.2875. Given the company's track record in developing the rail terminals and the exclusive rail distribution agreement with Gibson, we see this as a great opportunity to realize a 5.75% yield with double-digit distribution growth in early 2016. Total return investors can expect a significant return upon the formal announcement of Hardisty II, which will confirm a 20%+ DCF growth rate, and compress yields to be in line with the MLPData peer group illustrated below: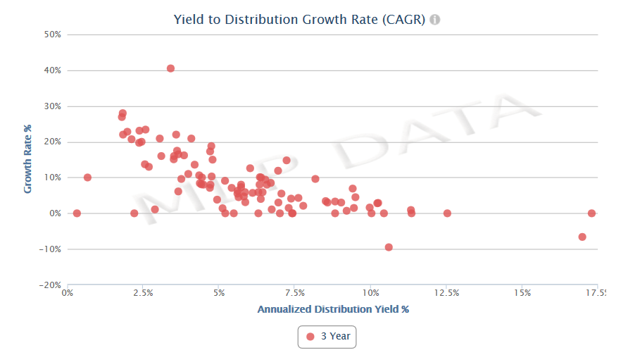 Disclosure: The author is long TEP, HCLP, EMES, ETE, CNNX, OILT.
The author wrote this article themselves, and it expresses their own opinions. The author is not receiving compensation for it. The author has no business relationship with any company whose stock is mentioned in this article.